By Marina Avilés, on 14 March 2023
The number of social media users is increasing, and so is the number of social shoppers. These are the people who use social media channels to browse and purchase products without leaving the social media app. This is known as social shopping, and it has become an important part of many brands' marketing strategies.
In this article, we will explain everything you need to know about social shopping, including its importance and examples.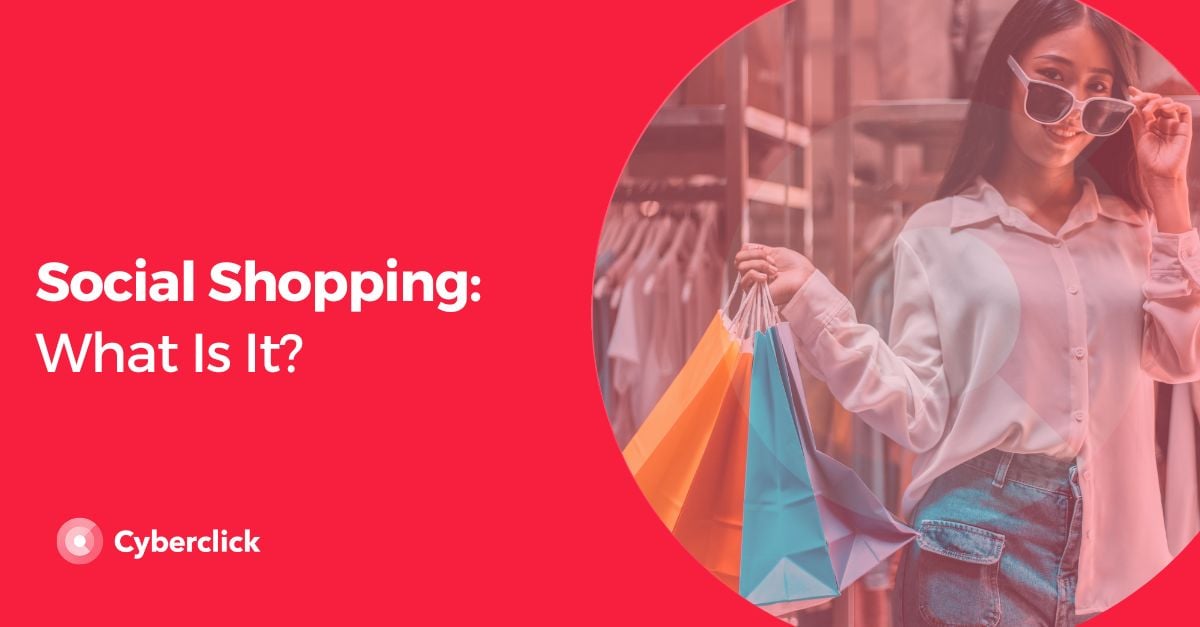 What Is Social Shopping?
Social shopping, also called social commerce, is a combination of social media and ecommerce that allows social media users to purchase products directly from social media platforms like Instagram, TikTok, etc.
Social media channels have evolved a lot over the last few years. Now, you can create shoppable posts with product tags to direct your audience to in-app product pages. They have all the tools brands need to sell products on social media.
Social shopping provides an engaging and interactive shopping experience that traditional ecommerces don't necessarily offer. It has also significantly changed how brands and customers interact with each other.
Although social shopping is in its early stages, it still has a lot of growth potential. Data reveals that social shopping made around $750 billion in 2022 and is expected to make around $1.6 trillion in 2025.
Why Is Social Shopping Important for Brands?
Many people wonder whether to add social shopping to their marketing strategy or not. If you are one of them, take a look at the following points to see if you should try social shopping for your brand.
Target a Wider Audience
There are over 4.89 billion social media users today, which gives you an idea of how valuable social media channels can be in targeting a large audience to increase your sales. In the US alone, 32% of online consumers participate in social shopping, and the number is expected to grow with time.
These statistics indicate that now is the best time to use social shopping to reach out to online shoppers and increase your sales.
Improve Shopping Experience
During a typical ecommerce spree, buyers have to go from a social media post to the website to read the product description and then add the product to the cart. There are many clicks of the mouse in this process and each one could result in the buyer's loss of attention.
With social shopping, you can make the consumer journey easier by removing all these unnecessary steps.
Engage Potential Customers and Regular Customers
Social media channels provide the opportunity for brands to showcase their products and notice users' responses toward them. They allow you to learn about your followers' expectations and improve your product/service quality accordingly.
Reach Out to the Younger Audience
Generation Zers and Millennials have the highest number of social media accounts compared to other generations. Data shows that 79% of Millennials and 77% of Generation Zers use social media numerous times per day.
So, if your target audience is in the 18 to 34 age range, social media channels are the perfect place to reach out to them and persuade them to purchase your products.
Collect Feedback and Customer Data
Social media channels allow brands to track their customers' behavior and important performance metrics to draft better marketing strategies.
Customers have your product catalog and can discuss it with others whenever they want. You can note their remarks to understand what they think about your products and how you can improve their experience with your brand.
Social Shopping Networks
Instagram
Instagram has over 2 billion active users, and out of them, 44% of users shop via this platform every week.
Instagram Shops allow brands to showcase their products through a virtual storefront. Additionally, brands can use ads, shopping tags, and the shop tab to sell their products on Instagram.
Facebook
Like Instagram, Facebook is very popular among social media users. It has over 2.91 billion active users, and many of them use the platform to find and purchase products.
You can create a Facebook Business profile to start your Facebook Shop. Here, you can display numerous products, mention their prices, and write their specifications. Customers can directly purchase products from Facebook Shops without having to leave the platform.
TikTok
Although TikTok is a newer social media platform compared to the others, its rapid growth has made it a popular social shopping platform among brands. It partnered with Shopify in 2021, and now brands can set up a virtual shop front on TikTok to allow users to buy their products.
Examples of Social Shopping
The best way to understand social shopping is by checking brands that are already making the most of it. Here are some popular examples of social shopping.
Milk Bar
Milk Bar is a bakery founded by Chef Christina Tosi in 2008. Before Covid, the bakery made 75% of its revenue from the physical store and the remaining from the online store.
However, the game changed in 2020 when the bakery's founder started focusing more on the Milk Bar Instagram account due to the pandemic restrictions. Since then, it has been earning a lot more through social media channels.
CLUSE
This fashion brand that was launched in 2008, but it joined ecommerce in 2014.
CLUSE has an Instagram storefront where customers can view products, read about their specifications and make a purchase whenever they want. Its Instagram feed is very well-organized and has played a huge role in its global success.
Burrow
This furniture brand produces furniture that users can easily separate into pieces to move around. It became very popular among mobile millennials when it launched an Instagram campaign using hashtags like #StayOnTheSofa to encourage them to sit back and relax.
In Summary
We live in a technology-dependent world where social media has become an important part of our lives. Now people use social media not only to connect with others but also with businesses.
If you are a part of the business world, you should add social shopping to your marketing strategy to enhance its effectiveness and reach a larger target audience.