By Héctor Borrás, on 2 May 2023
Keeping up with all the technological tools that can help you execute specific tasks, either within digital marketing or any other area, is very complicated. However, there are platforms like ProductHunt that can help! Read on as we explain what this platform is, how it works, and its advantages.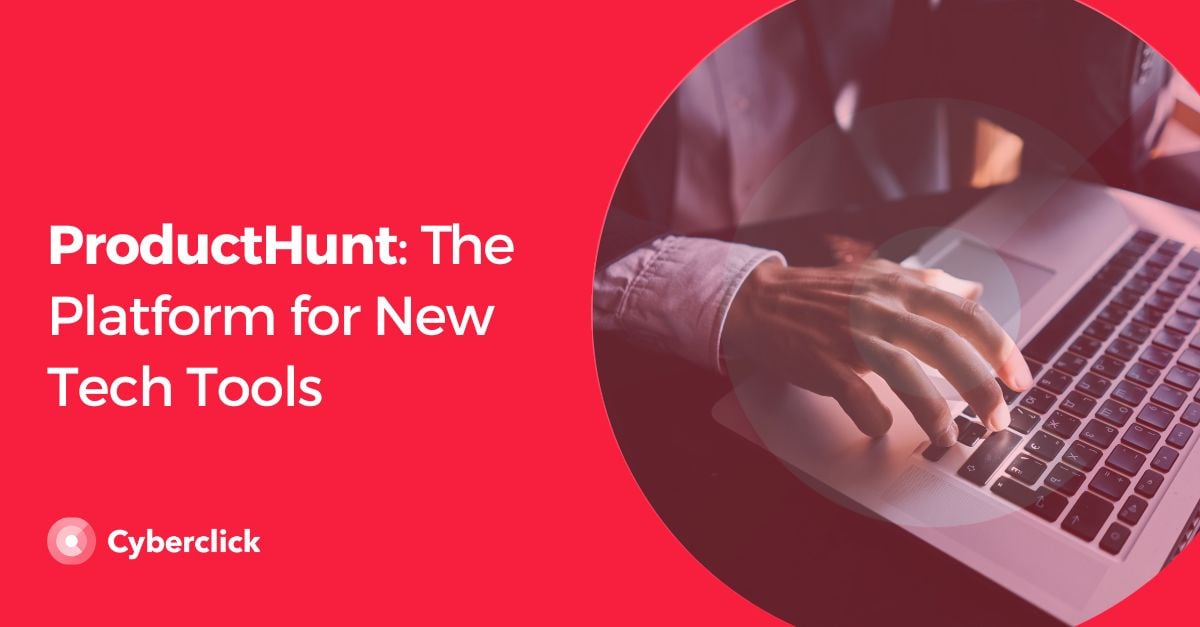 What Is ProductHunt?
ProductHunt is an AI tool that was created by Ryan Hoover in 2013 and allows you to discover and share new technological tools.
All hardware, software, and applications can be sorted by popularity or release date, but the platform also has a search engine where you can search for something more specific using keywords or expressions. You can even filter by categories and tags to narrow your search even further.
ProductHunt's success is mainly due to the fact that it allows you to find tools from practically any sector, including marketing.
Who Is ProductHunt For?
ProductHunt can be useful for just about any sector that uses technology. However, there are three types of users within the platform:
Creators or developers: these are people who create the tech products shown on ProductHunt. Through this platform, they can increase awareness of the tools they create and get feedback from users on how to improve them.

Hunters: these are people who find useful tools that perform certain tasks and then decide to share them with the ProductHunt community. This informs creators that there's already a hardware, software, or app that performs a certain function, so it's not necessary to create one. It also shares this informations with users who may need or want this hardware, software, or app.

Members: these are people who use the products that are launched through ProductHunt. They are the ones who can give ratings and share their opinions about them.
The three types of users are fundamental in guaranteeing that this platform functions well. That said, the members are the main engine as they are the ones who test these new products.
How Does ProductHunt Work?
ProductHunt is a website, but also has apps for iOS, Android, macOS and Google Chrome.
Its operation is very simple, since you can see all the recommended products on this platform, sorted by popularity or release date. You can also search through by categories and tags if you are looking for something very specific. When you click on one of the products, you get a detailed description of what it does, photos, videos, votes and comments, and also the link to the website where you can get it.
For a new product to appear on ProductHunt (either from a hunter profile or a creator profile) you must enter the URL of the product in question and click the Submit button at the top right of the home page.
Then enter the details of the new tool, such as description, category, photos, and videos. You should also indicate whether you have worked on or created this tool or not. Lastly, it is very important to check that all the required information has been entered correctly before publishing.
Advantages of Using ProductHunt
ProductHunt has numerous advantages, both for developers and anyone looking for new tools that help them perform tasks more quickly and efficiently.
For a creator or developer ProductHunt is an opportunity to showcase their work, create a community, and reach users and potential customers anywhere in the world for free. It is also a way to know the market trends for the launch of a new product and get honest and objective evaluations. In addition, it is a way to make yourself known among the community as a developer and tech creator.
For users it also has a number of advantages, the main one being that it is a simple and quick way to find new products. It is also a way to participate in the creation of a new technological tool, since opinions and reviews are crowdsourced on this platform.
Can I Launch My Tech Product on ProductHunt?
Any developer who has an account on ProductHunt can launch their tech product there. Below are the steps to follow to do this.
1. Pre-launch
You will need an account and an audience that is interested in your product and who supports its creation. Social networks and other channels can be used to spread the word that your launch will take place soon. It's also good to have:
A complete profile with all relevant information filled out.

A professional logo.

A name for the product.

A simple slogan that catches the attention of your target audience.

A description that gives detailed, accurate information about the product.

Images or videos that show the product and give people a better understanding of how it works.

The day and time of the launching can also be specified.
2. Launching
On the day of the launch, be prepared to receive feedback, both positive and negative, and to answer questions or deal with any type of incident quickly and efficiently.
On this day, post about your product launch on social media and add widgets to your website informing visitors about it.
3. Post-launch
Thank the community that has supported the launch of your new product by sending them an email, for instance. This can be a good strategy to make them feel valued. If relevant, you can send them an update in which the detected errors have been corrected. And, of course, keep sharing and posting on social networks.
ProductHunt is undoubtedly a great platform to learn about new technology products. You can find useful marketing tools and tools for just about any other sector on it.