By Héctor Borrás, on 13 October 2022
Thanks to data science, we have more information than ever about our potential customers. In this article, we are going to talk about a data collection technique that uses publicly available information to draw conclusions and make better decisions: open source intelligence or OSINT.
We'll tell you what it is, what it does, and how you can incorporate it into your marketing.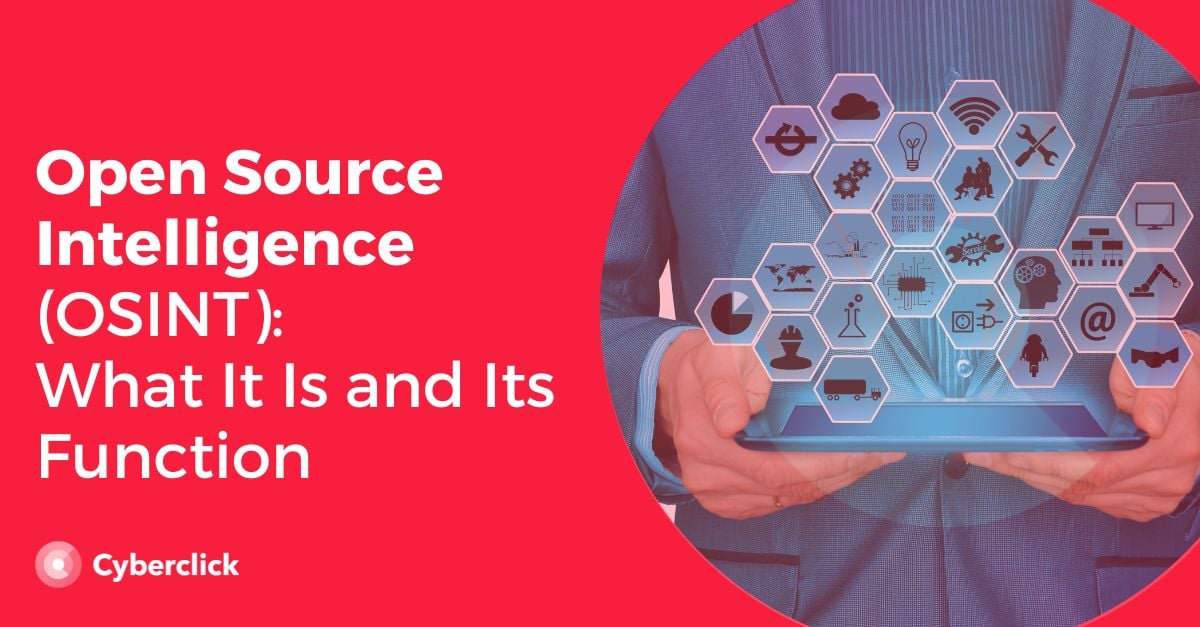 What Is Open Source Intelligence?
Open source intelligence (OSINT) is a technique used by governments and militaries to obtain information about threats, targets, and countries, among other things from publicly available data.
This information can be found through a variety of methods. The internet and other resources that can be found on Google are great sources of open source information, but they are far from the only ones. In fact, according to former Google CEO Eric Schmidt, more than 99 percent of the content available on the Internet cannot be found with conventional search engines. This is what is known as the "deep web". Much of the content on the deep web is also considered open source since it's available to the public via other methods.
In addition, these information sources are also considered open source:
Content published or broadcast to the public, like news.
Data available on request, like the cadastral data of a house.
Data available by purchase or subscription, like the professional publications in an industry.
Information obtained by visiting any location or attending any event open to the public.
Its advantage over other methods of obtaining information is that it doesn't require special security clearances, so you don't need to belong to a public body to use it.
In fact, many marketers are already putting it into practice, even without realizing it. For example, many brands monitor their competitors' social media pages to identify messages that can help them differentiate themselves and stand out.
What Is the Role of Open Source Intelligence?
Open source intelligence arose in the military and governmental sector, but over time its use has spread to other changes. Here are just a few examples:
Ethical hacking: Security professionals use open source intelligence to identify potential weaknesses in their networks in order to address them in a timely manner. For example, common weaknesses include accidental leaks of confidential information, devices with unsecured Internet connections, or outdated software.
Identify external threats: For example, conversations between potential attackers that refer to the company. This task requires an analyst to identify and correlate multiple data points to validate the seriousness of a threat before taking action.
Marketing. Open source intelligence is very useful for gaining more information about a product's potential target audience and personalizing communications. For example, the Scion Analytics team was looking for potential customers on LinkedIn. They identified decision-makers from large companies and used OSINT to get more information about them. In their research, they found a potential customer's Spotify playlist and identified their favorite song. In the message they sent to the potential customer, they strategically placed a quote from that song to make an immediate connection.
Techniques for Obtaining Open Source Intelligence
In order to leverage open source intelligence in your marketing, you need to be clear about your strategy. Trying to find anything that might be useful isn't advisable, since there is so much information available through open sources.
Therefore, the first step is to set a goal that defines what exactly you want to achieve, for example, sending highly personalized contact messages to high-quality leads.
Secondly, you will need to identify the tools and techniques you will use to process and collect this information. These are the two main categories of open source intelligence collection techniques:
Passive collection: This is usually based on using intelligence platforms to centralize feeds to a single platform. This speeds up the process much more than collecting data manually, but still runs the risk of information overload. Advanced intelligence platforms solve this problem by using artificial intelligence, analytics, and natural language processing to automate the process of prioritizing and discarding alerts.
Active collection: This is based on using a variety of techniques to search for specific data. There are multiple tools to actively collect open source intelligence, such as advanced Google searches (using operators such as file type or the site where the content is located), code and metadata search, identity and phone number research, email verification, image analysis or social network account linking, among others.
How to Use OSINT in Your Marketing
According to Forbes, these are the 4 key steps to start using open source intelligence in your brand:
Identify your MVP (Minimum Viable Product): You have to understand your product or service well and identify exactly what pain point to solve. Clearly define your value proposition(s).
Identify your target audience: Who has the problem that your company solves? Who can get immediate value from your product or service?
Create a digital avatar: To create a digital avatar of your ideal customer, you not only need their demographics, but also the similarities between the different networks they use, the type of content they consume, their goals, and their strengths. For example, if you are targeting executives, create copy based on leadership concepts.
Focus on the message. To tell the customer's story, you have to understand their pain points. What kind of expressions do they use and what kind of content do they publish? For your message to be truly effective, you have to be able to use their words instead of your own.