By Laia Cardona, on 22 December 2021
When it comes to running a digital marketing campaign, there is a vast array of tools and resources out there to help you promote your content more effectively. One of the most effective tools for expanding your reach relates to link building. In fact, using the right link building tools can go a long way in raising your SERP ranking. However, you need to make sure you're using the right tools in the right way in order for them to be truly effective.
To help you do that, we will take a look at what link building is and how it can help you get more from your online ads. We will also share 5 of the most effective link building tools to help you get more external links to your web content and boost your online presence.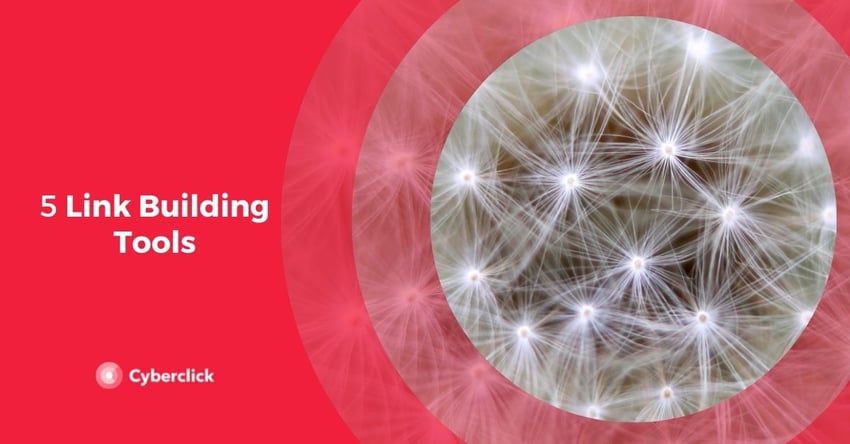 How Does Link Building Work?
Link building is an SEO technique that involves getting other websites to link back to your website or social media platforms. The more backlinks you get, the more traffic you drive and the more authority your site holds with Google's algorithms. In other words, backlinks are one of the methods Google uses to determine if your site is worth listing in search results or not. The more backlinks you have, the higher you rank.
Although you can increase backlinks manually, most marketers find that the process is far more effective if you use link building tools. These provide you with opportunities for link building and help you reach out to quality sites so you can persuade them to link to your content. Link building tools can connect you with new audiences, increase your domain authority, and help to boost your content's SERP ranking.
However, link building tools should never be confused with the process of buying backlinks or using black-hat SEO techniques. These are where you use manipulative and unethical tactics such as keyword stuffing and cloaking to raise your ranking, and they can result in heavy penalties, including being banned from search results.
Instead, you should focus on using reputable link building tools to support the organic process of earning links based on the quality of your content in order to boost the long-term viability of your brand.
5 of the Best Link Building Tools
If you are new to link building, then you may be somewhat overwhelmed at the sheer volume and variety of link building tools on the market.
To help you get started, we have put together a list of our 5 favorite link building tools so that you can find the right fit for your marketing strategy.
Google Alerts
Google Alerts is a powerful content monitoring service that you can use to discover new keyword mentions and configure push notifications. This helps you identify trending content that you could potentially target for backlinking opportunities.
You can create alerts so that you are notified whenever someone mentions you and your competitors online, and when content relating to your pre-defined keywords is published. This helps you stay ahead of the conversation and identify bloggers who might be interested in backlinking your website.
And the best part is, it's completely free!
Buzzstream
Buzzstream is a handy link building tool that makes it easy for you to discover, reach out to, and maintain relationships with influencers in your niche market. Its main focus is helping you discover influencers and bloggers with audiences that might be interested in your content, so that you can touch base with them and discuss a potential backlining opportunity. It can be a great way to promote your products or services and content.
What's more, BuzzStream is very competitively priced. The basic package starts at just $24 monthly for a single user and there's a 14-day trial available so you can get the full experience before making a purchase.
SEMrush Backlink Gap Tool
SEMrush is a backlink gap analysis tool that can help you get started if you are new to link building tools. You can use the tool to gather competitor insights that can help you identify sites in your field that are open to backlinking. You can also use SEMrush to compare your own link profile with your competitors. You can then use this information to close the gap and discover untapped backlink opportunities.
SEMrush offers a free trial then prices start at $119.95/mo.
Raven SEO
Raven SEO is an all-in-one SEO platform that offers rank tracking, auditing, and backlink research tools. You can use the tool to perform a number of tasks. Firstly, the backlink analysis helps you analyze your own backlinks, including how many pages on your domain are receiving links, anchor text usage, and link quality. Secondly, you can analyze backlink profiles for your competitors to see how well they compare. Thirdly, and perhaps most impressively, you can use Raven SEO to generate a list of personalized backlink opportunities. This can be a great tool if you want to stand out from your competitors.
The best part is, you get all this for a very competitive price. Pricing starts at just $7 monthly and there's a free 7-day trial available for all users.
Majestic SEO
Majestic SEO is an SEO software tool that specializes in link analysis. The site surveys and maps online sites and it has created the largest commercial Link Intelligence database in the world. Majestic's main objective is to provide information for website link building, competitive link analysis, reputation management, and traffic analysis.
The popular link-building tool is 100% focused on backlinks and the interface is simple and intuitive. Just enter your website and you get all of the information you need to create a link building strategy, including External Backlinks, Trust Flow, Referring Domains and Citation Flow.
Majestic offers a free plan with limited access to some of its best features, including important metrics like external backlinks, referring domains, and more. You can also upgrade to a Lite plan for $49.99 a month or a API plan, best suited to developers and agencies, for $399.99 a month.