By Laia Cardona, on 19 March 2021
As we come to the one year mark of the pandemic and working online, let's look at some of the biggest digital marketing trends of 2021.

We marketers are living in a time when changes have been constant and we have had to adapt quickly and effectively to them. What we thought was going to happen has not happened, or not quite, and what we did not expected, like the great digitalization of society, has come years in advance.
Let's find out what online marketing trends are coming and what these revolutionary developments will be. Read on to learn more about them and about how you can adapt.
Marketing Trends for 2021: Strategies
1) In-House Marketing vs. Specialized Agencies
Many brands and companies choose to rely on an in-house marketing team, who works in a marketing departments within the company.
More and more companies are are realizing that it is necessary to make sure marketing has a seat at the table. It is crucial to have at least one person on the team who manages, centralizes, and designs the brand's marketing plan, and understands its values ​and needs. There are companies that can only have one person and others that have a whole in-house team.
However, as marketing continues to evolve and different techniques get more niche and specialized (SEO, SEM, Social, etc.), having specialists for everything is difficult and costs more. This is where specialized agencies add value. They have highly skilled workers in content marketing, inbound marketing, SEO, SEM, data science, branded content, native advertising, email marketing, PR, social ads, as well as designers, developers etc.
In 2021, as more specialized forms of marketing continue to pop up, we expect to see more In-House teams value the work and specialization that an agency can bring.
2) Storydoing
Brands are no longer just looking to tell stories. They want to get users involved and to share their own experiences.

Storydoing strategies are based on knowing what we want to tell, what we want to provoke and what we want to achieve. A great example would be Red Bull, which managed to put the whole planet in suspense with their jump from the stratosphere back in 2012.
3) The Fragmentation of OTT Television
OTT applications are experiencing a phenomenon similar to what TV channels experienced years ago: they are multiplying and competing with each other.

Roku, Amazon Fire TV, Apple TV, Samsung Tizen? we have more and more options, each with its own application and platform. Given that more than half of the viewers subscribe to only one, the competition for the market will be increasing.
4) The Growth of eSports
The gaming sector is growing to the point of surpassing traditional sports, and is expected to generate up to 180.1 billion dollars in profits by 2021.

At the same time, eSports are becoming highly in demand as advertising channels and more and more brands are including them in their strategies.
Marketing Trends for 2021: Formats and Technologies
5) Shoppable TV
After the streaming revolution, the new digital marketing trend is to buy via television. There are different formats, such as secondary shopping screens that viewers can access with a click of the remote control, or QR codes to scan with the cell phone.

Actually, the first experiments with shoppable TV date back several years, but we believe that now is the time when the technology and consumer habits are ripe for this marketing trend to become a reality.
6) Virtual Events and Webinars
The coronavirus has accelerated digital transformation in a way we did not expect to happen before 2020. One of the consequences of this has been the explosion of digital events, many of them focused how to capture and develop potential leads.

The transition from physical to digital events is not so simple, since there is still a long way to go at a technical level and it also makes you lose that category of "special occasion". The solution is not to try to copy your face-to-face events, but to create a different experience.


7) Automated Customer Journeys Based on AI and Machine Learning
Customer data platform tools allow us to create and manage highly personalized customer journeys, with emails triggered based on customer behavior and habits. In this way, we can create highly effective messages that take into account all relevant aspects for each customer.

In addition, we must go beyond personalization being based only on putting the recipient's name at the beginning of the email. There are already tools that apply artificial intelligence and machine learning to customer journeys and even personalize the contents of the email itself based on different types of data: environmental, behavioral, interest-based, etc.
8) Programmatic Advertising on Wearables, TV and Radio
Programmatic advertising is another online marketing trend that has been gaining momentum in recent years and is opening up to new channels:
Wearables are particularly interesting because of the large amount of data they contain about their users.

Streaming platforms such as Netflix.

Online radio and podcasts, another content format on the rise.
9) Artificial Intelligence and Augmented Reality in Ecommerce
Artificial intelligence and augmented reality are combining to shape one of the major marketing trends of 2021. Thanks to them, it will be possible to personalize the online shopping process, ensure a good user experience, and transform deliveries.
10) Biometric Identification
Biometric identification, through facial, iris, fingerprint or other physical features, is improving the ease and security of digital payments, a key component of ecommerce expansion.

In fact, according to a study by Visa, two-thirds of Europeans would prefer to use biometric identification to make online payments.
11) Natural Language Processing (NLP) Based on Big Data
Natural language processing (NLP) is the latest trend in marketing and big data. Its role is to help big data systems better understand the information obtained and enable more natural conversations and interactions between software and users. One example is intelligent voice assistants.
Marketing Trends for 2021: What's New from Google
12) HTTP2 tracking
Since mid-November 2020, GoogleBot has started crawling via HTTP2 on some websites, and will be expanding this type of crawling over the coming months. For the time being, this change will not imply any modification in the results, only in the crawling efficiency.
13) The Fall of Third Party Cookies
In early 2020, Google announced that Chrome will stop supporting third-party cookies for the next few years (2022). Firefox and Safari already started blocking them in 2019.
Cookies have been used for decades as a tracking method by advertisers and advertising platforms. Now, the goal is to introduce new equivalent technologies to further segment and target their campaigns without threatening user privacy.
14) Video Campaigns for Streaming Platforms on Google Ads
Video on demand has been one of the big digital marketing trends of 2021. To respond to this reality, Google Ads has implemented a new TV section in its advertising platform, where advertisers can manage video campaigns for streaming platforms.
15) Smart Shopping Campaigns
Google has also overhauled its Shopping campaigns; the new update combines standard Shopping campaigns with display remarketing to simplify management, maximize conversion value and expand coverage.
16) Google Analytics 4
It's time to say goodbye to Google Analytics as we knew it and welcome Google Analytics 4. The new version seeks to analyze user behavior regardless of the digital platforms they use, and among many other new features, replaces sessions with events as the unit of measurement. The big new feature will be the App + Web property, which will focus on better understanding the customer lifecycle.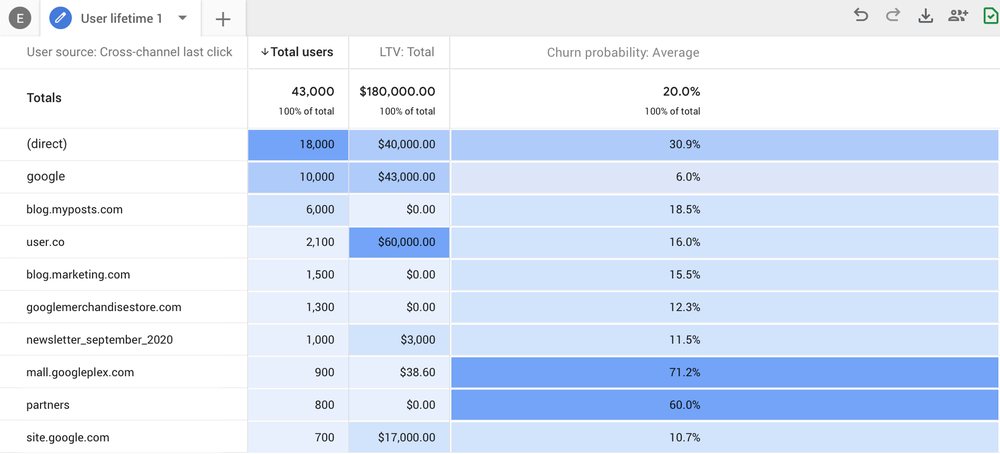 17) Shoploop
Shoploop is a new Google platform that combines TikTok-style videos with ecommerce. Users can watch video demonstrations that are up to 90-second long and that play on a loop. They can easily purchase the products that are featured in the videos from the application itself. For now it focuses exclusively on the beauty and cosmetics sectors.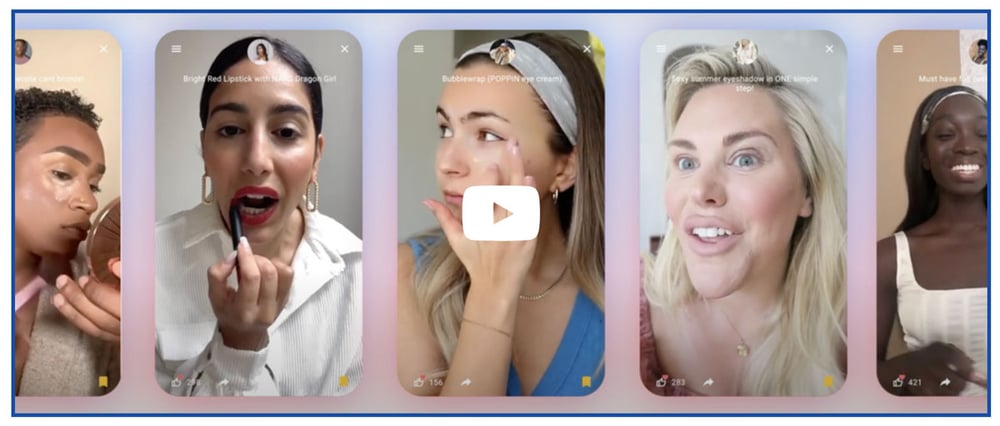 18) YouTube Video Builder
Creating videos for digital advertising campaigns is still an expensive and time-consuming process for many brands. To make it easier, in April this year Google launched YouTube Video Builder, a tool that makes it as easy as possible to create videos even for users with no previous experience.
Marketing Trends for 2021: Social Networks
19) Limiting the number of ads in Facebook Ads
Less is more... Or at least that's what Facebook seems to think, as they have implemented a limitation on the number of active ads a page can have. The goal is to improve advertising performance by having more information about the performance of each ad.
20)Self-Service Advertising on TikTok
TikTok has been the big digital marketing trend of 2020 and looks set to repeat in 2021. Its latest big news has been the incorporation of a self-service advertising platform. Of course, the ads have to follow the style that has made this network famous.
21) Spotify Studio Ads
Who said podcasts could only include audio ads? Studio Ads, Spotify's new advertising solution, allows you to include video ads in a variety of formats, both horizontal and vertical. One more opportunity to connect with the users of this network.
22) LinkedIn Stories and Twitter Fleets
Stories have forever changed the way we create and consume content on social networks. Now, LinkedIn is joining this marketing trend with its own Stories, which work in a very similar way to Instagram. Its goal is to energize social relationships on LinkedIn and give more prominence to creativity.

Twitter has also joined this trend with its Fleets, image, video or written content that is volatile and only lasts 24 hours.
23) Shopping on WhatsApp
Facebook's messaging application has been the latest to incorporate an in-app shopping option, integrated with the Facebook Shops solution. One more tool to become an essential application for the ecommerce sector.
Marketing Trends for 2021: Content Marketing
24) Interactive content
Questionnaires, surveys, games, videos, interactive ebooks etc.! The new trend in content marketing does not conceive the audience as passive, but seeks to engage them and get them to interact with us. In this way, we manage to capture their attention and make them remember us.
25) Pillar pages and topic clusters
The last digital marketing trend of 2021 is about the way we structure and plan our websites. As search becomes increasingly semantic, we begin to organize content around broad topics rather than specific keywords.

With this new structure, we create "pillar pages" that collect all the essential information on a topic of interest and in turn point to "topic clusters" or collections of pages that expand the information on each subtopic.