By Marina Sala, on 6 June 2022
In any inbound marketing strategy, there must be forms since they are a very valuable source of information. Of course, there are different types of forms depending on the data you want to obtain from your visitors and the objectives you are looking to achieve.
Learn about the different types of lead generation forms that you can include on your website!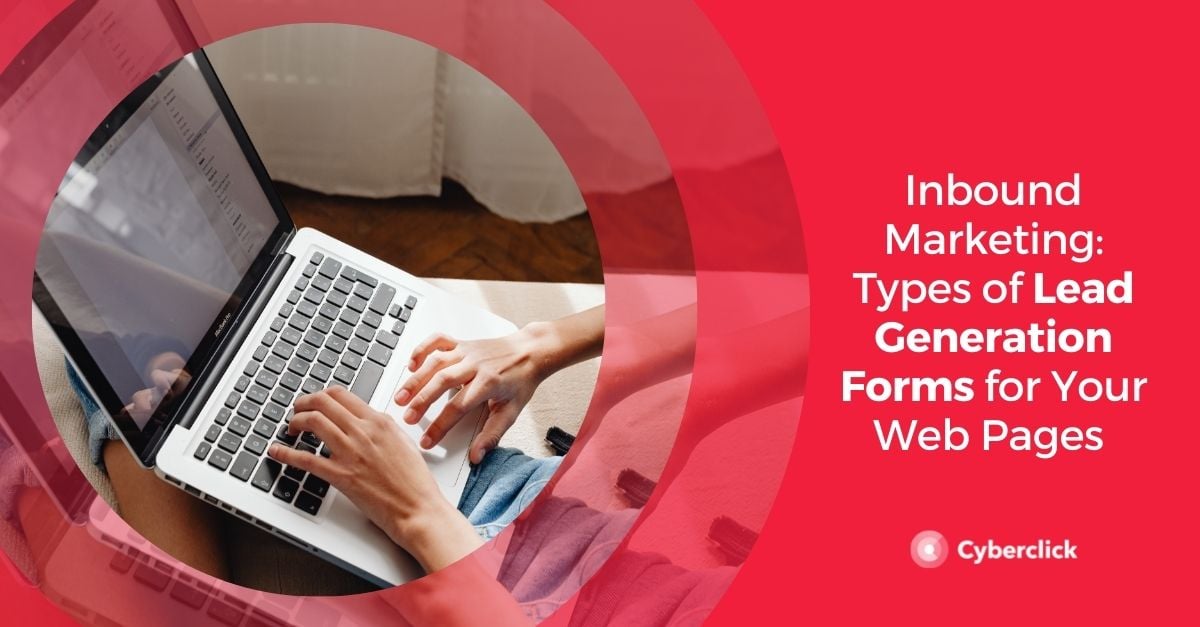 Types of Forms for Your Website
Although not all of them serve the same purpose, different types of forms can be found on a web page.
Contact Form
Contact forms are used for users to contact the brand for answers to any questions or concerns. Normally, in this type of form, a user will be asked to enter his or her full name, e-mail address, and telephone number in addition to the question or suggestion.
You can also include drop-downs with predefined reasons for contacting the brand.
Lead Generation Forms
The purpose of a lead generation form is to obtain data about users who are interested in your brand or its products and services. You can then use the data to send them information including news, promotions, and offers, and turn them into customers.
In addition to personal data, such as name and email, this type of form also asks for a username and password.
Order Form
The order form appears when a user places an order. This is a form that asks for more personal information, such as a delivery address, bank or payment details, billing information, and so on.
Considering the complexity of this type of form, they have to be filled out in multiple steps.
Registration Form
The registration form is used to identify all anonymous users who enter a website. The user decides to fill out this form when he/she intends to make a purchase. In the case of a marketplace, for example, a user must register both to buy and to sell through it.
Survey
A survey is used to learn about the customer's experience. This could be anonymous and can include questions that help a brand understand how the purchase process was, how the product experience is, and anything related to after-sales.

This type of form is very useful to know what could be improved from the customer's point of view. Asking for your customers' input makes them feel heard.
Feedback Form
A feedback form lets the user contact the technical team or the company itself to solve a problem. Unlike the contact form, the purpose of this form is to solve problems.
It can be integrated with other tools to make communication between the company and the user more effective, such as WhatsApp.
Demo Form
The demo form is very common in technology companies, although it can be applied in other sectors as well. It is used to request a product demonstration. The user, by requesting this demo, can learn first-hand the features and functionalities of the product to decide whether to buy it or not.
This type of form tends to be a little longer than traditional forms.
Best Practices for a Form
Whether or not a user decides to fill out a form depends on several factors, including whether or not it is visually appealing and easy to complete. In addition, it should be as short as possible, so it should be designed with careful thought as to what data the company really needs.
Although they take up a lot of space, it is essential to show the privacy and data protection policies, since the user is entering sensitive information, especially when making a purchase.
The Importance of Web Page Forms in Inbound Marketing
Web forms have become a very important part of inbound marketing strategies, as they are the fastest and most efficient way to obtain and manage information and user data.
Forms also help build trust with the user and a more professional image of the brand in the user's mind.
In conclusion, forms on a website are essential, both for the user to perform certain actions and for the company to obtain information that will help it to improve and grow. However, they are useful only when the right questions are asked and they are presented in a visually appealing way.