By Laia Cardona, on 7 November 2023
Inbound marketing is a commercial method that consists of attracting customers using content of value that will be of interest to the potential customer. Unlike outbound marketing, which uses more invasive and direct techniques, inbound marketing aims to enhance brand authority by giving the customer what they need in a more organic way. This method can be implemented in a multitude of business sectors, and telecommunications is one of them. If you have a company in this field and want to implement an inbound strategy, this article will tell you everything you need to know to achieve it!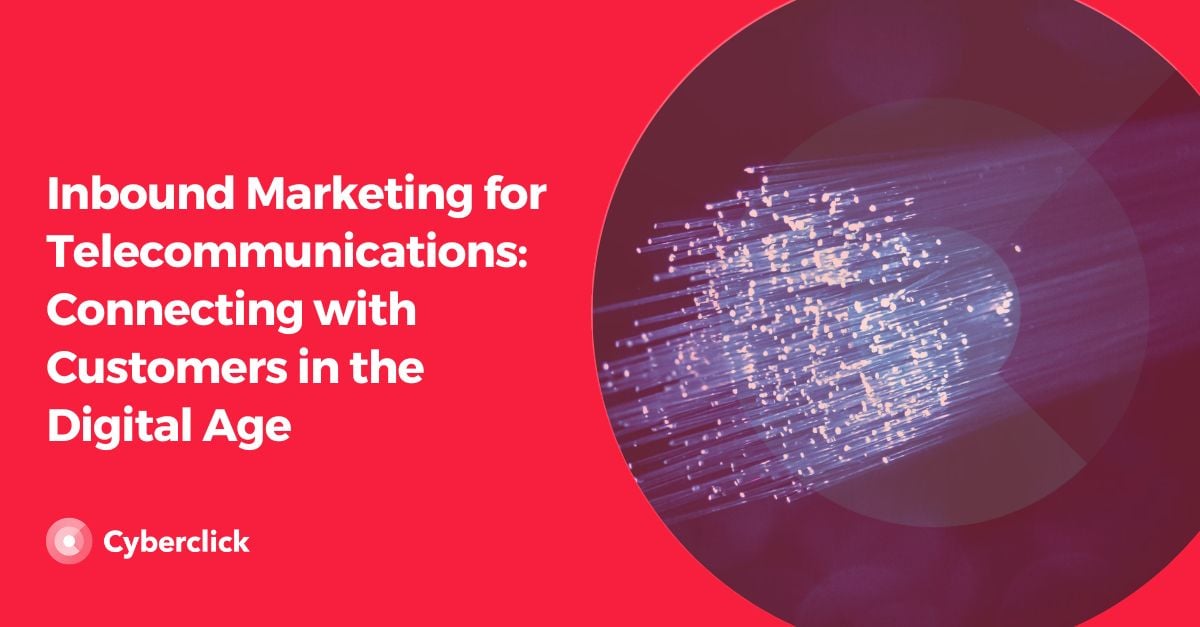 Why an Inbound Marketing Strategy Is Vital in Telecom
Telecommunications customers have specific needs that set them apart from customers in other sectors. One of the most notable is their tendency to thoroughly research product or service features and industry information before making the decision to buy. Their demand for in-depth knowledge makes them more discerning consumers compared to those in certain other industries. Therefore, creating valuable content, a core component of inbound marketing strategies, can provide telecommunications companies with a competitive edge.
Benefits of Inbound Marketing for Telecommunications
It is a great ally when it comes to nurturing the company's database.
It helps to make the long-term business vision work.
It improves the company's branding.
It is effective for both B2C and B2B companies.
Increases web traffic.
Increases the credibility of the company.
The potential customers obtained through it are of higher quality.
Optimizes the work of sales teams, preventing them from trying to sell the product or service to people who are not interested.
Effective Inbound Marketing Actions for Telecommunications
If valuable content is the basis of any inbound marketing strategy, any telecommunications company that wants to produce it must develop a content marketing strategy that specifies what topics will be addressed, what formats will be used, what the channels will be chosen to disseminate the content.
In the telecommunications sector, content marketing tends to focus on transmitting valuable information, leaving promotions and commercial issues aside.
There are many actions that this sector can take within its content marketing strategy, but the following have proven to yield the best results.
Creating a Blog
The creation of a blog to deliver valuable content and address customer pain points is a cost-effective strategy in this sector, but it's important to note that it requires a long-term perspective. The goal is to ensure that when potential customers search for information on search engines, your page ranks among the top results, provided you've performed robust SEO optimization.
Within these articles, you can include inbound marketing techniques, like adding sections that encourage visitors to share their email for an ebook or subscribe to your newsletter. This allows you to collect potential customer data organically and non-intrusively.
Of course, it is very important that you analyze the metrics generated by your blog to know if you are going in the right direction or if you should adjust your strategy.
Publish Content on Social Networks
Because social media is more informal than a blog, you can give more prominence to promotional content. However, try not to do this in a very direct way, since you are working within an inbound marketing strategy. For example, you can publish videos or images in which you explain news and trends in your sector and, at the end, include a call to action that encourages the user to get to know your products or services.
Tell a Story
Both on your blog and on social networks you can carry out storytelling strategies, i.e. the creation of content that tells a story in order to move the customer to connect with the brand in a deeper way. To achieve this, this technique usually includes stories with which the potential customer can identify and see the brand as a good option to solve their problem.
Key Content Marketing Topics for Telecom Companies
As we've mentioned, publishing valuable content is crucial within an inbound marketing strategy, but which type of content would be most interesting within the telecommunications sector? Generally there are two types.
Complex Topics Explained Simply
When it comes to B2C telecommunications companies, the preferred content among potential customers is that which simplifies complex topics in a language that's accessible to the general public. If you want to subtly promote your products or services through this kind of content, the best approach is to show how your offerings can help customers achieve their desired outcomes. Tutorials, in this case, prove to be a highly effective format.
Trending Topics
Technology is advancing by leaps and bounds and many customers interested in technology-related products like to stay informed about the latest news. By publishing topical content you can become a reference in the field and gain authority within your industry. You can also increase your brand awareness.