By Oier Gil, on 17 August 2023
Implementing marketing automation in your business will save your team time and allow you to offer more personalized attention to your customers. Below, we'll discuss two of the most popular marketing automation tools: Hubspot vs. Pardot. Which one is better? Let's take a look!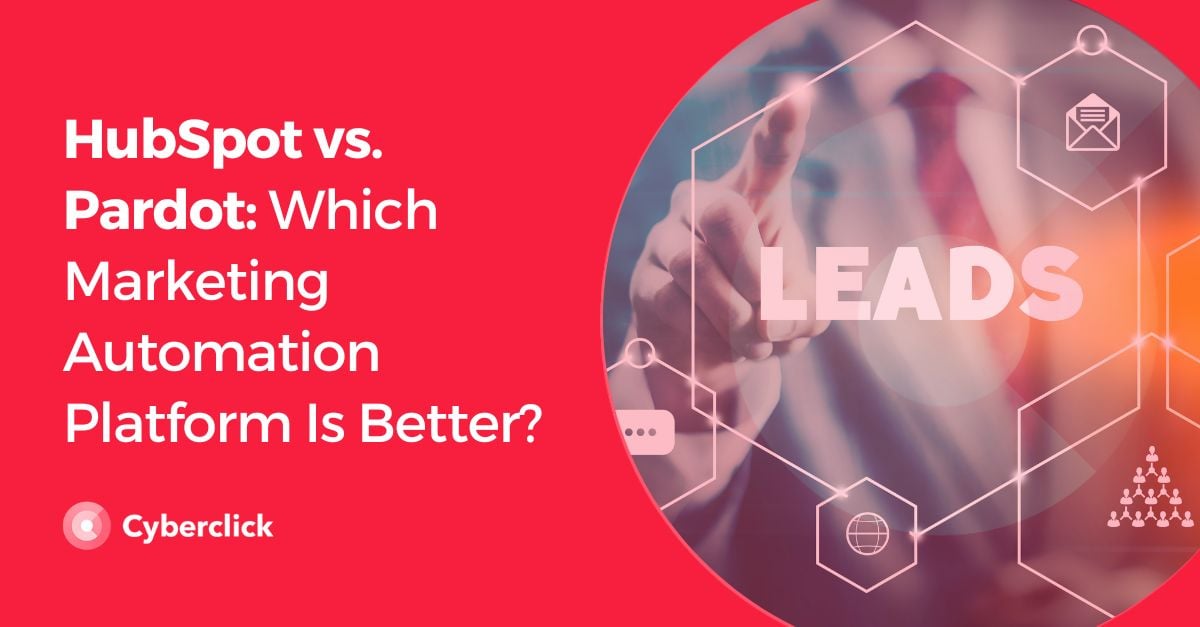 What Is HubSpot?
HubSpot is a software that helps businesses automate marketing, customer service, and sales processes. It was created by Dharmesh Shah and Brian Halligan, who are also creators of the inbound methodology. Since no other tool existed that was fully aligned with the inbound marketing methodology, they decided to create HubSpot in 2006.
Each feature of HubSpot is designed to improve inbound marketing in some way. For example, the marketing tools will help attract visitors to your website, convert those visitors into leads, and nurture those leads until they become customers. The sales tools help businesses track leads, qualify them, and close deals. The customer service features help retain customers and generate referrals.
The service offered is very complete over all the different "Hubs" (Sales Hub, Marketing Hub, or Service Hub, among others). Clients can acquire these individually or jointly according to their needs.
What Is Pardot?
Pardot is a marketing automation platform that helps businesses of all sizes attract, engage, and convert leads. The Salesforce product, which launched in 2013, is designed specifically for B2B businesses but can also be used for B2C brands. In the same way that HubSpot has its "Hubs," Pardot offers different "clouds" for marketing, customer service, and sales.
How Are They Similar?
Customer Service and Resources: Both HubSpot and Pardot offer excellent customer service. HubSpot offers 24/7 service and downloadable, detailed guides and certified courses. Pardot has a digital library with a lot of B2B content and a training center. In addition, they also offer 24-hour customer service Monday- Friday (in English only).
Chatbots: Both tools have integrated chatbots. Pardot has its Einstein bot and native Olark Chat integration for live chats. On the other hand, HubSpot has a native chatbot and live chat in all the plans it offers.
Mobile Service: Both tools can be accessed through mobile apps, but the functions are more limited than in the web version.
How Are They Different?
Usability
If you are already part of the Salesforce community, you will find it easier to adapt to Pardot, as they are part of the same group and will be familiar to you. If not, HubSpot is a more intuitive tool that your teams will adapt to more quickly.
In HubSpot, the different features are very similar, and professionals can have a unified and coherent experience. Even its more advanced tools are easy to use, saving time and increasing business productivity.
Functionalities
HubSpot has many features that nurture leads throughout the entire funnel and are immediately ready to use and integrate with the other tools you already use in your company.
Although it also has a complete set of features, Salesforce's tool is more focused on email automation, so it may fall short for companies that need more.
It's important to note that the features Pardot lacks most are those focused on customer attraction. While HubSpot has a very useful internal CMS for creating blogs and websites, as well as SEO functionalities that help position your content, Pardot does not have any of these functions. Therefore, it's necessary to complement the tool with some other Salesforce functionality if you want to use it for this.
Price
If your company works with a medium or small database, the plans offered by Hubspot are economical and accessible. However, they become more expensive as your database expands.
In the Salesforce tool, the prices are not so accessible. However, all its plans (except the Premium) allow you to manage up to 10,000 contacts.
Economically, HubSpot is more suitable for small and medium-sized companies. However, if your company works with many contacts, it may be more profitable to opt for Pardot.
Integrated CRM
HubSpot has a full-featured CRM, while Pardot does not have an integrated CRM. You will have to buy a different CRM or the one offered by Salesforce, but implementing the integration takes work.
Social Networks
Both tools allow you to manage different social networks, schedule posts, and measure the post's performance, among other things. However, Pardot allows you to view the profiles of your prospects on LinkedIn, which can be very useful to the sales team.
Conclusions
If your company works with Salesforce, it will be easier for your teams to adapt to Pardot. However, HubSpot is the better option regarding learning speed and ease of use, as Pardot is more complex and requires maintenance and manual connections if you want to achieve a unified experience.
HubSpot has a complete set of functions, all ready to use and integrated seamlessly with other tools.
The customer attraction capabilities are Pardot's biggest weakness. You'll need to integrate tools designed specifically for this stage.
Unlike Pardot, HubSpot has an integrated CRM, which allows you to attract more customers and take the personalization of your customer service to the next level.
If you work with a more limited number of contacts, HubSpot will be a more cost-effective and accessible option for your company. However, if you work with large numbers of contacts, the Salesforce tool will be a better option economically.