By Shanon Roberts, on 23 October 2020
Lead Nurturing is an essential tactic within an Inbound Marketing campaign.
Lead nurturing campaigns help to move your leads along the buyer journey and keep you in touch with your prospects.
In HubSpot, you can perform a lead nurturing campaign through HubSpot's marketing automation tool, Workflow.
In this article, we'll walk you through the 3 major steps to create your very own lead nurturing email campaign in HubSpot. You can also check out the steps in the video below.
What is Lead Nurturing?
Lead Nurturing is the process of using relevant content and communication to guide leads and prospective customers along the buyer journey until they make a purchase or convert.
According to Marketing Sherpa, 73% of users who give you their contact information on a website are not ready to make a purchase. By nurturing the prospect over time you help the user become ready to take the next step and convert.
Lead nurturing can take place in many different ways, but the most popular is through lead nurturing emails (which is what we're demonstrating in this article).
Lead nurturing is a key strategy found within Inbound Marketing. It relies on marketing automation tools, like HubSpot, to ensure the right leads are being identified and then sent the most relevant content or communication, without adding extra work to the sales team.
Let's review the 3 major steps to creating a HubSpot lead nurturing workflow.
HubSpot Lead Nurturing Workflow: 3 Steps
When developing your lead nurturing strategy, there are 3 major steps you must take into account:
Let's dive into each of these steps!
Step 1: Segment Your Contacts
A good sales nurturing campaign should have different content and different workflows for different audiences. For example, leads that are closer to converting will require different inbound marketing content than a lead who is at the top of the funnel (TOFU).
This means the first step to building your HubSpot lead nurturing workflow is to segment your audiences. This can easily be done within HubSpot, under the "Contacts" tab, then "Lists", then "Create List".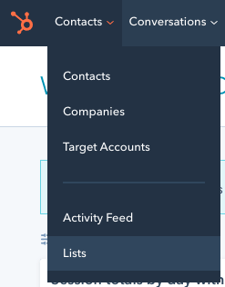 I recommend building an active list so contacts will be added into the list as you build it. An active list will also add in new users who qualify based on your set parameters after the list is built.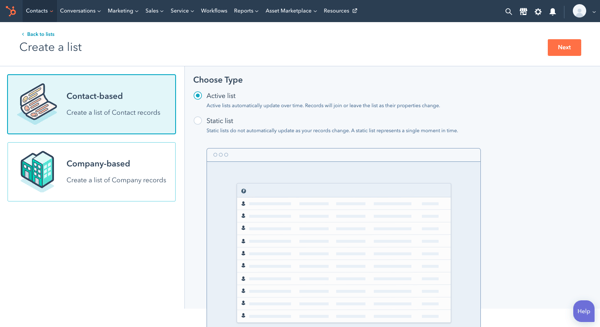 When creating your audience lists, you can choose from a variety of different qualifying variables.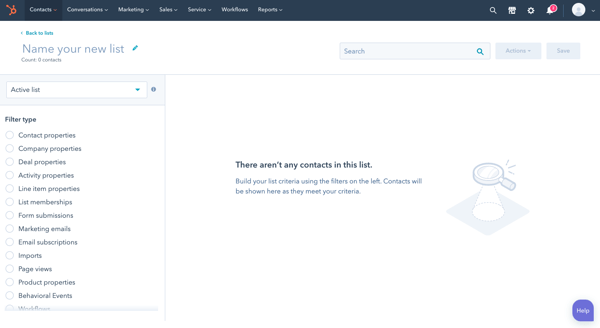 The parameters you choose to set will depend on many different factors, like how you qualify a lead and the different types of customers you work with. To get started, a general recommendation would be to pay attention to industry, job title, budget, and past actions the lead has taken on your website (signed up for a webinar or newsletter, downloaded an ebook, etc.)
Take the time to build out a list that makes sense based on your company's specific needs, your available content, and buyer personas. HubSpot gives you many options to filter your contacts by, including behavior on site, custom properties you set up, excluding people, and using And/OR options. I recommend taking the time to look around at the different options available to you.
Step 2: Build Your Emails and Content
Once you've built out your lists the next step is to create the emails you are going to send. Creating your content now will save you a lot of time in advance once you begin to build the workflow.
If you need help building your emails, you can watch this video below to learn how to create an email in HubSpot.
Email Marketing Section: 1:43 - 9:34
It's important that a lead nurturing campaign sends emails that are relevant to your audience when they receive them. If not, your prospects may delete the email without reading it, or even unsubscribe or mark them as spam.
When you're building the emails, the most important thing to keep in mind is what kind of content will be relevant to your audience. What will they actually click on when they see a new email pop-up in their inbox? You can offer interesting content depending on their behavior, industry, or funnel stage they're in. The most important thing is to think about your ultimate goal with the workflow, and then create content accordingly.
I recommend repurposing content you have already created, like blog posts, infographics, and downloadable content to grab your audience's attention.
Step 3: Build The Workflow
You're finally ready to begin creating your lead nurturing workflow! But, before jumping straight into the Workflow tool, I recommend brainstorming your workflow on a piece of paper before creating it in the platform. This will help you know the different actions you want the workflow to include, and help you set a final goal of the workflow.
When you're ready, go to HubSpot and click Workflow, then "Create Workflow." Don't forget to use your contact list that you've already created.
Before creating the workflow, set a goal to track. This will measure the conversions your workflow produces. For example, if you want your contacts to fill out a form to set up a meeting, you would set that as the Workflow goal. It is important to set a goal because if the user completes the action they'll stop receiving emails.


Now you can begin building the workflow map. First, you must choose an enrollment trigger. This is the first action you want the contact to take in order to trigger the rest of the workflow.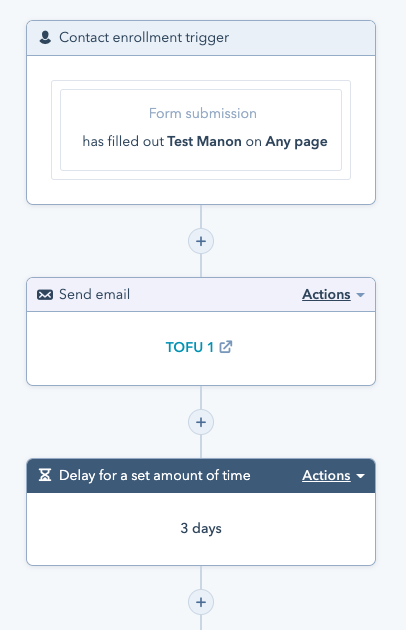 There are many different types of enrollment triggers. Typically, a lead nurturing workflow will be activated by a lead filling out a form or downloading a piece of content.
Then choose how many emails you would like to send to the lead. Remember, in HubSpot you can set many different qualifying factors so that only active leads are being sent the emails.
Here are some best practices to keep in mind when building your workflow map:
Remember to set a delay between the emails.
You can set filters so that future emails will only send if the contact opens or engages with previous emails. If the contact does not engage with or open an email, the workflow can end, or they can receive an email asking if they are still interested.
You can use branches to send different emails depending on different actions taken by lead.
You can set up reminders or tasks to internal team members to send emails or contact leads once they have reached the workflow goal or a certain step within the workflow.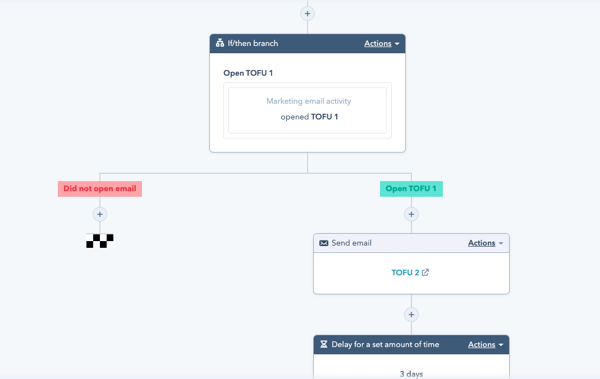 HubSpot offers a nearly endless amount of options when creating your nurturing campaigns. Take some time to explore the different actions and qualifying factors available, and then build your workflow from there.
While it may seem like a lot of work at the start, lead nurturing workflows are an incredibly effective way to jumpstart your marketing automation strategy. If you set up your lists and maps correctly, you will only have to maintain your progress.