By Michelle Bernachi, on 13 September 2022
TikTok has bceome one of the most popular social media networks over the years. However, its popularity has led to the presence of many fake accounts.
That's why it's important to take security measures. In this article, we're going to review how to verify a Tiktok account.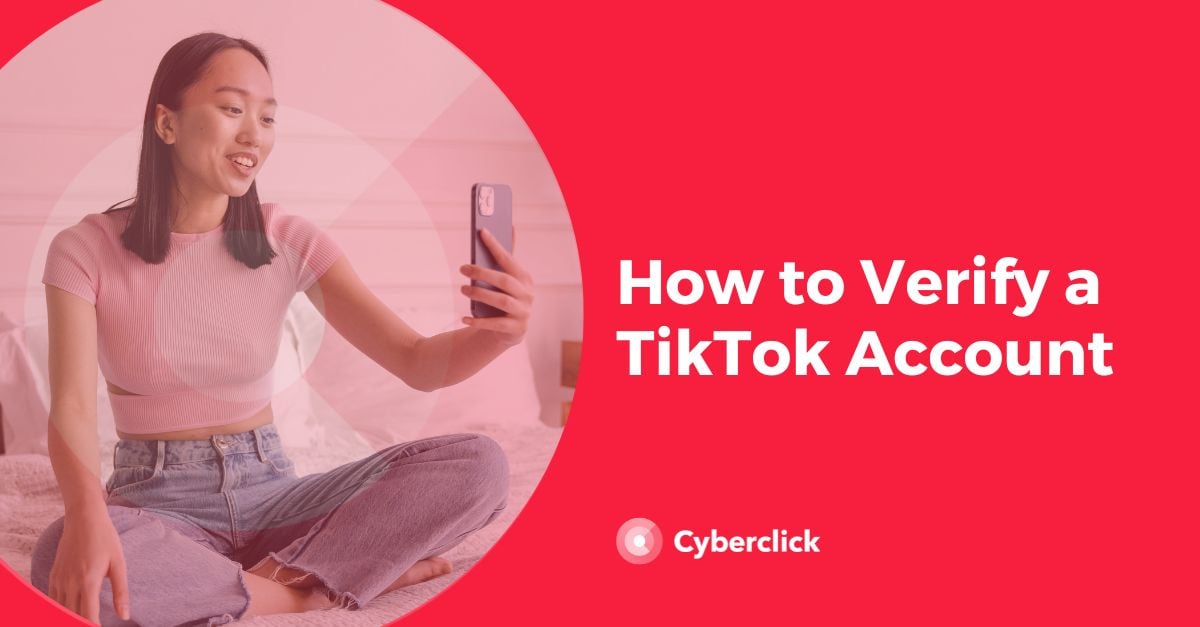 What Are TikTok Badges?
TikTok badges are TikTok's mechanism for confirming that an account belongs to the person it claims to be owned by. The badge is a blue checkmark that appears next to a TikTok user's account name in search results and in the profile.
The badge should always appear to the right of the user's name. If it is displayed elsewhere on the profile (e.g. in the bio) it is not a verified account.
The purpose of these badges is to make it easy for users to ensure they are seeing authentic content from an influencer or brand.
TikTok routinely verifies these types of accounts:
Influencers who are very popular on TikTok and exceed one million followers.

People who are famous outside of TikTok, such as actors, singers, or athletes.

Popular users who have experienced great growth on TikTok.
If you analyze the accounts already verified on TikTok, it seems that the minimum audience to get verified is around 50,000 followers.
Why Should You Verify Your Account?
It helps you get followers. If users know that the account is official, they will be more likely to follow you.

It generates trust among users. Users who know that your content is authentic will have a good impression of your brand.

It helps avoid phishing problems. Unfortunately, many celebrities and influencers have faced problems with fake accounts pretending to be them or even hackers who have taken over their accounts. TikTok's verification mechanism prevents these problems and helps create a safer environment for everyone.
How Are TikTok Badges Assigned?
The first thing you need to know is that, unlike other social networks, you cannot directly ask TikTok to verify your account. The TikTok team decides which accounts to verify through a manual process.
We do know that there are a number of requirements that accounts should meet before TikTok decides to verify them:
Have an active account (logged in at least once in the last 6 months).

Be managed by the actual person, company, or entity it claims to represent. In the case of accounts with different languages, there can only be one badge per company or per person.

Be a public account.

Have a complete profile, including a short description, name, profile photo, and at least one video.

Have an email address assigned with an email domain that corresponds to the company, entity, or institution it claims to represent (for example, @tiktok.com).

Have a prominent presence in the media. TikTok says its team reviews accounts that appear in multiple news sources and disregards press releases and sponsored or paid media.

Have two-factor authentication with a verified email. That ensures that the account remains secure and will continue to be managed by the same person.

One very important thing to keep in mind is that TikTok verifications cannot be purchased. If you meet someone who promises to put a TikTok badge on your profile in exchange for money, ignore them!
There are also a number of circumstances that can cause TikTok to remove a verification badge:
The account is transferred to another owner.

The user name is changed (if you have to change it for some reason, you can request verification again).

The account type is changed (company, individual, or institution).

The account violates TikTok Terms of Service.
5 Tips to Verify Your TikTok
Although you cannot directly request verification from TikTok, you can follow these tips to make TikTok consider your account important and grant you the badge:
Get more followers. In addition to reaching a relevant total number of followers, TikTok also values constant growth, meaning you keep adding new followers every day. The key to achieving this is not much of a secret: posting quality content on a regular basis is the best strategy.

Get more views. TikTok uses this metric, along with the number of followers, to evaluate the growth and evolution of an account. One way to make it easier for your videos to go viral and attract more views is to participate in network trends and challenges like a TikTok branded hashtag challenge.

Have verified accounts on other social networks. If you have the verification mark on networks like Facebook and Twitter, it can help you get the TikTok badge.

Have a developed online presence. It will help you if you appear in media such as blogs or online press with unpaid content.

Comply with TikTok's rules. Make sure you meet all the criteria for your account to be verified, such as using an official email address and using two-factor authentication.