By Berta Ventura, on 5 April 2023
Instagram giveaways are a great, effective way to increase engagement with your customers and social media followers and create excitement around your brand. But, it takes more than just a random giveaway prize to make a successful giveaway strategy. To have an Instagram giveaway that will actually get you results, you'll need to set clear objectives, create a timeline, and use social media to promote the right message.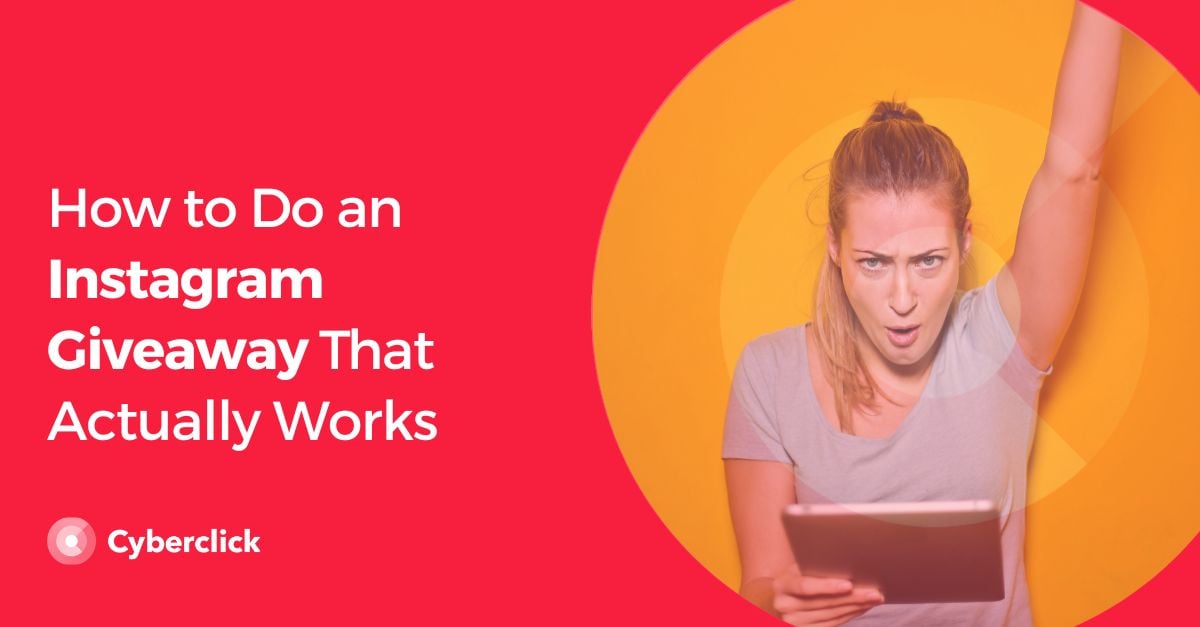 Social media plays a crucial role in overall inbound marketing efforts as these platforms can allow brands to easily engage with potential customers both directly and indirectly. With targeted posts and integrated campaigns, social media can provide businesses with powerful tools for success.
What's an Instagram Giveaway?
Instagram giveaways have become an incredibly popular way to gain social media followers and boost engagement. They are simple to set up and, with just a few steps, you can give people a chance to win anything from products to vouchers or trips. The process is straightforward - all your audience has to do is follow your social media account and like your post! This creative form of advertising is seeing huge success, often resulting in increased product awareness and boosting social media presence. It is no surprise that many social media users partake in Instagram giveaways each day! It's an effortless opportunity to win some amazing prizes.
Benefits of Instagram Giveaways for Brands
Are you a business owner on the lookout for an innovative way to drive more engagement and conversions for your brand? If so, Instagram giveaways are a great option! Read on to learn everything important that you need to know about launching successful Instagram giveaways that will have customers coming back and ready to shop.
Increased Brand Visibility
An Instagram giveaway is an excellent way for brands to increase their visibility and reach a wider audience. By partnering with influencers or running the giveaway on your own page, you can easily be seen by hundreds, thousands, or even hundreds of thousands of potential customers. Not only can this help bring in new customers, but it also allows you to spread brand awareness among current customers, making it easier for them to find out about new products or services.
Boosted Engagement
Instagram giveaways boost engagement. These giveaways often spark conversation in the comments section as people discuss their experiences with the product or service being offered and ask questions. This type of engagement helps build relationships with followers and increases visibility by allowing posts to appear higher up in users' feeds.
Increased Followers
Instagram giveaways offer a great incentive for users to follow your account. And, if you partner with an influencer who has a larger following than yours, you will receive exposure to their followers as well. This will gives you the potential to grow your following.
Increased User Generated Content
By encouraging users to post pictures related to your product or service during the giveaway period, you will likely see an increase in user generated content (UGC). UGC is valuable because it provides real customer reviews that show potential buyers what they can expect from your product or service. This can help sway them into making a purchase decision faster than reading through ad copy or reviews written by staff members at the company itself.
Different Types of Instagram Giveaways
Let's explore different types of giveaway strategies. Whether you're just starting out or a seasoned social media prodigy, we've got some valuable tips for you!
Like to Win Giveaway
This type of Instagram giveaway effectively increases your follower count, as it will encourage more people to like and follow you. The premise is simple: all people have to do is like the post in order to enter the contest, after which they are added into a pool of potential winners. These giveaways can be used across any industry, making them quite versatile. It's also easy for participants to understand, which increases engagement and campaign participation.
Comment to Win Giveaway
This type of giveaway requires people to comment on a post to enter. This gives organizers a chance to increase engagement by asking participants about their thoughts on a product or service, or getting them to share stories related to their experiences with the brand. By engaging with users in this way, businesses can create relationships that spark loyalty and interest in their products or services.
Tag-a-Friend Giveaway
A tag-a-friend giveaway allows participants to spread awareness of a business's campaign by tagging friends who might be interested in entering the contest too. It creates an opportunity for companies to attract new followers by providing extra incentive for entrants to share the post with their network. Not only does this boost follower numbers but it also gives brands visibility into who is actually using their product or service. Lastly, it builds relationships between current customers and potential ones.
Hashtag Contest Giveaway
Participants who want to join hashtag contests must use specific hashtags as part of their entry posts on Instagram. For example, businesses might ask people to tag themselves in photos that demonstrate something special about their brand's products or services in order for them to be entered into the competition draw pool. However other brands like to get creative, so don't hold back! This method can help businesses reach different audiences and increase the chances of finding potential customers
Photo/Video Contest Giveaway
The photo/video contest giveaway encourages participants to enter through photos or videos that display how they use a brand's products. It's a fun and interesting way for companies that offer physical products like clothing, accessories, and beauty essentials to allows potential customers get creative. They can show off how they use these goods themselves through pictures or videos and encourage others to try them too.
How to Do an Instagram Giveaway
We'll walk you through all the steps to take to do a successful giveaway!
Establish Your Goal
Before launching an Instagram giveaway, decide what the goal of the giveaway is. Ask yourself what do you want to achieve? Are you looking to increase sales, generate buzz about a product, or gain followers? Having a clear intention will help you focus your efforts and make it easier to measure success after the giveaway has ended.
Choose Your Prize
Consider what type of prize would be attractive to your target audience and aligned with your goal. Popular items like gift cards, discounts, and new products can generate excitement but take budget into account as well.
Promote Your Giveaway
Once you have your prize ready, create content across channels like YouTube, Twitter, and Facebook with calls-to-action encouraging people to participate in the giveaway. Utilize influencers or other partners who can help spread the word about your campaign by tagging them in posts and giving them exclusive access to promotional materials for their own channels.
Create Rules and Regulations
Before running a sweepstakes or contest on Instagram, ensure you're familiar with their terms and conditions for promotions and any applicable laws within your jurisdiction regarding giveaways. Write up clear rules that will be posted alongside the contest call-to-action, such as age requirements, eligibility restrictions based on location, time limit for entering, etc. in order to stay compliant and ensure a fair experience for all participants.
Monitor and Evaluate Your Results
Once the contest is over it's important to track its performance so you can learn from the results and adjust future strategies if necessary. Take note of metrics such as number of entries (and how they were acquired), engagement rates across channels during the promotion period, website traffic generated from social media posts related to the giveaway etc. This will help you determine whether or not the contest was successful in achieving the goals you set.
Now that you knows everything about Instagram giveaways, it's time to put these tips into action. If you need help coming up with a creative campaign or executing your plan, we're here to help. Our team of experts specialize in social media marketing and can help you craft a winning strategy. Contact us today to get started!