By Marina Sala, on 1 February 2022
Ecommerce has gone through a number of transformations over the past few years. This is primarily due to the fast-changing nature of modern advertising tools and technology. One such change is the increasing number of companies who are now opting for headless commerce models. This is a direct effect of the growing prevalence of the Internet of Things (IoT) and the shift to a consumer-centric market.
You might be wondering "What is headless commerce?"
If you are not familiar with the term, or if you want to know if it's the right choice for your brand, then you have come to the right place!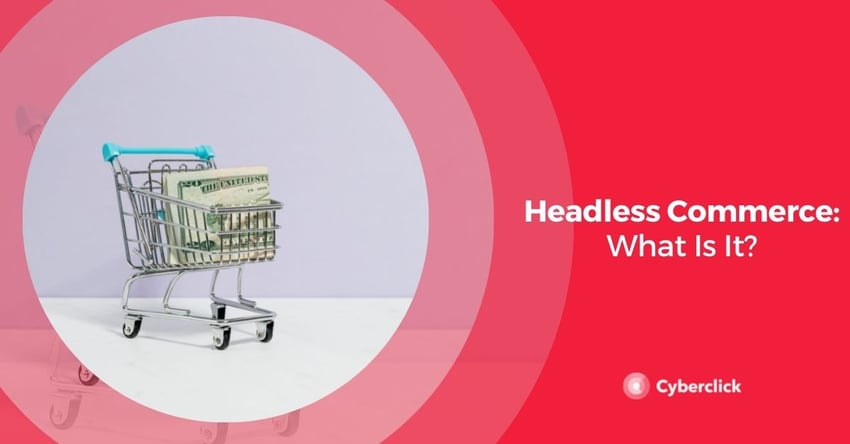 We are going to take a deep dive into the world of headless commerce and look at what it is, how it works, and how it can help you stay relevant and competitive. We will also share a few examples of popular headless commerce platforms to help you find the right solution for your brand.
What Is Headless Commerce?
Essentially, headless commerce is the separation of the front and back-end of your ecommerce platform. Instead of both areas being intrinsically linked, your ecommerce platform is divided into a back-end data model and a cloud-based infrastructure. This enables you to deliver things like content, products and payment gateways to a range of smart devices.
This type of decoupled architecture also enables you to make changes to a site's front-facing interface, without interfering with the back-end functionality. This gives you a lot of freedom. You can update touchpoints in your interface, make changes to your content, edit banners, and personalize the UX without affecting the fundamental functioning of your site.
A headless ecommerce system can also easily connect (via API) to any front-end customer experience. This means you can deliver content faster, offer improved security, and easily scale to reach new touchpoints. It also means that your platform is not limited to certain devices, a crucial factor in the age of IoT.
How Does Headless Commerce Work?
Unlike traditional themes which are usually only optimized for specific endpoints, with headless commerce, content stored in a back-end system can be delivered to a range of devices. This includes IoT devices, wearable tech, smart devices, kiosks, apps and social networks. It does this by communicating requests between the presentation and application layers of a site through an application programming interface (API).
The API serves as a connection between the front and back-end and provides a generic interface to the platform. This means it can interact with any device capable of sending the correct API requests. It also means that any front-end can be built to connect to the back-end of a platform.
The front-end also becomes far simpler with a headless commerce platform as it doesn't have to deal with any of the processing, it just displays information to the user. Plus, the API facilitates seamless communication between inventory management, payment processing, and the CRM, improving the overall UX.
What Are the Benefits of Headless Commerce?
Let's take a look at some of the benefits of incorporating a headless commerce platform in your business.
Seamless Integrations
Because headless commerce requires you to use an API, it is much easier to seamlessly integrate and communicate with other platforms. This means you can add your brand to new devices and reach more customers in a matter of hours.
Personalize the Customer Experience
Headless commerce also makes it much easier to personalize the customer experience, as the UX interface is separated from back-end functionalities. This means you can quickly adapt to customer needs and offer a more tailored CX. Plus, because your back-end is constantly storing and analyzing consumer data, it can power personalization engines on CMS, mobile apps, and social networks. This gives your market a consistent customer experience across all devices and channels.
Conversion Optimization
With headless commerce, you can regularly test different templates and approaches for your platform. This helps you gain a better understanding of what works with your target market, enabling you to optimise your conversions at a much faster rate than you would with a traditional ecommerce platform.
Gives You a Competitive Edge
With headless commerce you can quickly implement updates and changes without affecting your back-end functionality. This gives you a huge competitive edge compared to commercial brands that depend on periodical roll outs.
For example, Amazon deploys updates an average of once every 11.7 seconds. This drastically reduces the number of potential outages. Plus, because you don't need to update the entire system each time, you can give your customers what they want far more quickly, keeping you ahead of the game.
Headless Commerce Platforms
Let's finish by taking a look at some of the best examples of headless commerce platforms currently on the market.
Amazon
Amazon is perhaps one of the best examples of a successful headless commerce platform.
The online marketplace giant relies on headless architecture to offer a consistent shopping experience to its Prime members across desktop, mobile, and voice. In fact, it was one of the pioneers of this type of architecture. It uses this tech to separate its microservices (cart, payments, subscriptions, etc) from the front-end presentation layer. This has enabled Amazon to scale and extend multiple front-ends, including websites, mobile apps, wearables, PoS handhelds, shopping carts, and other IoT devices.
Target
Target is another great example of how headless commerce can boost your business. The retail store conducted in-depth analysis of its market and discovered that a large majority of its customers (80%) start the buying journey from one device and finish on another. As a solution to this gap between devices, the company decided to adopt a headless commerce approach to unify the customer experience across devices.
Walmart
Walmart was an early adopter of the headless commerce approach, using a tech stack that promoted faster loading times, intuitive design and an app-like experience on mobile. It also reaped the benefits of separating the Walmart platform's back-end from its front-end.
The site is now faster and more efficient, resulting in an increase in sales. Focusing on the customer experience and adopting headless commerce approach has also helped the brand take a considerable portion of Amazon's market share.