By Pere Munar, on 19 September 2023
Google Looker Studio is a data science tool formerly known as Google Data Studio. It is an essential tool in digital marketing, where actions such as tracking web traffic or analyzing sales data are necessary. They help you determine the direction to take in order to achieve your objectives. But what exactly is Looker Studio and how does it work?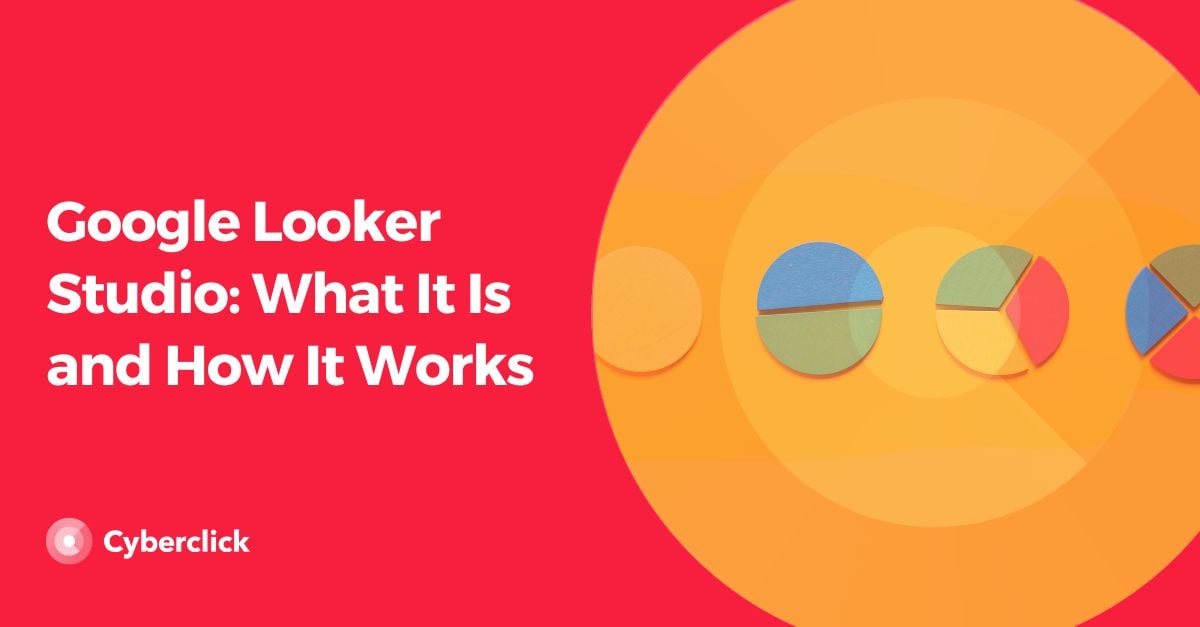 What Is Looker Studio?
Looker Studio, formerly Google Data Studio, is a BI (Business Intelligence) tool that allows you to group all the data that has been collected by other Google tools and transform it into customized reports.
It's very useful to have this information organized in the form of graphs, maps, tables, and so on. In addition, it is designed so that anyone can understand the reports, which makes decision making much easier.
Looker Studio vs. Data Studio
Google Data Studio was introduced in 2016 and was the tool used by companies to visualize and analyze data. However, Google announced that it would be replaced by Looker Studio from October 2022 because Google believed that the role of digital marketing had changed and grown to a point where brands needed a more advanced tool.
The main change Looker Studio brought was the ability to access other Business Intelligence tools in the Google cloud from a single place. Basically, it has all Google tools, with their respective stored data, grouped into one. In addition, the dashboards have been improvement and the tool is now equipped with artificial intelligence to enable machine learning and predictive analytics.
In addition to the above, Google Looker Studio incorporates both a free and a Pro version, allows integration with Google Sheets, supports more than 50 SQLs (Structured Query Languages) and databases, and uses LookML (Looker Modeling Language) for data modeling.
All this means that companies that are already using Google Data Studio won't lose anything, as Looker Studio has improved functionalities as well as additional ones.
How Google Looker Studio Can Help You With Business Intelligence and Data Science
Google Looker Studio can be very useful for both Business Intelligence and data science. This is mainly because it is designed for data analysis and detailed reporting, making it possible to customize queries using languages such as SQL to obtain specific information from data sets.
Another of Looker Studio's features is that it allows you to visualize the data in many different ways, such as graphs or interactive and customized panels. This makes it much easier to understand and share information.
It also allows you to access data in real time and work with updated information, since it integrates with different data sources. In addition, it allows you to share this data, making collaboration between teams much easier.
Another thing that helps with BI and data science is that Google Looker Studio integrates with other tools and languages.
It is a very versatile and useful tool to visualize, access, and analyze data in real time even if it is spread among different tools, since Looker Studio can be integrated with all of them.
Data Sources That Can Be Used in Looker Studio
Looker Studio allows the use of more than 600 data sources, which can be classified into relational databases, data warehouses, CSV or Excel files, cloud services, and APIs and web services.
Relational databases include MySQL, Oracle, or SQL Server, among others, which are used to store transactional data. Data warehouses include platforms or tools designed to store large amounts of information, such as Google BigQuery or Snowflake. Google Looker Studio can also import CSV or Excel files, so if you have files in this format with valuable information, it can be very useful.
Also noteworthy is its ability to connect with cloud services, such as Google Analytics, Salesforce and Zendesk, among others; and with APIs and web services. This means that it integrates seamlessly with external systems and applications.
Google Looker Studio is a very versatile, customizable, and flexible tool that can be integrated with virtually any data source.
How to Configure Looker Studio for Your Company
Google Looker Studio tool is very easy to configure. It is designed to allow anyone to read and create reports. Below are the steps to follow to configure it.
Connect the data source. In the upper left corner you will find the Create option. Click on it and select Report. The option to enter the data source (or data sources) will automatically appear, as more than one can be entered. Google Looker Studio accepts more than 600 data sources, but you must enter those that have updated and reliable data.

Choose and configure the type of report depending on the type of visual elements you want. In order to generate a report, you must select the type of graph, table, or score card you want from Add to Cart. Then, you just need to customize it with the data you need and the way you want it to be displayed. The data to be configured are qualitative and quantitative. Filters can also be applied if you want to show something more specific.

Define the chart style. To make the information displayed even clearer, the graphic element can be accompanied by images, text or other elements. This can be done from the Style section, where you can also choose the font type, color, and general appearance.

Adding dynamic elements. Google Looker Studio also allows you to add dynamic controls so that team members can access the data they want. These dynamic elements include dropdowns, checkboxes, and sliders.

Sharing reports. This tool makes teamwork much simpler by making it quick and easy to share reports. Just click on Share > Invite people and enter the email addresses of the people with whom you want to share the report. You can also do this by generating links.
Despite being a very complete and advanced tool, Google Looker Studio is relatively easy to use, since its interface is very intuitive. Just remember that, in order to obtain good reports, it is necessary to select your data sources.