By Pep Canals, on 19 November 2020
Introduced in 2019, Google Discovery Ads have become one of the most impactful and engaging forms of search engine marketing today. Google has developed a way to reach audiences using custom content as they browse and scroll. This platform allows marketers to reach an audience of up to 3 billion people monthly across YouTube, Discover, and Gmail.
So let's discuss what Google Discovery Ads are, their benefits, and the campaign metrics you should monitor when using them.
What Are Google Discovery Ads?
Google Discovery Ads are relevant ads that are shown to users as they consume content related to their interests. They are visually compelling, mobile-first, and native, a huge advantage in the advertising world because they are much less intrusive than typical ads. Apart from appearing on YouTube "Home" and "Watch Next" feeds and Gmail "Promotions" and "Social" tabs, they also live on Google's App and mobile home page.
Google Discovery Ads use Google's 'Custom Intent' technology, leveraging users' past searches, video history, and map activity to serve ads to users. It also uses machine learning to optimize the ad's performance. All you would need to do is upload your ad copy and creative, and let Google do the rest!
Similar to Display Ads, Discovery Ads are visual-centric and make use of engaging imagery to attract customers. Google displays related ads to your users, even before they know they want to see them.
Here's an example: Let's say someone has been searching and browsing for new winter boots. While they're later scrolling through YouTube, Google Discovery, or even using Gmail, Google will show them an ad related to winter boots. The ad, taking on a native format, will seamlessly blend into their feed.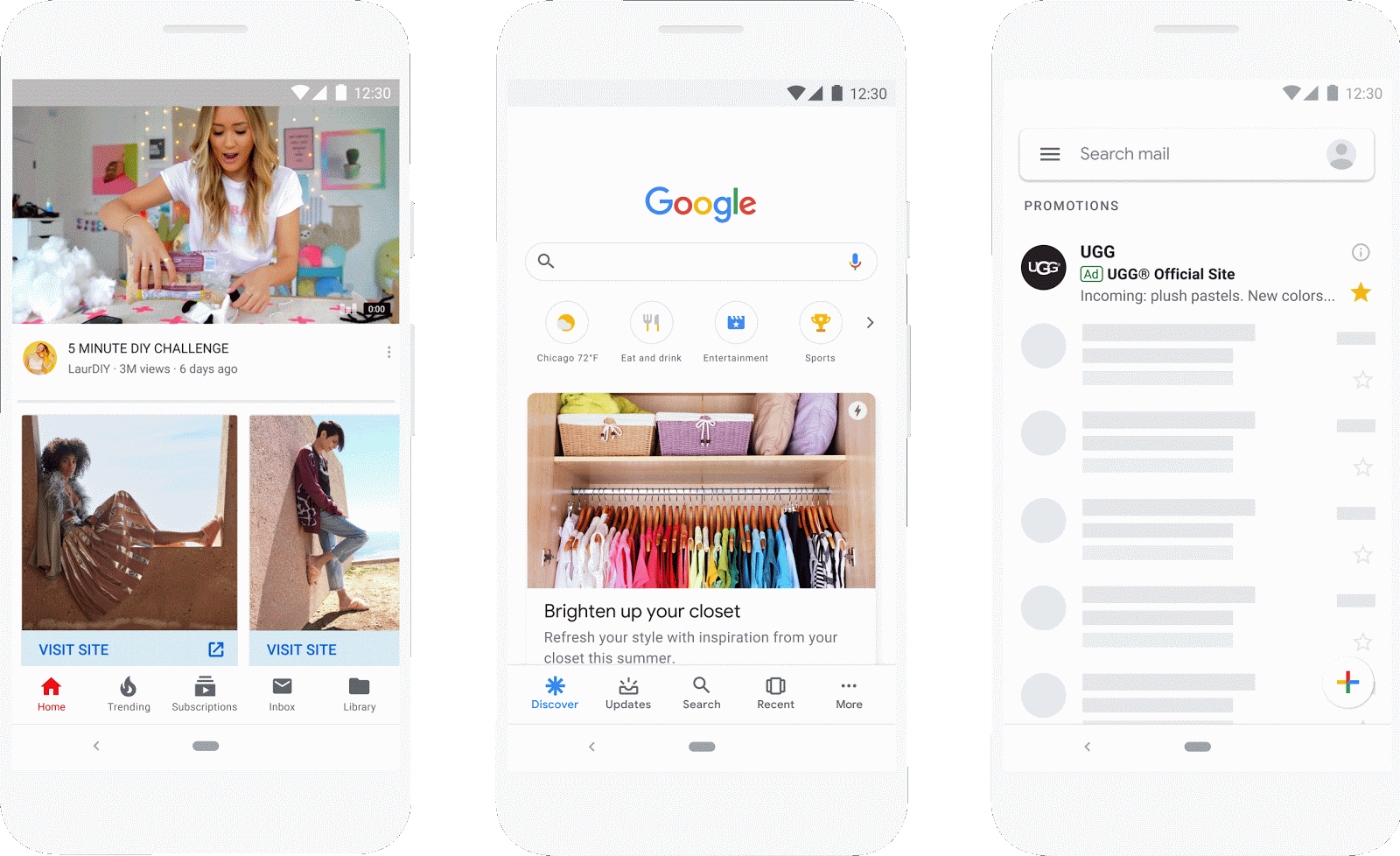 5 Benefits of Google Discovery Ads
Reach your target market at scale (nearly 3 billion users across Google Discover, YouTube, and Gmail) in a single campaign

Drive engagement with Google's Customer Intent technology by showing relevant and meaningful ads to users already interested in your products and services

Target custom, affinity, and in-market audiences

Display visually-rich ads in a native format

Maximize conversions with automated bidding options
Creating Google Discovery Ads
Creating a Google Discovery Campaign begins with defining your marketing goals (generating leads, driving online sales, or building brand awareness) and setting up the languages and geographic locations you'd like to target. From there, you can choose to maximize conversions based on your daily budget or Target CPA. Insider tip: you'll want to make sure your daily budget is at least 10x your CPA!
Once this is complete, you can begin creating ad groups—or choosing how to target different audiences. For example, you can choose to remarket to users who have previously browsed your website or have abandoned carts, or define custom intent audiences.
If you choose a custom intent audience, it is best practice to use 10 or more of your best-performing keywords from search campaigns. You can also broaden your reach by turning on audience expansion.
When it comes to uploading your creative assets, pick your highest-quality imagery! No matter what type of ad you are setting up, you should always refer to Google's requirements for creating discovery ads to make sure you are implementing everything correctly.
Understanding Google's Reporting and Metrics
Discovery Ads provide many options for tracking marketing metrics. Automated bidding options are designed so that your ad can reach optimal performance based on your specified marketing objective, bid, and budget. For this reason, setting up your campaign is relatively simple as Google's algorithm does most of the heavy lifting.
Here's a breakdown of the metrics you can track in your Discovery Campaigns and how they are calculated:
Impressions: How many times your ad was shown
Clicks: Clicks on your ad
Engagement Rate: Number of clicks on your ad divided by how many times it was shown
Click-Through Rate (CTR): Clicks to your website divided by how many times your ad was shown
Cost-Per-Click (CPC): Total cost of the campaign divided by the number of clicks
Interactions: The combination of all paid clicks on your ad
Interaction Rate: The number of interactions with your ad divided by the number of times your ad was shown
Average Cost: The average cost of paid interactions with your ad