By Oier Gil, on 21 February 2022
The call to action or CTA is an essential component of any inbound marketing strategy. It is what nudges a user to perform a certain action. It is in the form of a button or link with striking and compelling text that encourages the user to click on it.
In this post, we will explain examples of calls to action and how they can elevate your inbound marketing strategy.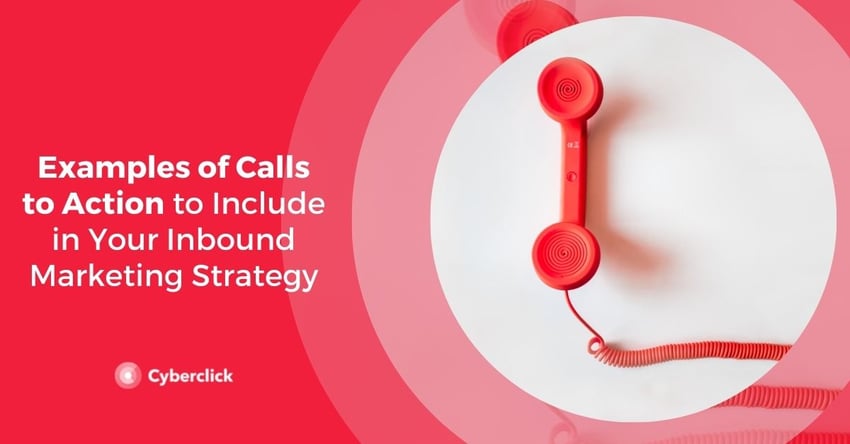 Why It's Important to Include Call to Actions In Your Inbound Marketing Strategy
In order for users to perform a specific action, they need a CTA. Even if the action seems obvious, such as buying a product or subscribing to the newsletter, the user must have a button or link to click on. Ideally, that button or link should stand out among the text. The success of an online business depends entirely on this element since without including call to actions, you won't have an effective way to get leads and customers.
8 Types of Call to Actions
Lead generation: The main objective of this type of CTA is to get potential customers. It is usually placed at the end of a piece of content or in the sidebar. To get users to click on it, it should be eye-catching and explain what is on the other side of the button.

Form fills: This is used to make sending data or personal information much more attractive, so instead of including a "Submit" button, you can specify what the user will get by clicking on the link. For example: "Get your guide".

Lead nurturing: There are times when you get leads, but they are not ready to make a purchase. The objective of these types of calls to action is to convince them to buy by giving them specific and enticing offers.





Discovering a product or service: The user must be able to find information related to the brand or to a specific product or service quickly and easily. In this case, the CTA should be simple and without too much text, but it should stand out among the content.

Closing the sale: These CTAs are usually at the end and aim to make the user purchase the product or service by giving the illusion of exclusivity. For example "Get it now" or "Get your place now".

Event promotion: In this case, the objective is to get as many people as possible to attend an event, so it should promote it and aim to boost ticket sales. These CTAs do not appear on a specific space on the page and can be placed almost anywhere.

Read more: If you do not want to show all the text of a post, you can use the "Read more" or "See more" button. This serves to arouse curiosity and to ensure that the most attractive posts receive quality traffic.

Share content on social networks: This is one of the most basic CTAs that exists. It invites users to share content on their social networks, allowing you to reach a wider audience and generate web traffic.
The type of CTA you should use depends entirely on the kind of campaign you are running. In general, it must always be attractive and stand out from the rest of the content.
Call to Actions According to Their Placements on a Website
Different CTAs can also be used according to the position or place they occupy on a web page.
Basic CTA: This would be a button that is placed at the end to achieve a conversion.

Persistent Header CTA: This is usually placed in the header or footer and is always visible, even if the user scrolls down the page. This is the best way to ensure that the CTA is always available when the user wants to click on it. It is usually used to inform users about a generic offer or to invite them to sign up for the newsletter.

Exit Intent CTA: This call to action is actually a pop-up that appears when the visitor intends to leave the page. Its purpose is to convince him or her to stay or to perform an action before leaving.

Web-To-Call: Most users use mobile devices for browsing, so this button allows users to place a call to the company directly from the web page.
Although CTAs are a key element in any marketing strategy, it is important not to overuse them. Placing too many call to actions could result in none of them standing out enough for the user to click on them. Defining the objective of your call to action and placing it correctly on the page is the only way you will get your users to perform an action.