By Laia Cardona, on 6 October 2020
Do you sell physical products online and want to link your campaigns to sales? Amazon Advertising is the solution you're looking for.
When we think of pay per click platforms, many times we don't go beyond Google and Facebook... but there are other options on the market. Advertising on Amazon is an effective way to reach users just when they are ready to buy, but that's not all. With Amazon Advertising you can also reach new audiences all over the internet and try out never-before-seen targeting options. Want to know how? Don't miss this article!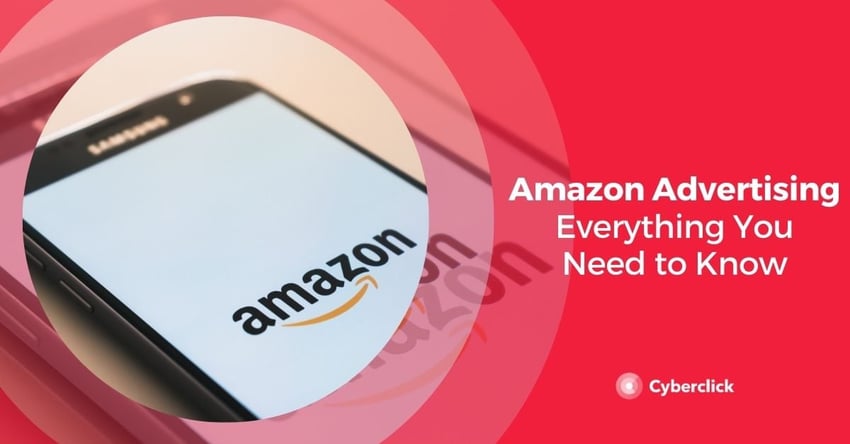 What Is Amazon Advertising and Why Should You Use It?
Amazon Advertising is Amazon's pay per click advertising solution. As with other similar solutions, advertisers can place ads in different locations, use different options to target the audience that can see them, and pay only when users click on them.
Within this whole ecosystem, we have to distinguish between two major location options:
Ads within Amazon. With this option, brands can take advantage of a high quality flow of visitors, since they usually only visit Amazon when they have a firm intention to buy. In other words, these are users who are already at the bottom of the conversion funnel and therefore very likely to convert.
Ads in other places on the Internet. Thanks to Amazon DSP (which we will cover in detail later in this article), advertisers are not limited to publishing within Amazon. Amazon Advertising offers them the possibility of publishing ads all over the Internet, segmented according to the information Amazon has about the users. For example, you can target ads to users who are showing signs of going to buy a similar product soon, who are likely to buy products in x category, or who have searched for your brand before.


Amazon Advertising Benefits
Reach. Amazon already has over 300 million users, and it is estimated that 80 million more will become members of Amazon Prime in the United States alone. In fact, according to data from IAB Spain, 7 out of every 10 Internet users are already using Amazon. The average expenditure is 75 euros per purchase and these are repeated an average of 2.4 times.
Synergies. As part of a global ecommerce strategy, Amazon ads can reinforce the organic positioning within this platform. In other words, if you publish paid campaigns, your organic results will also be better.
Relevance. Amazon has privileged information about users' consumption habits, which other platforms simply cannot access. Therefore, it allows us to establish unique and different connections with our audience, knowing first-hand when they are ready to buy.
Analysis. Amazon Advertising's metrics can help brands better define and optimize their marketing strategies for increasingly effective advertising.
Simplicity. Compared to other pay-per-click platforms, Amazon remains relatively simple to use. It even has an automatic campaign creation option that does most of the work for you.
Growth potential. Although Amazon advertising still lags behind the pay-per-click giants, its ad revenues are growing 5 times faster than Google's.


Amazon Advertising Solutions
Sponsored Ads
Sponsored Ads are the easiest and most intuitive format you can find at Amazon Advertising, as they allow you to reach web users while they are looking and searching for products.
Sponsored Ads appear on both the search results pages and the relevant product pages, and can direct the user to the sponsored product detail page or the brand store. There are a few different types, such as Sponsored Products and Sponsored Brands.
Launching a sponsored advertising campaign on Amazon is very simple: just select the products you want to advertise, set a budget and choose a combination of keywords, products and product categories to segment them. Remember that you can also use negative keywords.
The locations where your sponsored ads can appear are as followed: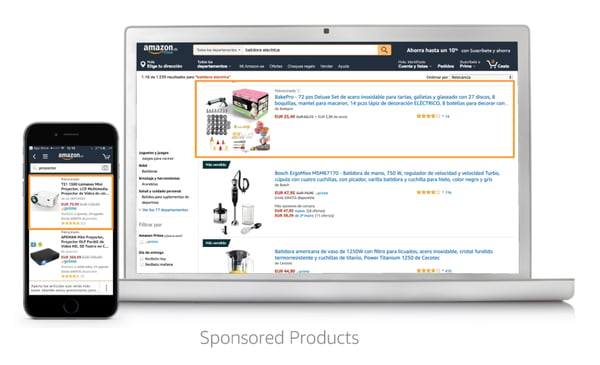 Display Ads
Display ads allow you to display banner ads with custom creatives on Amazon websites, applications and third-party websites. The platform has different creative formats and targeting options based on user purchasing behavior. They are also available for users who do not sell on Amazon.
Display ad campaigns on Amazon Advertising can be managed by the advertiser itself or by a team of experts. In any case, as with other campaigns of this type, the keys to success are to use attractive and attention-calling copies and images and to perform A/B tests to progressively optimize the ads.
The locations where your display ads can appear can include the following: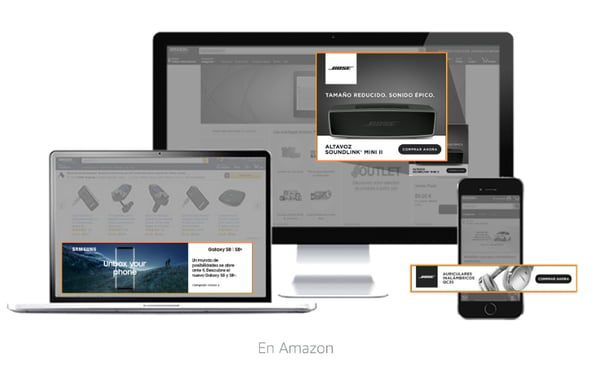 Video Ads
Video ads are a good complement or even an alternative to display campaigns, since they allow you both to tell the story of the brand in a more emotional way, as well as make effective demonstrations of the products and services.
As with display campaigns, video ads can be placed both on Amazon sites and other Internet sites, always taking advantage of the information available on this platform to reach our ideal audience.
Of course, the success of this type of campaign depends largely on creativity. Besides taking care of the quality of your video, remember that in many cases users will view it from mobile devices, so it's never a bad idea to include subtitles.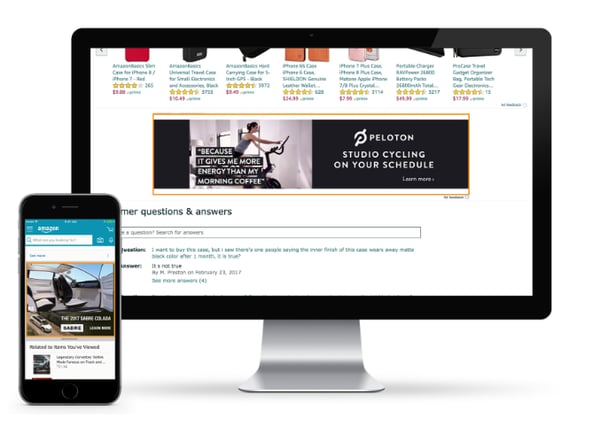 Stores
Stores offer the option of creating a multi-page website for your brand on Amazon, and are available to vendors, suppliers and agencies. Stores have their own branded URL, so they are a great option for directing your traffic to them.
A good Stores page includes both the brand history and the product catalog, including related products and recommendations. To create them, you can include videos, text and images through a content manager, without the need for programming knowledge.
Amazon DSP
Amazon DSP (formerly known as AAP or Amazon Advertising Platform) is a programmatic solution to reach Amazon audiences in different locations. Possible locations include Amazon sites and applications, third party sites and ad exchanges.
Amazon DSP boasts a high standard of quality and brand security, through measures such as manual website quality review and real-time bid evaluations. It also has a unique and high quality inventory.
Amazon Advertising's Measurement Solutions
Finally, Amazon's advertising solution incorporates its own measurement tools, which calculate the impact of campaigns on both Amazon and third-party sites.
One of the most interesting things about this platform is that it has its own unique metrics, which measure the impact of ads on browsing behavior, brand awareness and sales. In addition, the included third-party reports provide a complete view of the results of the campaigns in all their locations.
How To Create Your Own Amazon Advertising Campaign Step By Step
Before You Start
Before launching your first campaign, it is essential to have a vendor account at Amazon, so you will have to create one if you don't already have one.
Once you've created your vendor account, you will then implement these three steps recommended by Amazon Advertising:
Check that your products belong to the categories suitable for advertising and that you can send them to the locations where you are going to advertise.
Decide which products you want to advertise. In addition to considering which products will contribute to your business goals, you should also make sure they are available and that you will not run out of stock in the middle of the campaign (out-of-stock ads will not be shown).
Review your product pages. Users who click on your ads will end up visiting your product page, so you need to make sure they are optimized. According to the platform's own advice, a good product page should include a precise and descriptive title, high quality images, relevant and useful product information and at least 5 list points.
Create Your First Campaign
In general, we recommend that your first experience with Amazon Advertising start with sponsored products, as it is the easiest to implement and allows you to easily see the impact of the campaign.
And in writing, to create a sponsored product campaign, follow these steps:
Log in to your Amazon Marketing Services account (ams.amazon.com).

Select "sponsored products" in the type of campaign and then choose the product you want to promote.

Then choose the name of the campaign, the average daily budget and the duration (indefinitely from today or between a range of dates). The minimum daily budget is $1.

Set the bidding and keywords. You can choose from the list of keywords suggested by Amazon depending on the product, or set your own keywords and bids manually. You will also have to take into account the matching. By default, the match is wide. You can also add negative keywords.

Click on "Launch campaign" and you're done! Your ad will be published in less than an hour, but this does not mean that the work is finished. To achieve the best results, we recommend that you regularly visit your campaign's metrics and adjust your settings according to what is working best.
Tips for Optimizing Your Advertising on Amazon Advertising
To finish, or rather to continue advancing in the world of Amazon Advertising, let's review some basic tips to create better advertising campaigns on Amazon.
Structure your campaigns according to the product categories. If you have experience with Google Ads, this will surely be familiar to you. The strategy that works best is to create a separate campaign for each of the major product categories and more specific ad groups within each of them.
Be precise... Amazon users are often looking for very specific products, so your ad text should include all the important features: height, width, weight, color…
...but don't forget about creativity. Ad texts should not only be representative of the product, but also attractive and catchy. Don't be afraid to resort to creative solutions or even humor. And remember that one of the tricks that works best is the sense of urgency ("limited offer", "only for 48 hours", etc.).
Include keywords from your competitors. When making your keyword list, don't forget to include your main competitors. This way, you can get visibility when users are looking for a particular brand. To find out which competitor's brands are better positioned on Amazon, try doing a search of your product category and analyze the results.
Experiment with different ad formats. Sponsored products are a great option to start with, but don't stop there. It's worth testing and experimenting with different types of advertising to see what works best for your brand.
Take care of the matches. If in doubt, I always recommend betting on the tightest type of match, to maximize the accuracy of ad segmentation. You can always expand your audience later.