By Enric Llonch, on 10 January 2020
In 2019, Spotify took their turn in the podcast boom when they acquired podcasting companies Anchor and Gimlet Media.
Now, the music streaming platform is furthering their quest to dominate the podcasting world with their latest announcement: Streaming Ad Insertion, a technology that allows you to add dynamic ads to episodes and consequently offer better and more accurate metrics to advertisers. In this article, we'll break down how these ads work and what they mean for advertisers.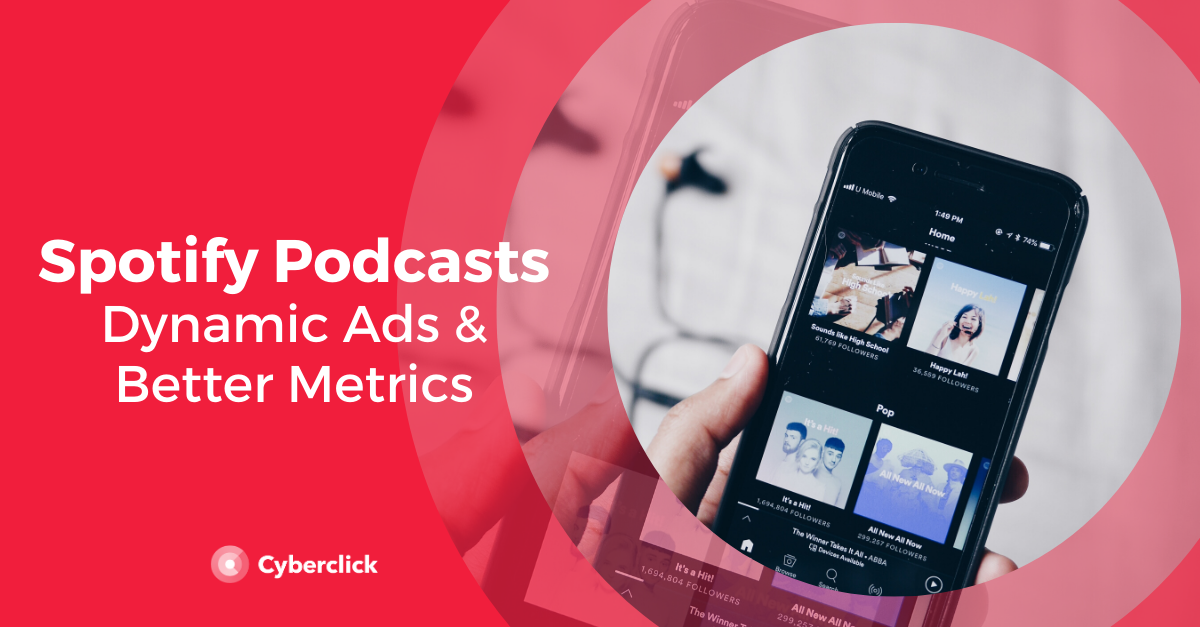 How Do Podcasts Ads Work?
Podcasts have always been an open format, based on audio files embedded in an RSS feed that is periodically updated. Podcast players such as Spotify or Apple's iTunes download the audio files from the feeds you're subscribed to, enabling you to listen to them offline, in the car, in the shower, etc.
In recent years, the popularity of podcasting has caught the attention of major streaming companies, like Spotify and iHeart Media. Spotify, in particular, has over 248 million monthly active users, the highest figure of all audio streaming services. And listeners, aren't the only ones paying attention. Podcasts have been an interesting avenue for advertisers, but its lack of metric visibility has been a barrier of entry for some.
Up until now, advertisers were limited to two options for advertising in podcasts. Ads could appear in the original podcast recording, oftentimes presented by the host of the program. These are inside the sound file and are managed directly between the podcaster and advertiser. Similarly, if the podcast was uploaded on a website or article, advertisers could place a display ad in the same place where the podcast was hosted.
The other advertising option is dynamic advertising. In this case, when a listener downloads or plays a podcast episode, the ad platform embeds an ad in that episode (either at the beginning, middle, or end). This method gives advertisers much more options: you can add new ads to old episodes, change an ad once you have had a certain number of impressions, and choose an ad to appear only to a certain audience if it is targeted.
The New Spotify Podcast Ads
This is where Spotify and its new "Streaming Ad Insertion" or SAI technology comes in. Thanks to its extensive user base, the streaming service has detailed information from millions of people, allowing them to deliver more targeted, and therefore more effective, ads.
Spotify also promises to provide the most accurate metrics for podcasters.Instead of measuring success by episode downloads, this new system will track exactly how many users have heard the ad and what type of audience they belonged to (age, gender, device, and "listening habits"), as well as conversion data, ROI, and ad impressions. Just as they do with their non-premium music subscribers, Spotify will be able to offer dynamic ads in podcasts.
It's not entirely clear how these dynamic ads will integrate into Spotify podcasts with other podcasting clients, and they probably won't directly. Just as YouTube has become synonymous with digital video over the past decade, Spotify hopes to do the same with the sound format, whether it's music or podcasts. Offering extra features and content that appeal to advertisers, producers, and listeners equally is a strong step towards their goal.
While this new system certainly weakens the traditional open format of podcasts, and represents a new level of competition for audio advertising platforms such as Art19, Megaphone, and Stitcher, it will be interesting to see how Spotify's Streaming Ad Insertion develops over time.