By Laia Cardona, on 12 October 2023
Does getting a lot of traffic improve SEO positioning of websites on search engines? Many professionals who implement inbound marketing strategies have this question. That's why we want to shed some light on the matter and give you a better understanding of inbound so that you can craft a successful marketing strategy.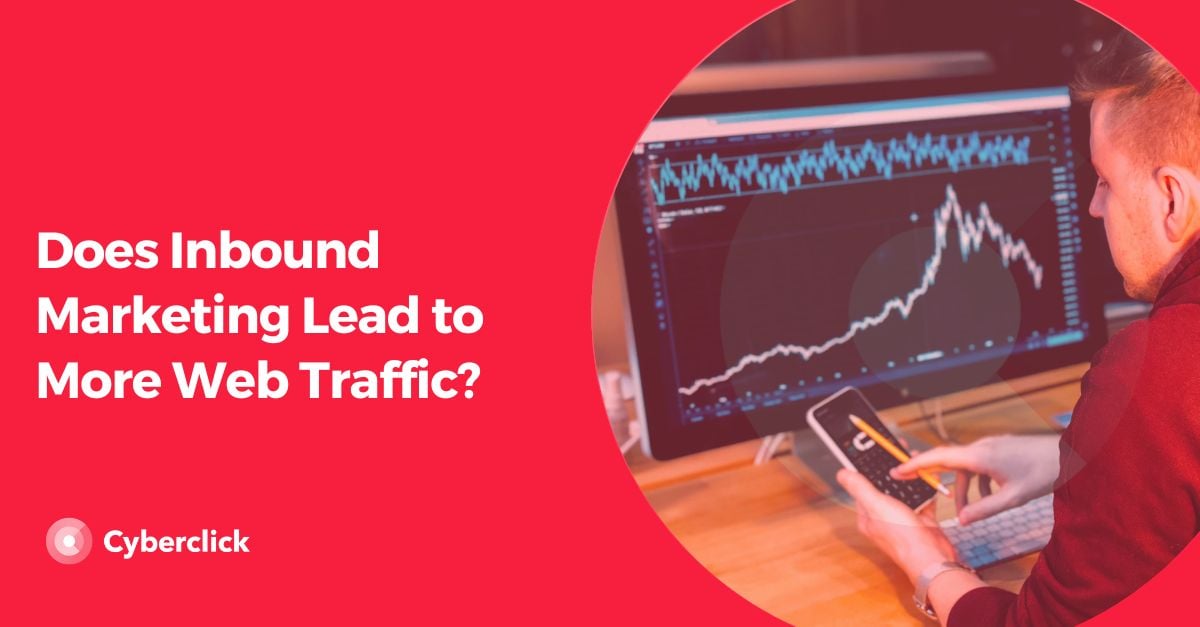 What Is Web Traffic?
Web traffic is the amount of visits that a page receives in a given period of time. This can come from different sources, such as search engines, social networks or paid advertising.
There are four main types of traffic:
Organic: This occurs naturally without any paid advertising. For example, when a person searches something on Google and clicks on a results page, this is an example of organic traffic.
Direct: This which occurs when users enter a specific page by typing the full url in the address bar, and not searching through Google or any other search engine or source.
Referral: This is generated by people who come to your page through another one, which can be either another website or a social network.
Paid: In this case, the user arrives at the website by clicking on a paid ad, which may be on a social network or a search engine.
Does Traffic Influence Web Positioning?
The quick answer would be yes, but there is an important nuance to take into account. If Google, for example, detects that a user entered a url and left quickly, it will interpret that their search intent has not been fully satisfied and that, therefore, the website doesn't offer a relevant response and does not deserve to climb positions. This happens as long as the person subsequently chooses another Google result to consult. If they log out of the search engine, no matter how little time they spent on a page, Google will interpret that their query has been satisfied and will rank the website higher.
One thing to note is that the different types of traffic influence web positioning in different ways.
Organic: This has the greatest affect on SEO results and can boost them quite a bit.
Direct: There is no fixed consensus on whether this affects SEO or not. At most, what is clear is that it helps increase the authority of a website.
Referral: It isn't as powerful as organic, but if it occurs continuously for months it does help improve SEO positioning.
Paid: This differs from the rest, since there is a monetary exchange involved. Brands can pay for their pages to appear in privileged positions in the search results, in many cases above the organic results. However, they will not always appear in the first positions, since it is not possible to pay for that. What is recommended is to combine paid and unpaid strategies.
Tips to Increase Web Traffic to Your Site
Optimize Your Website
Your website must offer a good user experience, as Google and other search engines take this into account. Make sure that it adapts to different devices correctly, that it doesn't take too long to load, that the images are optimized, that the articles have good keywords, etc.
Avoid Cannibalizing Your Own Content
Cannibalization occurs when two or more pages on your website try to rank for the same keyword or have the same search intent. This causes your own content to waste time competing against itself, thus hurting your SEO. To avoid this, merge articles that are in this situation into one, specifically the one that is getting the best results.
Work on Internal Links
Internal links are those that you include within your pages and that redirect to other pages of your website. It is advisable to add internal links on the strongest pages that redirect to weaker pages (lower positioned).
Get Backlinks
Backlinks are links on your site that take users to a different one when they click. They are very useful to boost SEO positioning, at least for Google. They can be obtained through collaborations or through payment.
Research Keywords to Create New Content That Ranks Well
Choosing the right keywords is also a very important factor in SEO. Tools such as Ahrefs, Google Trends or Semrush (among others) are very useful in this regard.
Rewrite the Content of Poorly Positioned Pages
If any of your entries are not on the first page of Google, it is very difficult to improve your web positioning, since users do not usually go beyond the results of the first page. In these cases, rewriting the article completely can help improve SEO.
Update Pages That Rank Well
The pages or articles of your website that are on the first page of Google can also improve their SEO positioning by making small changes to the content, not by completely rewriting them. Even if you think it is not a big deal to move from the 4th to the 3rd position, it really is and it can greatly improve your traffic.
Organize Your Content
Content clusters are pages that are interconnected by a specific topic. Creating these is proven to improve SEO rankings and also the user experience.
Get Your Results to Appear as Rich Content
Rich results or rich snippets are those that appear accompanied by images, diagrams and other non-textual formats. While this by itself does not cause your rankings to increase, it does attract more users to your page, thus improving your SEO.