By Shanon Roberts, on 7 December 2021
Direct to consumer (D2C) marketing is an increasingly popular marketing strategy where companies promote and sell products directly to consumers. Instead of relying on intermediaries, brands make direct connections with customers and control each stage of the buyer's journey. This includes manufacturing, marketing, selling and shipping their own products.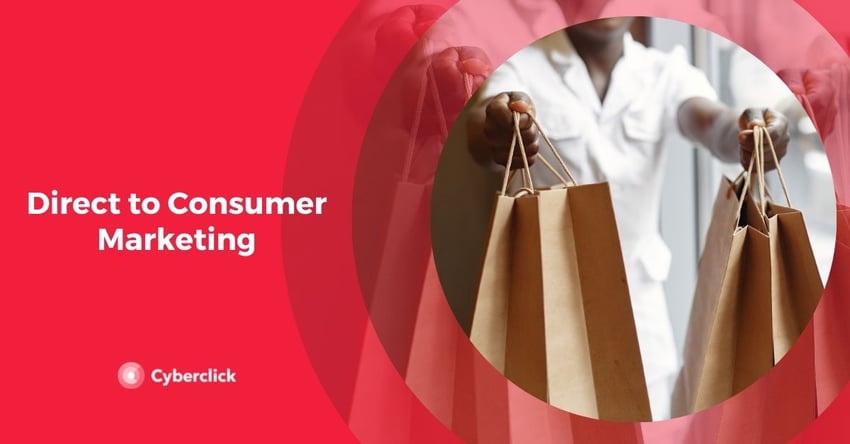 Although D2C has been gaining traction for a number of years, the Covid-19 pandemic has accelerated the transition from traditional marketing strategies. This is primarily due to changes in consumer expectations in terms of the purchasing process, convenience, and a desire for authentic brand experiences.
Therefore, let's weigh the pros and cons of direct to consumer marketing and look at a few strategies to help you get the most from your marketing efforts and achieve your desired conversion and retention goals.
What Is Direct to Consumer Marketing?
Direct to consumer marketing, also known as D2C, is a technique in which a company directly markets and sells a product to customers. Compared to traditional B2C (business to consumer) models, D2C cuts out all intermediaries, including manufacturers, third-party platforms, and distributors.
The number of companies manufacturing, promoting, selling, and shipping their own products has grown exponentially in recent years. This is primarily because the customer experience has become the number one business differentiator and driver of growth, which is having a huge impact on the market. In other words, consumers are looking for brand recognition, authenticity, and convenience when they make a purchase.
D2C offers a number of benefits for businesses, including increased customer retention, engagement, loyalty, and brand positioning. It also provides companies with a wealth of valuable customer data that enables them to further position their brands, controlling the narrative at each stage of the customer journey.
Pros of Direct to Consumer Marketing
Before deciding whether direct to consumer marketing is the right strategy for your business, you need to evaluate a number of factors. This includes the size of your company, your competitors, and the nature of your business.
Let's start by taking a look at the pros of D2C marketing.
Access to Customer Data
With direct to consumer marketing, you control each stage of the customer journey, from acquisition right through to sales, promotions, and distribution. This provides you with a wealth of valuable customer data. In turn, this data can help you get to know your customers better so that you can predict their behavior and offer unique, personalized experiences. It helps you better understand the demographics of your target audience and identify their needs, desires, and pain points. All this puts you in the driver's seat of your business, allowing you to optimize the customer experience and improve your bottom line.
Easier to Build Customer Relationships
All this data also enables you to build better relationships with your customers. By gathering direct feedback from your target market at every stage of their journey with your brand, you can make the right improvements and deliver a more targeted value proposition. This helps you keep your audience engaged and inspired, earning your customers' trust and increasing brand loyalty.
More Brand Control
The biggest advantage of implementing a D2C strategy is that you gain more control over your product, reputation, marketing, brand messaging, and customer service. You control what you do, and how you do it. You also decide how you will provide value to your customers. This frees you from the constraints of traditional business models and allows you to manage and relate to your target customers in the way you know they prefer.
Cons of Direct to Consumer Marketing
D2C marketing has a lot of benefits, but it also has a few drawbacks. Let's take a look at some of the disadvantages of implementing a direct to consumer marketing strategy in your company.
Increased Competition
The first disadvantage is that unless you are a large company with an established brand presence, you will need to get creative in order to stand out from your competitors and attract the attention of potential customers. This can often be the most challenging aspect of D2C business models as you will have to fight for the attention of your audience, especially if you are competing with household names such as Amazon or Walmart.
Higher Costs
Promoting and selling directly to consumers might provide you with higher profit margins, but you will also need to invest more money in your business. This is because, as you control all aspects of the buyer's journey, you have to cover all business expenses, including manufacturing, advertising, product promotions, and shipping.
Increased Responsibility
The freedom you get from controlling your entire customer experience comes at a further cost, and that cost is increased responsibility. You will have to learn how to manage a variety of complex operations, including acquisitions, order fulfilment, payment processes, logistics, returns, customer support, and complaints. If you are used to outsourcing these processes then this can be a steep learning curve and you will need to devote a lot more time and resources to mastering these processes.
Direct to Consumer Strategies
Direct to consumer marketing offers brands a number of benefits. However, you need to implement the right strategies to ensure your brand stands out from the crowd and achieves those all-important conversions.
Here are a few examples of strategies that can help you close the gap and promote growth in your company.
Emphasize the Customer Experience
Focus on providing the best possible experience at each stage of the buyer's journey. Study the demographics of your target audience and find out what they expect from a brand. Aim to target consumers on an individual or heavily segmented level. Make sure the customer experience is based around the pillars of empathy, transparency, sustainability and trust.
Build a Memorable Brand Strategy
Create a compelling brand experience and build a memorable identity. Sell your narrative at each consumer touchpoint and be consistent. Strive for uniqueness and creativity and study your audience so that you understand which brand personality can help you make the most memorable connection.
Connect With Your Audience on Social Media
Finally, use social media to build relationships with your target consumer. Share quality content and interact regularly with your audience. This will help you build authentic connections that increase brand recognition, loyalty, and trust. You might even consider collaborating with influencers to promote your brand and reach a larger audience. This will have a direct impact on conversions and sales, boosting your direct to consumer marketing efforts.