By Anna Ribas, on 11 January 2022
Content intelligence is an increasingly popular marketing technique that helps brands understand the impact of their text, image and video content. Companies use software solutions that combine a variety of features for machine learning, natural language processing, big data and artificial intelligence to gain valuable insights into how their content is being received. This information can then be used to design a content strategy that engages their audience and boosts traffic and sales.
Here, we're going to take a look at how content intelligence can help you create a content marketing strategy that resonates with your target audience. We'll also go over some of the most effective content intelligence tools currently on the market to help you find the right solution for your business.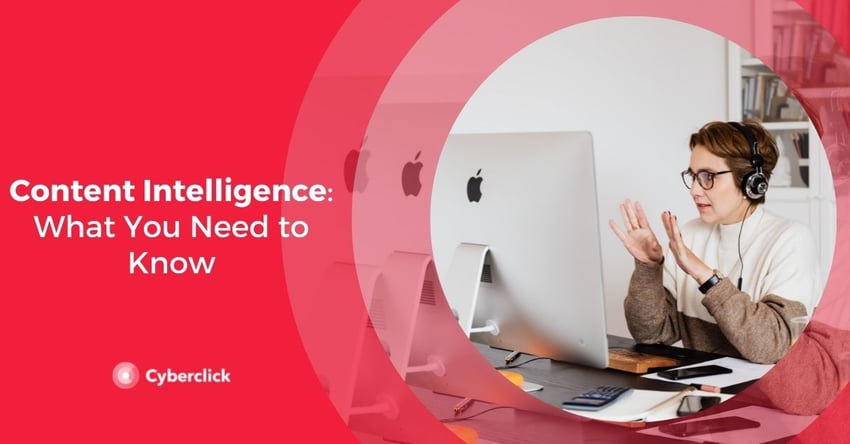 What Is Content Intelligence?
Content intelligence is a content marketing approach that uses machine learning, natural language processing, big data and artificial intelligence to analyze text, image, and video content data. The technique helps you understand the impact of your content and provides you with valuable data that you can use to design a content strategy that elicits the best response from your audience.
The ultimate aim of content intelligence is to generate data that can be used to create a high-quality, data-driven content strategy that brings in leads, increases conversions, and boosts revenue. It does this by analyzing a number of things like buyer personas, channel optimization, website analytics, social listening, and competitive intelligence. In other words, content intelligence helps you understand what content gets the best results so that you can connect with your audience, stand out from your competitors, and reach more potential customers.
How Can Content Intelligence Benefit You?
There are a number of benefits to using a content intelligence tool.
Data analysis helps you develop a deeper understanding of your target audience, including behavior, consumer habits, and the type of content your typical customer enjoys.
Content intelligence helps you identify the topics that will target the right users, converting them into leads and then possibly into paying customers.
Publishing the right quality content also improves SEO page rankings and helps you direct more traffic to your site. The higher your page ranks, the better your click through rate (CTR) will be, resulting in higher sales.
Having access to the right data helps you craft and maintain a consistent brand voice across all channels.
It can help you understand the positioning of your competitors compared to that of your own brand. This enables you to predict the effectiveness of your content based on the historical performance of your competitors.
It gives you valuable insights on what's working and what's not.
It can help you create a tone that resonates with current and potential customers.
Content intelligence eliminates the need to make assumptions about your customers as you have solid data that helps you identify the type of content that you should be producing.
Best Content Intelligence Tools
Your content strategy will depend on your business needs, which are unique to each brand. However, using the right tools can get you where you need to be and provide you with valuable insights into your target audience and the types of content your typical buyer persona consumes.
Let's take a look at some of the best content intelligence tools currently on the market. These include a range of features for machine learning, natural language processing, big data, and artificial intelligence (AI).
Contently
Contently is an industry-leading content marketing platform that's focused on content analytics. Contently uses StoryBook, its proprietary technology, to analyze and predict the content that will make the most significant impact for your business. The tool gives marketers the strategic insights they need to stand out from the crowd with high-performing content. The site also provides you with analytics, including content topics, formats, channels, and voice & tone, so that you can measure the impact of your content and see what performs well. You can then use this data to create a content strategy that aligns with the interests of your target audience.
Curata
Curata is a self-learning recommendation engine that suggests content and prioritizes it by relevancy. Curata uses keywords, news sources, authors, and bookmarked and shared content to scour the web and return highly relevant results through your own handy dashboard. You can then use results to easily organize, annotate, contextualize, publish and promote relevant, topical content anytime and anywhere.
Additional features include the ability to quantify operations metrics associated with curation activities, and the ability to measure, assess, and optimize the impact of your content marketing strategy. You also get SEO assistance to help you curate your content and share it through the most relevant and impactful channels.
Optimizely
Optimizely is a cloud-based marketing solution that helps marketers test, modify, and deploy customer-oriented digital experiences. The site's Digital Experience Platform (DXP) enables you to create a seamless digital journey for your customers and manage their experience across a broad range of digital touchpoints. It does this by incorporating content intelligence features that provide real-time recommendations for content improvements driven by AI technology.
SpyFu
SpyFu is a content intelligence tool focused on search engine marketing. The platform allows you to "spy" on your competitors and gain valuable insights which you can use to boost your own marketing campaigns. The main focus of the tool is competitor keywords. You can search for any domain and see every location where it appears on Google, including the keywords the domain has purchased on Google Ads, every organic rank, and every ad variation in the last 15 years. You can then use this data to increase your website traffic, track your keyword rankings, and generate sales leads.