By Chantal India, on 11 November 2021
November 26th is an important day for marketing: Black Friday 2021. Are you ready for it?
We'll recap the main takeaways of the eShow Magazine and Channable report "Black Friday 2021: Challenges, Changes and Tips You Should Not Miss," which focuses on the fashion and electronic sectors.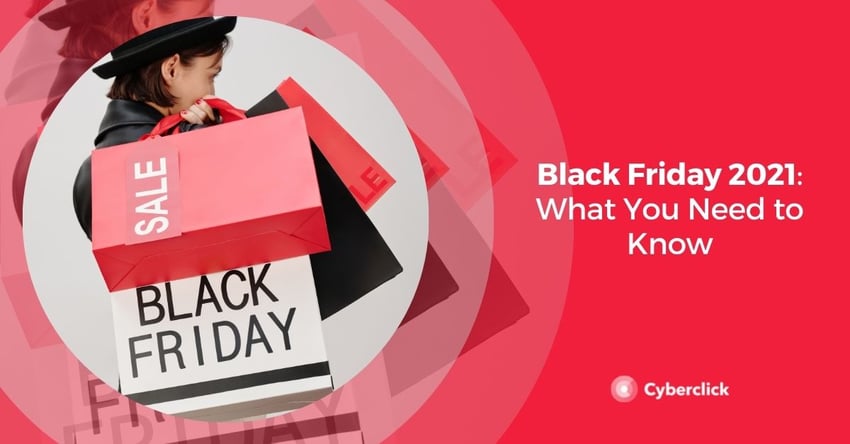 What Will Black Friday 2021 Be Like?
Black Friday 2021 will be the first one in our "new normal" routines. Most of the restrictions from the pandemic have been lifted, but many of our habits have changed forever. Although it is difficult to make predictions, we can analyze what happened in 2020 to get an idea of trends that will shape this holiday season.
Mobile shopping. In 2020, 47% of Black Friday purchases were made from cell phones, and many of the shoppers were over 60 years old. It is important to offer a good mobile user experience to leverage this channel!
Black Friday is no longer just a day. Black Friday deals are getting bigger and bigger and can even start up to a week earlier. Additionally, don't forget that the following Monday is Cyber Monday, usually more associated with online sales. Good planning is imperative to make the most of this holiday.
In-store pick-up options. Home deliveries are still not completely reliable, since many times the recipient is not reachable. For this reason, it is recommended to also offer an in-store pick-up service for users who prefer this option.
The technology sector is on the rise. 2020 was an excellent year for this sector, as confinement and telecommuting made consumers realize its importance. According to Channable's predictions, tech products are likely to be the top sellers of Black Friday 2021.
Email marketing and social media are the stars. In previous Black Friday holidays, these channels were the most used digital channels by consumers. Don't forget about them while planning for this year!
Black Friday 2021 for the Fashion Industry
In recent years, there have been several changes in the fashion industry. Use them to guide your Black Friday 2021 strategy.
Work from home clothing. Many companies plan to continue telecommuting post-pandemic. Working from home has greatly changed the demand profile in this sector and has made more comfortable clothing in greater demand.
Digitization. Confinement has created an ecommerce boom, which now accounts for 21% of the sector.
In-store experience. A mixed model is emerging, where consumers either research clothing online and then go try it on and buy it in-store, or try it on in-store before buying it online.
These changes present a number of opportunities for brands.
Stay ahead of the competition. Ecommerce sales models give you access to consumers from all over the world. Take advantage of this by making sure you have a cutting-edge strategy for Black Friday 2021.
Choose the right online channels for the right audiences. You must take into account your brand's target audience and their channel preferences.
Offer personalized content through artificial intelligence solutions. This is one of the biggest and most rewarding trends in online marketing.
Channable's Top Tips for Black Friday 2021
Treat the homepage as if it were the store's window, making sure all elements work seamlessly to attract customers.
Offer a clear and flexible returns policy, including the ability to return items free of charge.
Encourage user-generated content through photos and reviews, so that customers themselves become brand ambassadors.
Black Friday 2021 for the Technology Sector
Black Friday and Cyber Monday have always been key dates for the electronic and technology sector since there are huge discounts on big-ticket items like televisions and computers. However, there are a few challenges that these sectors have experienced recently.
The arrival of 5G. Apple and Samsung have already started selling cell phones with this technology, which has piqued a lot of interest among their users. It is expected that there will be a lot of demand for devices with this technology on Black Friday 2021.

Shopping from mobile devices. Estimates indicate that by 2024, 47% of electronic product sales will be made online. Of these, the majority will be through mobile devices.

The rise of fintech (financial technology), driven by the pandemic.
The main challenges for the technology sector ahead of Black Friday 2021 are a large amount of online competition, cheap knock-offs (especially from Chinese brands), and increasing brand loyalty (according to McKinsey, in the electronics sector, it is below 20%).
Black Friday 2021 Top 3 Tips for the Technology Sector
Avoid abandoned carts. This is a common problem for ecommerce businesses. To avoid them, make sure to have good site usability, specify very clearly the shipping and return policy and launch remarketing campaigns that push users back to their abandoned carts.

Make use of Facebook Shops and other social networks in Black Friday campaigns.

Consider a multichannel strategy. More general marketplaces can help you achieve sales volume, while niche marketplaces will allow you to reach a more specialized audience interested in your products.