By Marina Sala, on 19 May 2022
The star, the cow, the question mark, and the dog are concepts that, at first glance, would not be associated with a marketing strategy. But, the well-known BCG matrix template has made them popular elements that can help you understand how your products are performing.
Let's review the BCG matrix template and how it can be applied to a digital marketing strategy.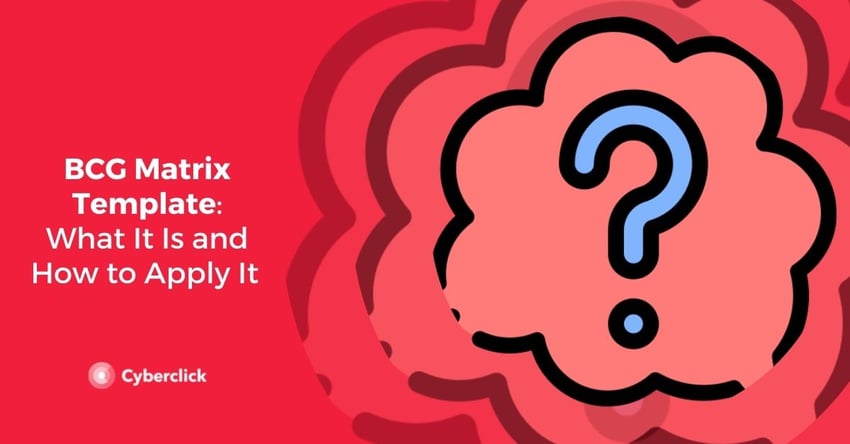 What Is the BCG Matrix?
The BCG matrix, also known as the growth matrix, is a tool that allows companies to analyze their products in order to design effective strategies for each of them.

This matrix has two axes: a vertical one, which represents the demand for a product or service in the market (growth rate); and a horizontal one, which represents the total sales of that product or service (market share).
How Does the BCG Matrix Work?
Between the two axes described above, there are four boxes and, within each of them, there is a star, question mark, cow, or dog. Each of these symbols represents how a product is performing for a company.
Stars
The star product is one that has a high demand and a high number of sales. This means the brand must constantly invest in it so that it doesn't lose its position.
Cash Cows
A cow product is one that, despite not being in high demand, does sell. It isn't necessary to invest too much in these products since they already have a presence in the market. The idea is for a star product to become a cow product since it generates income without the need for constant investment.
Question Marks
The question mark is a product that, despite being in high demand, doesn't generate enough sales. This type of product is not profitable for a company, since it generates expenses but not profit. With questionable products, the idea is to redesign the marketing strategy that is being followed so that it becomes a star product.
Dogs
The dog product is one that has low demand and few sales. It isn't a good product for the company since it generates expenses without providing any profit. If you have a dog product, you should cancel that product or consider redesigning it if it makes sense.
Advantages and Disadvantages of the BCG Matrix
Using the BCG matrix within a marketing and sales strategy has numerous advantages:
It is a very visual way of knowing where a product or service stands within the company
It can be made quickly and easily
It allows you to know which products you should be investing in
But it also has some disadvantages:
The information that a BCG matrix provides is very basic and insufficient in most cases
It only uses two variables: demand and sales
It must be accompanied by other analyses to get a comprehensive understanding of how your products are performing