By Berta Ventura, on 17 October 2023
Artificial Intelligence has made significant advancements in recent years. Nowadays, predictive AI can be a valuable asset for your marketing team, particularly in the realm of Facebook advertising. It not only aids in making more informed decisions but also enhances the optimization of ad campaigns. When AI is integrated into marketing strategies, it has the capability to analyze customer behavior and data, offering valuable insights that can improve campaign personalization. If you're keen on harnessing AI for your Facebook ads, here's a comprehensive guide to help you get started.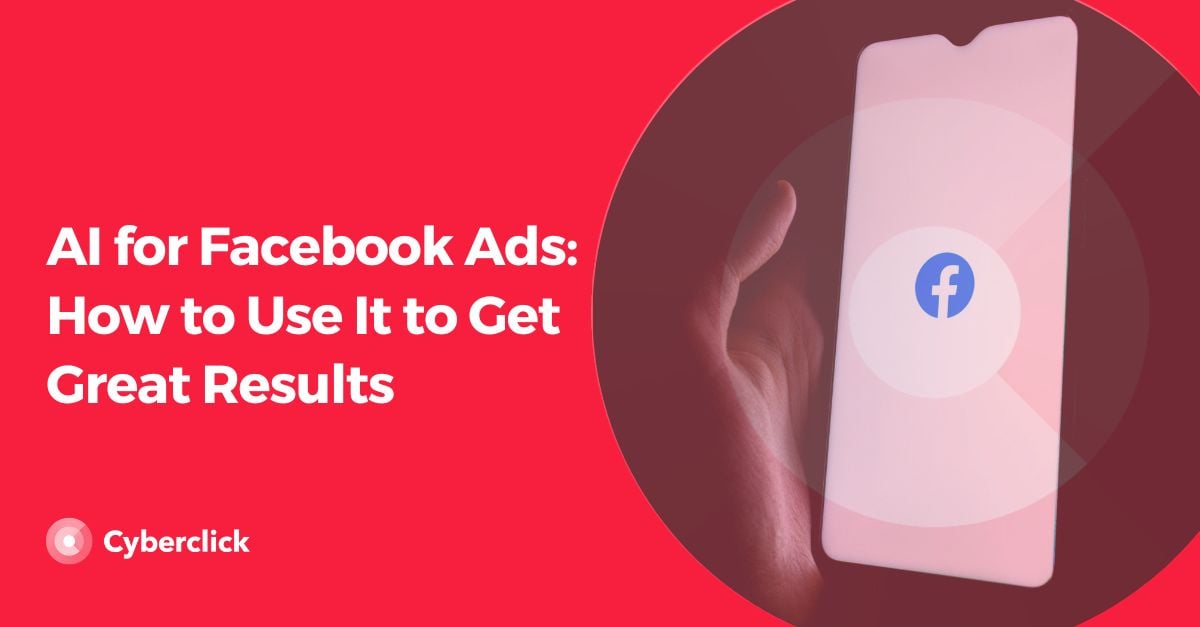 What Is Predictive AI for Facebook Ads?
There are two ways to use AI for Facebook ads. One is through machine learning algorithms capable of analyzing huge amounts of data and identifying patterns that are very difficult for humans to detect. For example, they can detect things like which CTAs are more likely to achieve conversions and which keywords or locations are more effective depending on demographic groups, among other things.
However, AI can also be used for predictive analytics, which is what we will focus on in this article. Through these algorithms, AI can predict future outcomes, such as which products or services will be most successful or which online channels will be most effective.
All this information provided by AI is very valuable and a great ally in making decisions, improving ROI, and optimizing your investments in Facebook Ads.
However, don't forget that, compared to other areas of AI, predictive analytics is still in its infancy. But that doesn't mean you can't benefit from it!
Benefits of Using Predictive AI for Facebook Ads
Profitability
By reducing ineffective ad elements as much as possible, AI helps you get the most out of the investment you dedicate to each of your Facebook ad campaigns.
Time Optimization
AI for Facebook ads performs predictive analytics and pattern identification, which provides valuable insights in a short amount of time. This eliminates the need for teams to spend time on these types of tasks and devote their time to more strategic and creative things.
Improved Reporting
AI gives marketing teams better insight into how ads and campaigns are performing. Many AI tools for Facebook ads produce well-detailed reports on spend and conversions.
Scalability
Having an AI to create Facebook ads allows you to keep your ads up to date and offer your audience what they want at any given moment.
Improved Performance
The targeting of your Facebook ads campaigns can be greatly improved with AI tools, especially predictive AI. There are also AI tools that have automation features that identify ads that are not working and replace them with others.
The Best AI Tools to Improve Your Facebook Ads
This predictive AI tool works with machine learning algorithms that analyze the performance of your ads over time compared with those in its database to suggest which are the best ads in your industry.
In addition, you can upload different images or videos that you have created for your campaigns and Pencil will tell you which ones are most likely to convert. It is even able to indicate the ideal metrics for each ad you create.
One of its most outstanding features is Facebook ads generation with predictive AI. It not only suggests ads for this platform, but also for Instagram, YouTube, and TikTok.
Thanks to the fact that Pencil is equipped with a video editor with AI, it can detect which parts of a video are most likely to convert so that it is easier for you to choose the most powerful fragments.
Finally, when it comes to creating written content, it is also really useful, as it can propose copy. The more you use the tool, the better it will understand your target audience. Pencil is also able to replace non-performing Facebook ads and provide metrics on your campaigns.
This tool is specifically designed to make AI generated images and creatives. All you have to do is tell it who your target audience is and the channel you want to promote your ads on. In less than two minutes, Creative AI selects the tone of the copy and the best creative for your ad, focusing on the pain points of your ideal customer. And it does all this, without losing the brand style.
From its interface, you can also visualize which ads are working best. With the data it provides, it will learn how to make better proposals for your campaigns in the future. Right now it is available for Facebook, Instagram, Pinterest, Twitter, and LinkedIn.
Adext optimizes Facebook and Google Ads through machine learning models that run thousands of simulations in order to identify the most suitable audience for each of them.
Its budget automation feature will help you increase your conversions without having to first spend more to find out what works and what doesn't.
The best thing about Adext and what sets it apart from other AI platforms for creating Facebook ads is that you don't need to enter a lot of data by hand. In just five minutes it connects to Facebook and starts getting data.
How Facebook Uses Predictive AI
Facebook is also making great progress in the field of predictive analytics. Its goal is to provide this service to advertisers so that they can predict the behavior of their customers and potential customers.
Is Predictive AI a Panacea?
Predictive advertising has great potential and has proven to be very effective and to solve the many recurring marketing problems. But it's not perfect (yet) and we didn't want to end this article without telling you about some of the downsides.
Predictive Facebook advertising depends on data and like all things that are subject to this and to third party platforms (like Meta's social network), they are accompanied by concern's about personal data.
It is common knowledge that consumers are increasingly concerned about the information that companies have on them. This leads people to take action to prevent brands from accessing their data and also to question brand messages that are too personalized.
By this we do not mean that predictive AI is doomed, but that it is a tool like any other and not a silver bullet.
In this context of cookieless, it's possible that contextual advertising will grow and more companies will exploit it. This is a type of advertising that consists of placing ads in media related to your sector through contextual targeting. Contextual advertising works with content and not with user data.
But watch out! Predictive AI also has a place in contextual advertising, making it more in line with the content that hosts it. For example, it can better segment audiences and the content being promoted. In addition, it will also be able to capture the tone of the page to know if the ad aligns with it and if it will be successful. In short, it will allow ads to be increasingly relevant to the people who view them and, therefore, these ads will have a greater chance of success. All this can be done without using personal data.
We hope we've helped you learn more about the world of predictive Ai for Facebook ads and encouraged you to try some of the tools we have talked about. They are a great support for your marketing efforts and will help you increase your company's potential. Both in a world with cookies, and in a world without them, predictive AI has its place and can contribute not only to performance, but also to the creative aspects that every marketing campaign has.