By Berta Ventura, on 14 December 2016
We are just about rounding up 2016, and Instagram is as popular as it has ever been. It has been nothing but a success since its very launch in 2010, but it really took off when it was acquired by Facebook and launched its advertising solution, Instagram Ads.
According to a recent study developed by eMarketer, there are increasingly more companies using Instagram Ads, and it is very likely that in 2017 it will outgrow other social ads platforms, such as Twitter Ads.
Instagram is without a doubt becoming one of the top channels for marketers. Why? Because visual content is one of the most effective ways to generate user engagement. And as if this weren't reason enough, advertising on Instagram uses the full potential of Facebook's advertising algorithms to create powerful segmentation options. So, if you truly want to make the most of this tool, do not miss these 7 tips to make your brand stand out on Instagram Ads.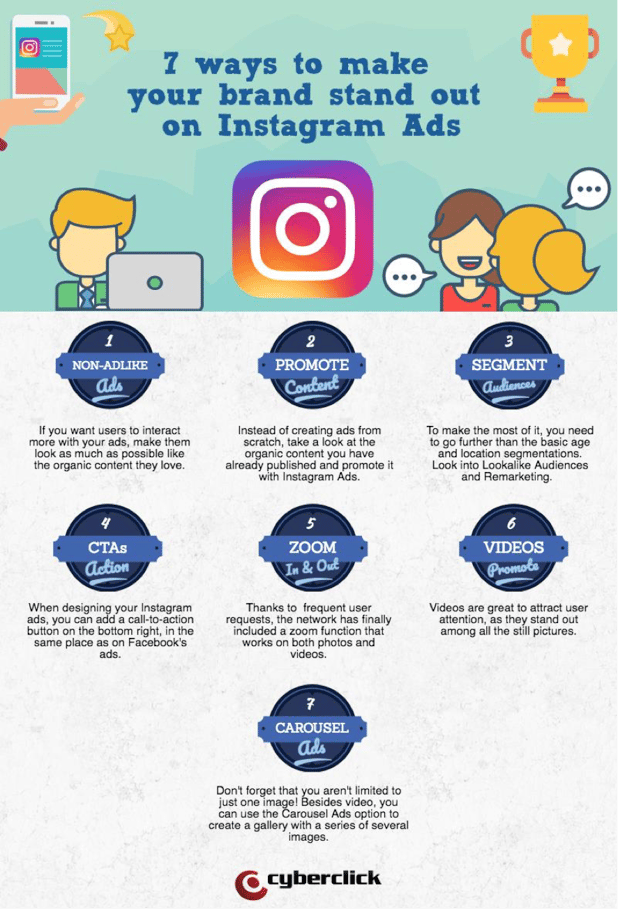 7 Tips to Make Your Brand Stand Out on Instagram Ads
1) Make sure your ads don't look like ads
It may be cliché but it is true: the best advertising does not look like advertising… and Instagram is no exception! If you want users to interact more with your ads, make them look as much as possible like the organic content they love so much.
The more "natural" your ads seems, the better the reaction from your users. These tricks will help you:
Include

people

in your photos and videos: it has been proven that images that show faces get 38% more likes that those that don't.

When you launch your ads, create several organic, high-quality posts

with a similar theme.

Like this, the ads will blend in better with your content, and will be more easily accepted.
2) Promote your best content
Want to increase the chances of your content succeeding? There is a very simple trick: use content that you already know people like.
Instead of creating your ads from scratch, take a look at the organic content that you have already posted and pick out those that worked best to promote them on Instagram Ads. You will significantly increase the chances that your investment in a paid ad will actually pay off.
3) Improve your segmentation
As I already mentioned, one of the great advantages of advertising on Instagram is that it allows you to take advantage of Facebook's enormous database and segmentation options.
To make the most of it, to need to go further than the basic segmentation filters such as age or location. I particularly recommend looking into these two features:
Lookalike Audiences.

Just like Facebook, you can create a personalized audience for your ad that replicates your current followers. This will help you attract new people that share your current audience's interests, demographics, behaviors and professions, increasing the likelihood that they will be interested in your brand and products.
Remarketing.

Facebook has a pixel that you can install on your website that can follow up on your users' behavior. Although its main role is to monitor conversations, you can also use it to segment your ads. You can create personalized audiences with the users you have visited your website, with those who have completed certain actions or even those you have abandoned their purchases.
4) Don't forget your Call To Action
When designing your Instagram Ad, you can add a call to action button on the bottom right, in the same place as Facebook's. This button offers several options to personalize your CTA, so if any of them fit into your campaign, be sure to use it!
5) Use the zoom function
Do you know Instagram's new zoom function? Thanks to frequent user requests, this network has finally included an option to zoom into photos or videos. By being a little creative, this can be a great tool to improve your engagement on Instagram Ads.
If you want your ads to stand out amidst a sea of uninspired promoted posts, encourage your users to play around with yours! Thank to the zoom, you can easily "hide" secrets in your images that make users interact with your ads. The only limit is your imagination.
6) Use video
When we think of Instagram, we often imagine a whole album of pictures and photographs, but the truth is that video also plays an important role on this social media platform, and offers many interesting advertising options.
Videos help captivate users' attention by standing out among all the still pictures. They are also very widely accepted among users: when Instagram first allowed videos to be published, no less than 5 million of them were shared just within the first 24 hours.
Do you find it hard to create material to create videos? A foolproof trick is to use content created by the users themselves. Encourage them to share their enthusiasm for your brand through video and gain their trust by sharing their content.
7) Make the most of Carousel Ads
When planning your advertising campaigns on Instagram Ads, don't forget that your aren't limited to just one picture! Besides video, you can also use the Carousel Ads option to create a gallery of consecutive images.
One of the most interesting and powerful ways to use this tool is by telling a story through a series of images. Don't just publish images of your products: instead, surprise your users with a storyboard of incredible images that tell stories of people just like them and make sure they create an emotional connection with your brand.