By Shanon Roberts, on 10 March 2020
Branded content is all around, though you may not even realize it. It can be subtle or in your face, a grand scale operation or simple video, and involve multiple moving parts or take place on one medium.
Regardless of how you want to go about it, the options are endless when it comes to creating branded content for marketing.
To prove that point, we've gathered five of our favorite branded content examples to show you exactly what we're talking about. These examples cover different mediums, including articles and videos, and range from super simple to literally out of this world (we're looking at you, RedBull.)
Keep reading to discover five of the best branded content examples.
What Is Branded Content?
Branded content is marketing that features the creation of unique content, oftentimes related to the values and persona of a brand. While the content may feature the brand, it is important to note that branded content is never explicitly about the brand itself, its services, or its products. The purpose of branded content is to entertain first.
Branded content is non-invasive advertising, meaning the user has to seek the content out or be interested in the content's topic. Additionally, branded content has a greater chance of going viral than other forms of marketing since its often entertaining and shareable.
Branded Content Examples
GE: The Message and Life After Podcasts
In 2015, General Electric, a multinational conglomerate that develops, creates, and sells a wide array of technology products, launched their first branded podcast called The Message.
This podcast was the first of its kind to steal the No. 1 spot on Apple's iTunes player and had over 4 million downloads at the time.
This podcast is a perfect example of branded content because the podcast itself was well developed, thoroughly entertaining, and featured the GE technology naturally in the storyline. However, it never explicitly named GE in the content itself, only in the introduction, credit, and cover art. The podcast was so successful that they later went on to create a second one, Life After.
Podcasting is a great avenue for branded content because it is relatively inexpensive (depending the production you are trying to do), simple, and very popular for many different audiences. Other brands succeeding in the branded podcasts space include Tinder's DTR and Inside Trader Joe's.
RedBull
RedBull is, perhaps, the king of modern branded content. RedBull's history of branded content ranges from Felix's Baumgartner's free-fall jump from space to creating their own programming though RedBull TV, extending the brand way beyond typical energy drink marketing.
Suffice it to say, RedBull knows a thing or two about branded content. Some of our favorite examples include the Zeppelin Ski Drop (below) and their Cliff Diving Events.
The Lego Movie
In 2014, The Lego Movie transformed the Lego toys from the classic, beloved block toys into the bestselling toy in the world.
This type of content may not be realistic for all brands, but it still serves as an excellent example of branded content and the power it can have on your brand. The movie has spun two spinoffs and gave a new life and energy to the already popular toy brand.
What's better yet, is that this form of marketing is completely subtle. While marketers and business-minded individuals can easily see the opportunity presented by The Lego Movie, children and the general public just see it as another entertaining and fun movie to watch and enjoy.
Netflix and the New York Times
Not all branded content involves people jumping from outer space or creating a full-length movie with a $60 million budget. In fact, a popular and more realistic form of branded content is sponsored articles.
The New York Times and Netflix set the standard for this when Netflix sponsored a post about women in prison ahead of the premiere of their new show, Orange is The New Black.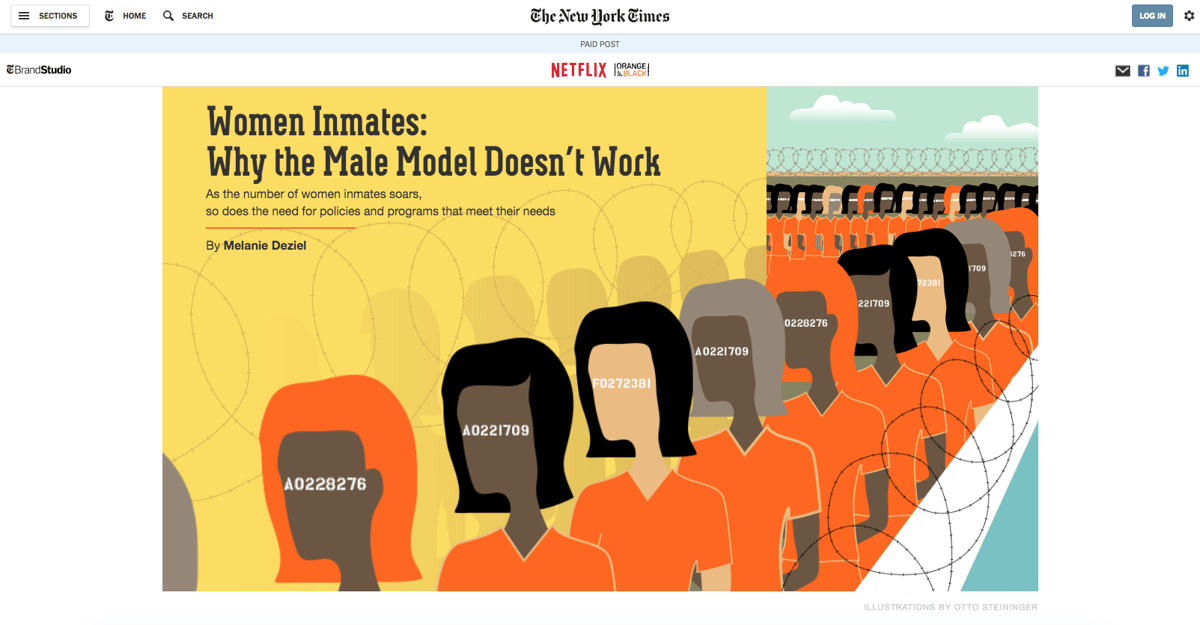 This is a strong example of branded content because the content itself is well produced and lives up to the high quality that is expected from The New York Times. The article was not about the new Netflix show; rather, the article simply covered a theme that Orange Is the New Black covers as well, exposing the show to readers who were already interested in the topic.
Dove's Real Beauty Sketches Campaign
Remember when I said earlier that a benefit of branded content is its ability to go viral? Well, lets a take a look at one of the strongest examples of that statement, Dove's Real Beauty Sketches Campaign.
The video, which reveals the internal struggle that many women face regarding beauty standards, perfectly encapsulates Dove's values as a brand. It caught the attention of millions of viewers and positioned Dove as a champion of women. The video did not feature a single Dove product proving that branded content is successful when the focus is on the content, not the product.
There are countless more examples of branded content on the internet to take inspiration from. While some of these tactics may not be replicable for every brand, hopefully they have started to get your gears turning on the kind of content you can develop for your future campaigns.