By Estela Viñarás, on 30 December 2021
Do you need inspiration for your next Facebook Ads campaign? Well, you've come to the right place!
At Cyberclick, we love to look at examples of creative advertising campaigns. It's always helpful to see things from another perspective and get new ideas. We've collected 20 of our favorite Facebook Ad examples to share. We're sure they will inspire you!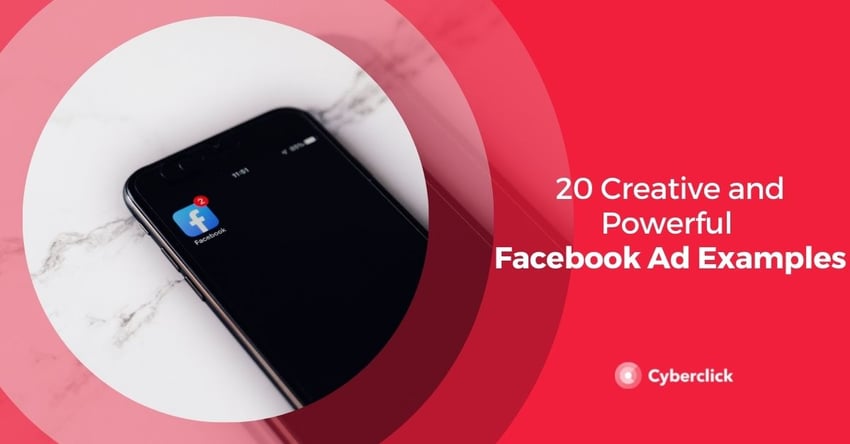 20 Ads on Facebook That Work and Why
1. Worldwide Breast Cancer
This NGO, focusing on the early detection of breast cancer, came up with a clever way to raise awareness for the disease by using lemons to represent the warning signs of breast cancer.
The result is an ad that is simple, eye-catching, and memorable for viewers.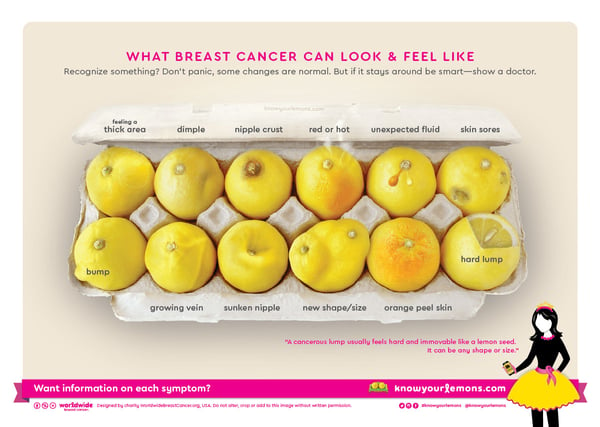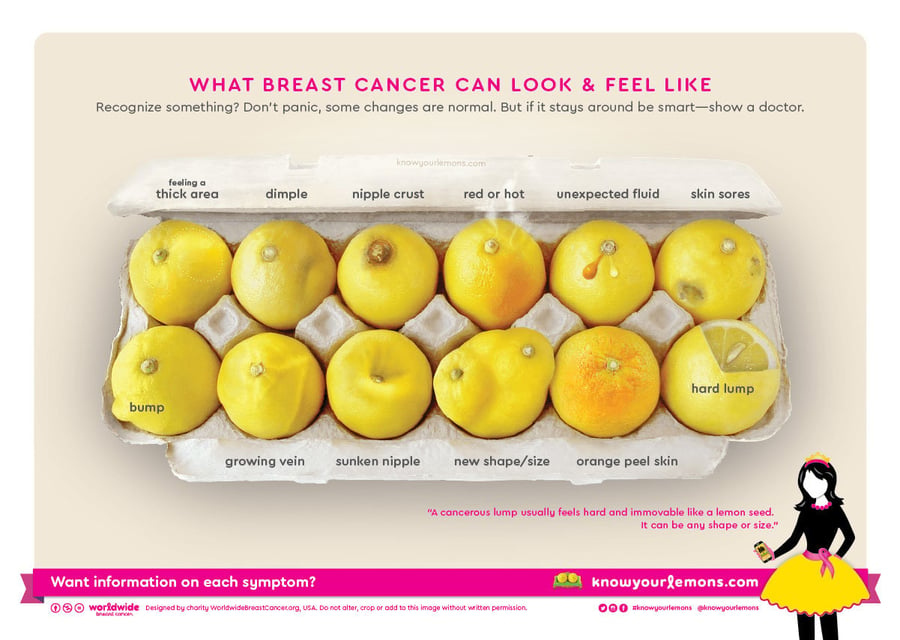 2. Birchbox
Birchbox is a cosmetics subscription box company that has found great success thanks in part to its video ads optimized for mobile devices that feature closeups and product demonstrations.
3. Save the Children
The secret of this NGO's success with Facebook Ads is based on the power of using segmented audiences. One example is this campaign that was specifically aimed at people who had previously donated.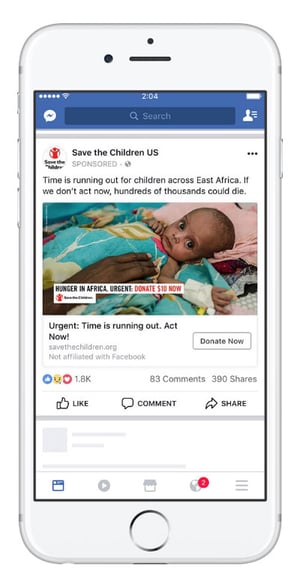 4. Shutterfly
Brands that want to advertise specific products on Facebook should take advantage of Facebook's Product Catalog. As shown in this Shutterfly example, the product catalog allows you to showcase several different products in one single ad.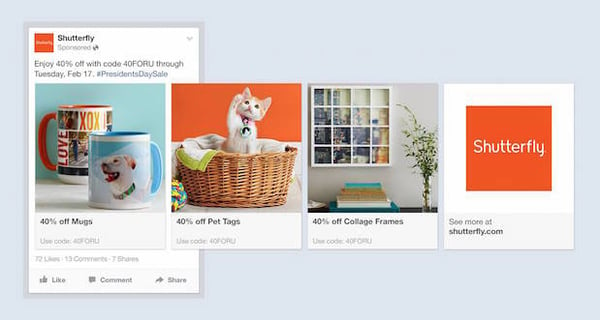 5. Allbirds
If video marketing sounds intimidating, let this video from Allbirds calm your nerves. In this nine-second video, the brand uses simplicity and blank space to show off the flexibility and adaptability of its shoes. This simple ad would clearly stand out on a Facebook newsfeed.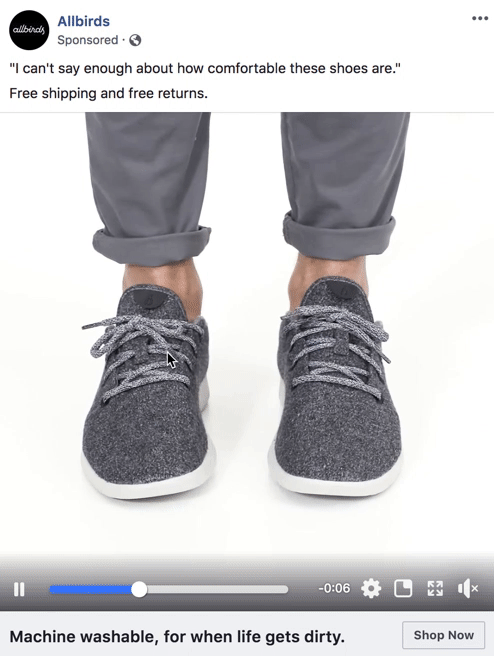 6. Slack
This campaign illustrates a pain point for employees (pointless meetings) in a funny way, capturing its audience's attention at first sight.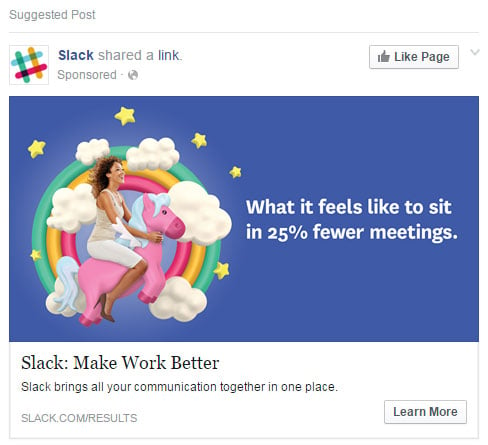 7. Dollar Shave Club
Dollar Shave Club's Facebook Ads are fantastic. In the bold ad below, they go against the grain by shattering the stereotype that feminine hair removal products should be pink.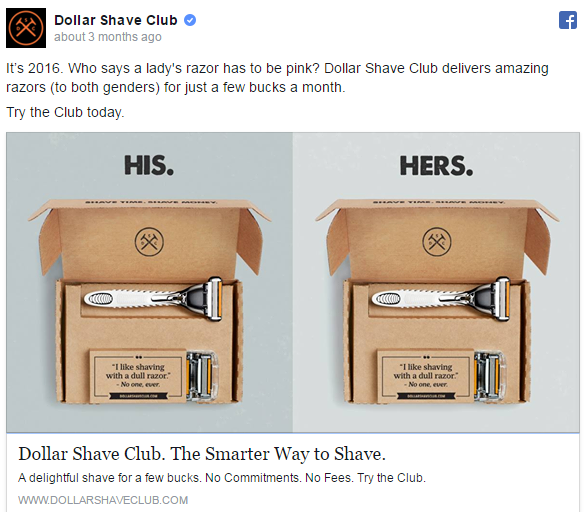 8. Heal
Simple but effective, this advertisement quickly gains people's trust. How? Clear and direct copy, an image with a real person, and the backing of a well-known and trusted brand.
9. Kay Jewelers
A great video ad allows the brand to tell an emotional, moving story in just a few seconds. Additionally, it works perfectly fine without audio–a very important factor since most Facebook users do not usually watch videos with sound.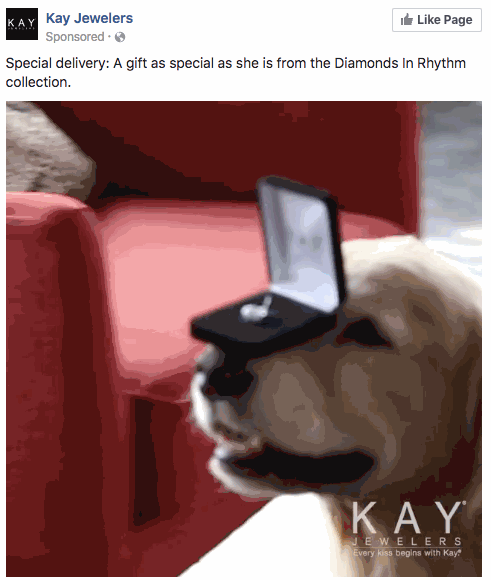 10. Monday.com
Monday.com is a task management tool that is compatible with multiple different operating systems, including Mac. In this ad, the company decided to combine their logo with elements from Apple's original logo. The result is sleek, clean and easily harnesses the power of their brand.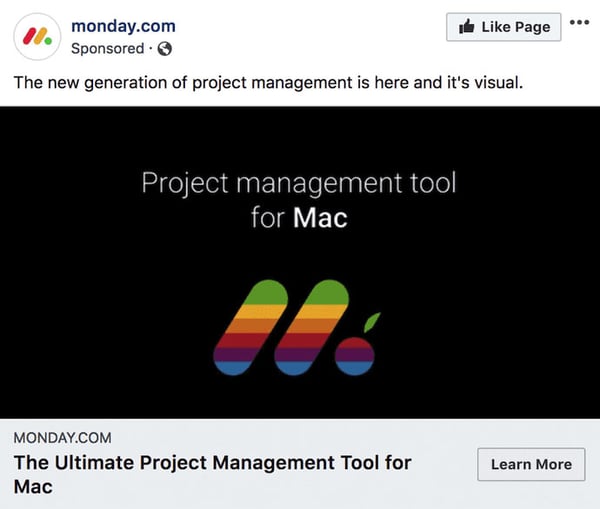 11. Nature Box
This is another simple yet effective ad. The photograph allows viewers to clearly see the variety of snacks included in the box and the fact that you can opt for a free trial is emphasized.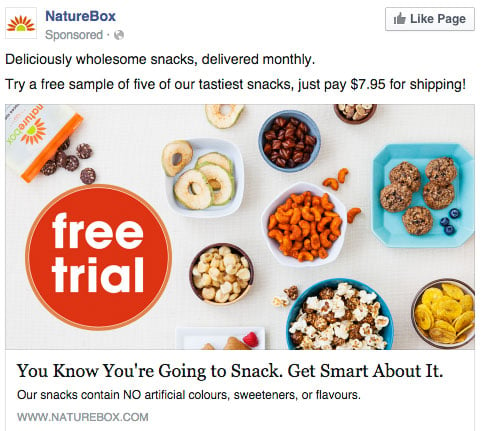 12. Athos
Should you choose an image that shows off your product or one that inspires your viewers? Athos chose to do both! The image in this ad manages to clearly show how the app works while also motivating its audience.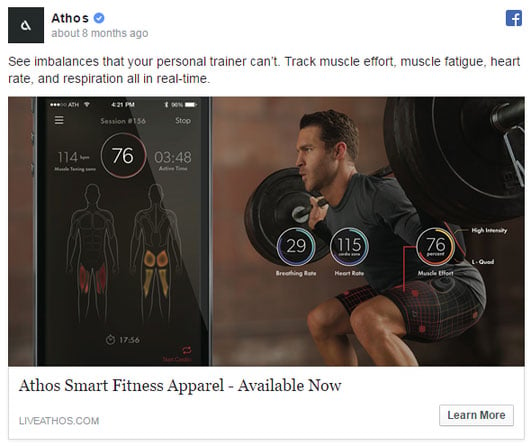 13. Shopify
Shopify demonstrates the importance of knowing your target audience. In this ad, the company targeted people who were interested in DIY crafts as a hobby but never thought about making money from it. Its goal for this Facebook campaign was to inspire its audience to take the leap and start selling products online.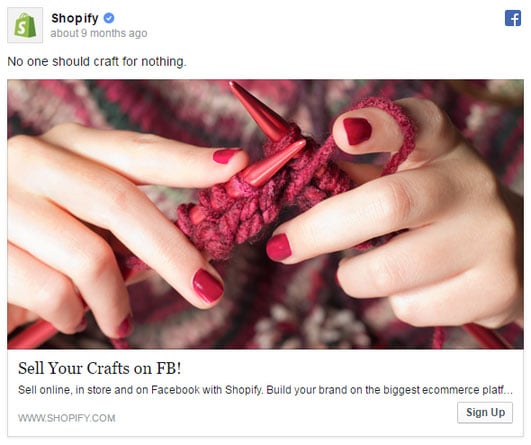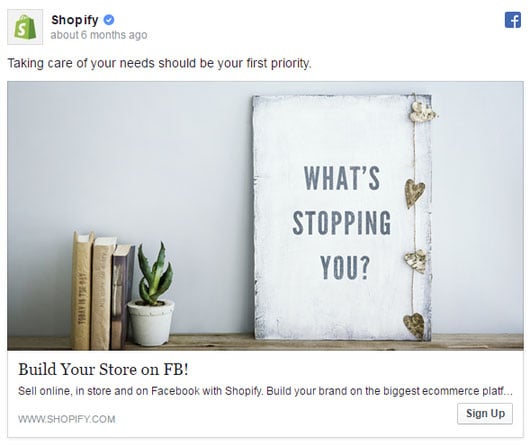 14. Google
How often do you see ads offering to give users money? This simple Facebook Ad from Google catches people's attention with its simple copy and bright colors, keeping them interested in the proposition.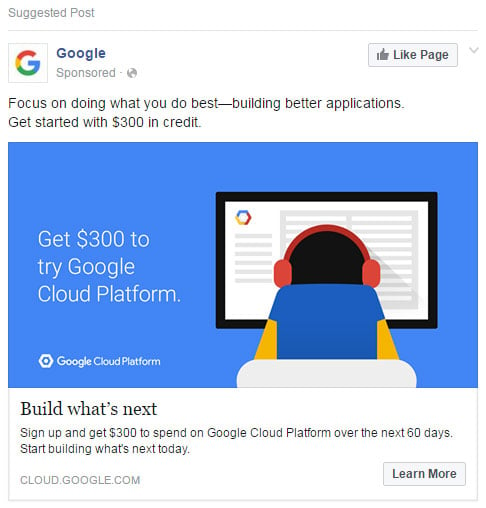 15. Boston Sports Club
The image in this ad makes it clear what product is being offered. The woman's gaze is strategically directed to the right, causing viewers to look in that direction and see the copy. All the elements are clearly focused on conversion.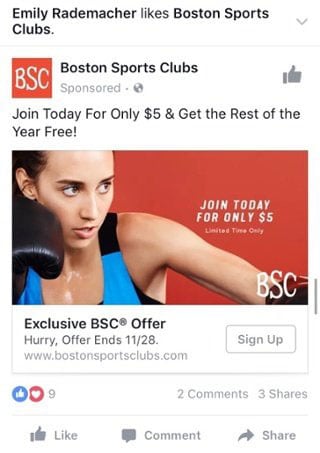 16. The New York Times
Who said newspapers are boring? This ad from The New York Times manages to attract audiences with an intriguing headline and colorful illustration. It is hard to resist clicking!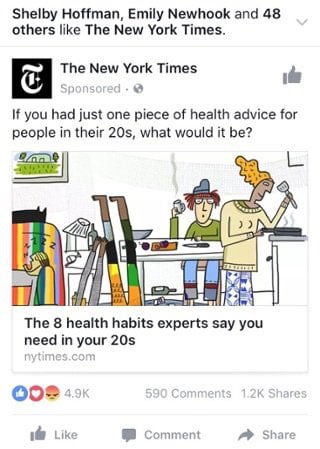 17. Tortuga Music Festival
Do you want to promote an event on Facebook? Be sure to include a great picture, key data (in this case, what bands are playing), dates, and the price. This is simple, yet effective.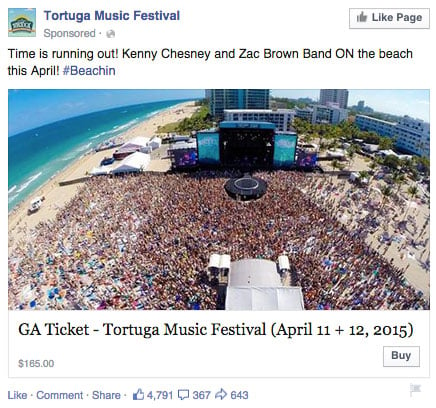 18. Bustle
This ad is an example of how to use Facebook Ads to promote content. The company Bustle used content and a striking image that they knew would attract users' attention.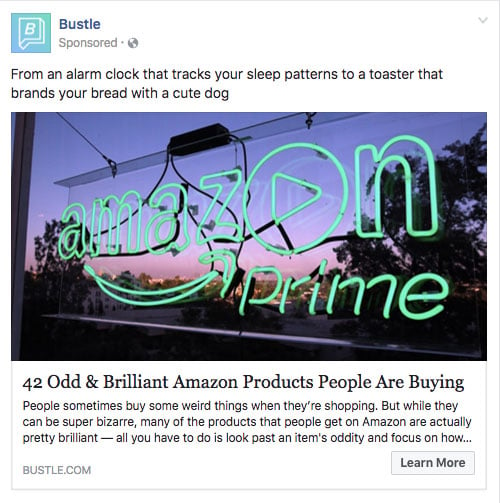 19. Amazon
Highlighting product reviews can be a very effective strategy to advertising a specific product. In the example below, Amazon took advantage of their user ratings and a popular annual event to promote one of their products.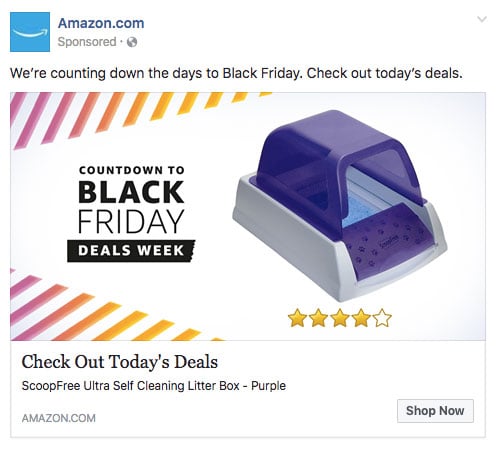 20. Winc
Did you know that you could use Facebook Ads for remarketing campaigns? In this ad, Winc used an image retargeting tactic to appeal to users who were looking for wine. The ad is accompanied by a compelling call to action.