By Chantal India, on 18 November 2020
WhatsApp is the world's most popular messaging app. While WhatsApp hasn't caught on in the U.S. as it has in the rest of the world, it still offers social media marketing possibilities domestically. If you do business internationally, it's an absolute must. Yet only 7% of marketers take advantage of WhatsApp marketing, and with such a low saturation point, it's ripe with opportunity, especially as mobile marketing grows.
Follow along as we define what WhatsApp marketing is and its advantages, and then we'll share a few tips for making the most of your WhatsApp advertising campaign.
What Is WhatsApp Marketing?
WhatsApp is a free messaging service to stay in touch with others via messages, calls, group calls, and multimedia sharing. It also supports international communications.
In terms of marketing, WhatsApp provides businesses with a convenient mode of communication between their brand and customers. You can remind customers about promotions, provide accessible and instant support or advertise your WhatsApp number to potential customers.
With the introduction of WhatsApp Business, companies can now better serve clients and create marketing campaigns to drive sales. Tools include:
Company profile: practical information about the company, such as Google Maps location, hours, additional contacts, or a link to the website.
Mailing lists: contact lists for sending messages in bulk (similar to mailing lists).
Automated responses: automatic welcome messages and customizable "unavailable" notices.
Statistics panel: on messages sent, delivered, received, and read.
Business API: a powerful and versatile tool, which allows, for example, creating a custom chatbot to automate interactions.
Advantages of WhatsApp Marketing
WhatsApp gives you a completely organic reach since there are no limiting algorithms concerning who sees your messages or not. This is unique among social networks. Once you see both message check marks turn blue, it's guaranteed that the customer has not only received but seen your message. WhatsApp is also an excellent platform for building trust and customer confidence in your brand. The one-to-one method of communication has a more human touch to it and creates a real dialogue between buyer and seller.
Oftentimes it's much easier to work and manage business tasks in a browser, not on your phone, which can be a real hassle. WhatsApp Web allows you to manage all your customer lists and content from the comfort of a laptop or desktop. WhatsApp also supports a broad range of file types: PDF, Excel, GIF, JPEG MP4, and more.
Perhaps WhatsApp's most appealing advantage, however, is that competition is still very low in terms of companies running dedicated marketing campaigns. This means you can easily stand out in front of a massive audience. Did we mention It's also 100% free?
Tips for Developing Your WhatsApp Marketing Campaign
1. Define Your WhatsApp Marketing Goals
Marketing platforms or tools all offer their own unique benefits as advertising solutions. Being clear on what WhatsApp is and is not is an important first step in determining what your expectations are. In order to define your goals, start by defining your answers to the following questions:
Why are you using WhatsApp for your business? Ask yourself what benefits you expect to get and if it's in line with your industry and how you operate your company.
Who are you targeting in your WhatsApp ads? By identifying your target market or buyer persona you can communicate with them in a manner that matches their communication style. Think more emojis and more playful for a younger audience, for example.
How will you use WhatsApp? There is a multitude of ways to integrate WhatsApp into your daily operations: scheduling, customer service, sales support, document and media sharing, emergency contact, location and hours information, etc.
2. Make Sure Your Business Is Verified
It may seem redundant to mention this small detail but by having that green check seal you send the 'message' to your customers that you're a serious business. It's a sign of status, trust and WhatsApp recognizes your company information as being valid.
3. Be Responsive
Consumers are used to getting what they want when they want it. By being as responsive as possible you let customers know that their business matters to you. Everyone likes to feel important, especially if they're going to be spending their hard-earned cash. Obviously, you can be available at all hours, and that's where automated messages come in. They serve twofold: they attend to your customer's needs or questions and allow you to have a life!
'Quick Responses' are another useful tool which utilizes your common responses to frequently asked questions; essentially an interactive FAQ that saves everyone time and effort.
4. Create a WhatsApp Catalog
The catalog tool allows you to showcase your products or services within the app, meaning customers don't need an extra step to see what you offer. So before their attention moves elsewhere, they can easily browse and contact you directly. Catalogs are an excellent tool for highlighting product launches or best sellers.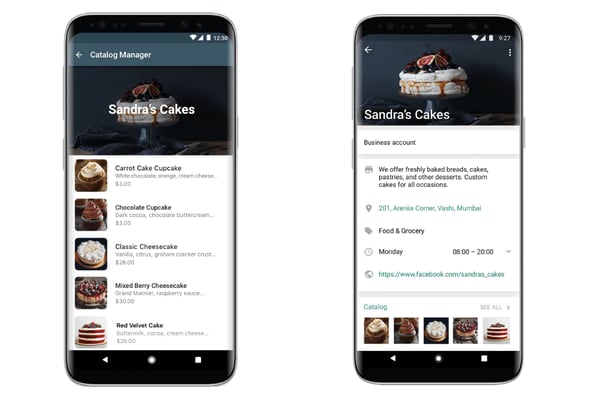 Catalogs are sleek and stylish attracting new business, as well as practical for giving customers the information they need. Source: WhatsApp
5. Organize Your Database and Workflow
Using WhatsApp involves communicating with users through their telephone numbers—you'll be managing a contact list that will undoubtedly need to be segmented and organized. WhatsApp has created a labeling system for tracking customers at different stages of the buying process and customer lifecycle. These include prospect, new order, pending payment, paid, order complete, and custom labels you can create yourself. If your CRM has a WhatsApp plugin, you can even import your contacts directly.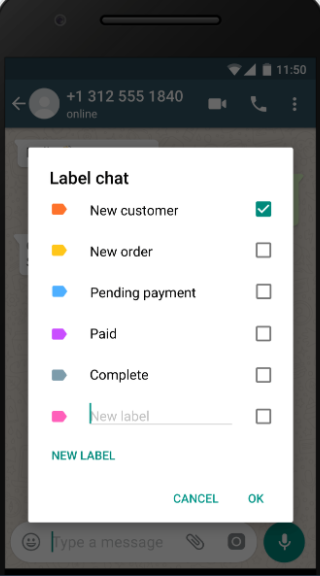 WhatsApp Business Labels. Source: WhatsApp
6. Create Unique WhatsApp Marketing Content
There is a multitude of creative ways you can make your WhatsApp advertising more exclusive. One of them is to create groups with customers (with the consent of course). You can add up to 256 contacts to a group, which can be segmented based on different interests. Options also include limiting posts to administrators or allowing anyone and everyone to contribute. Similar to a Facebook Group, this develops an exclusive community in which you can offer special promotions, share behind-the-scenes content and build rapport with your best customers.
Additionally, through WhatsApp Status you can publish marketing content similar to Instagram Stories, that disappears after 24 hours. These can be anything from what's happening on the shop floor to 24-hour specials.
If you're not already taking advantage of WhatsApp as a marketing tool, there's no harm in giving this uber-popular platform a chance. Facebook bought the platform in 2014 due to its explosive growth and there are around 22.5 million users in the US currently, a market definitely worth tapping into.