By Laia Cardona, on 8 November 2022
Mobile has the upper hand when it comes to SEO and SEM since most of the searches and traffic come from these devices. Google is well aware of this. That's why, for a few years now, it has implemented mobile-first indexing. But do you know exactly what this means and how it works? In this article, we'll explain everything you need to know!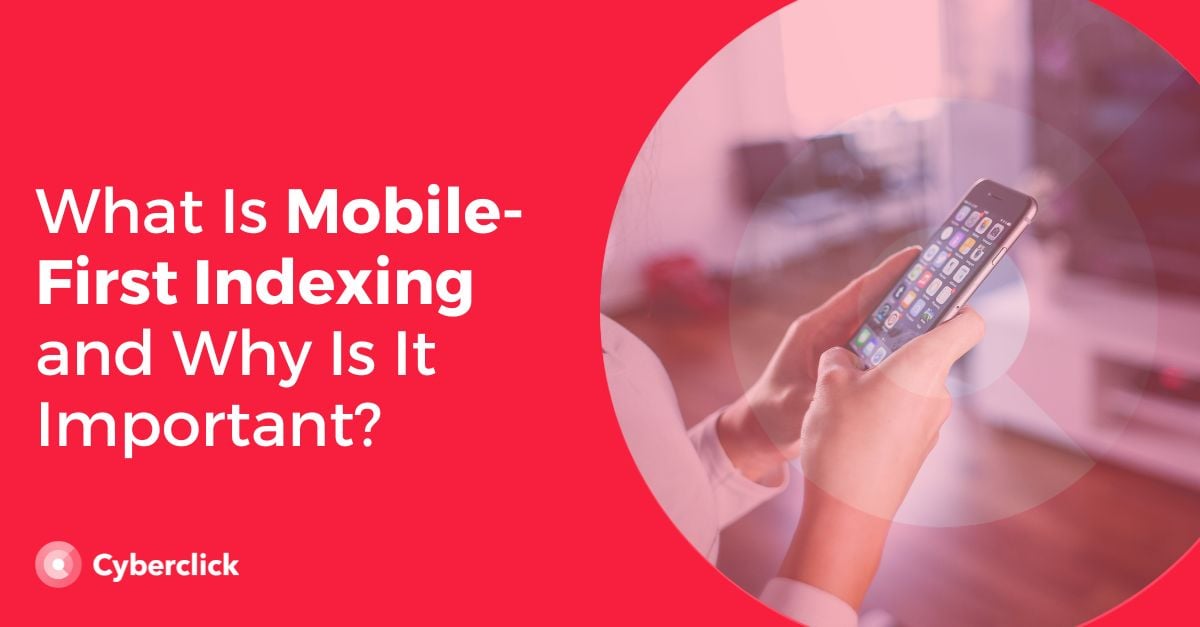 What Is the Mobile First Index?
The Mobile First Index involves using the mobile versions of pages as a reference for indexing (up until recently, the reference was the desktop version). This change was first announced in 2016 and was officially launched in April 2018.
How Does Google Work?
To better understand how the Mobile First Index works, you first need to know roughly how Google Search works.
First, Google's crawlers or "spiders" access websites and explore their content just as a browser would, but without a graphical interface. The crawlers access the content, load it, and build it in the same way a real user would.
The website content is sent to Google's index, which stores all the information about the documents and associated resources of the crawled sites.
Google ranks the websites it crawls based on a number of ranking factors, a set of rules that determine what order the search results appear in. There are many ranking factors, such as content relevance, site authority, or load times, and Google often changes the algorithm it uses to decide page rankings. But, in general, we could say that ranking factors prioritize pages that have quality, search-relevant content and offer a good user experience.
When a user conducts a search on Google, Google uses it to search for relevant documents within the index and sorts them into an ordered list based on the ranking factors, resulting in the Search Engine Results Page (SERP).
How Does the Mobile First Index work?
With the Mobile First Index, the basic crawling, indexing, and ranking process we just explained remain the same, but the difference is that Google gives preference to crawling mobile sites and ranks the results accordingly.
Therefore, any part of the site that isn't accessible to Google's mobile crawler will not be taken into account for the site's ranking.
The Mobile First Index doesn't mean that Google will leave desktop pages aside, but that it will consider them as an alternative. This means that Google will first look for the mobile version of the page and if it doesn't exist, it will crawl and include the desktop version in its index. Until recently, this process was done the other way around.
The Mobile First Index signifies an important change in the positioning of web pages that are not well adapted to mobile devices or that have less content on the mobile version than on the web. This is why it's essential to have a website that is perfectly optimized for these devices.
Why Did Google Decide to Change the Index?
In 2018, the year the Mobile First Index was officially launched, 80% of internet users were accessing Google and conducting searches via their cell phones. This trend has been growing ever since.
Despite this, many sites didn't offer the same content on the desktop and mobile versions, due to space restrictions or the need to speed up loading times. This meant that when a user searched from their cell phone, they could find sites that didn't have the information they needed.
Therefore, the Mobile First Index is Google's way of ensuring a satisfactory user experience for mobile users by ensuring that sites only appear in mobile search results if the information requested is actually accessible.
How Do You Know if Your Website Is Using the Mobile First Index?
Google has been progressively implementing the Mobile First Index, starting with websites that it considers to be ready and won't suffer major changes in positioning by changing the system.
You have several options to find out if your site is already using the Mobile First Index:
Check if you have received a notification through Google Search Console notifying you that the Mobile First Index has been activated.
If you don't use Search Console, you can check by looking at the crawler. If most of its activity uses Googlebot's Smartphone user-agent, it means that the Mobile First Index is enabled.
To quickly check if your website is well adapted to the Mobile First Index, you can consult the Google Mobile-Friendly Test tool. Just enter the URL of the page you want to analyze and Google will show you information on whether the page is optimized for mobile or not. If it isn't, Google will show you a series of suggestions for how to optimize it.
If you want to get more information, we recommend you use Search Console's URL inspector. With it, you can see a full report of mobile usability improvements and possible errors; for example, if the text is too small, if the page width doesn't adapt well to mobile or if you use incompatible plugins.