By Gonzalo Anoz, on 28 March 2023
Influencer Generated Content (IGC) is a rapidly growing trend and is expected to continue to expand in the future. Today, influencers are essential for brands that want to develop a strong social media strategy, specifically in influencer marketing. There are many ways to collaborate with influencers, and Influencer Generated Content (IGC) is one of them. In this article, we will explain what IGC is and its benefits.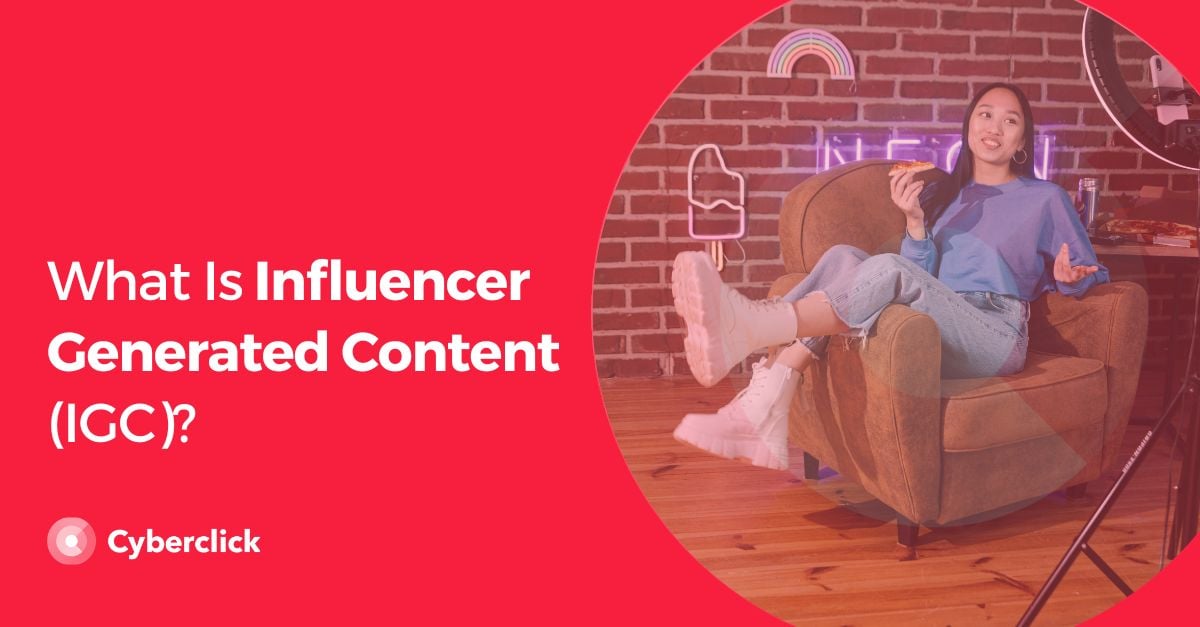 What Is Influencer Generated Content (IGC)?
Influencer Generated Content (IGC) is a type of influencer marketing strategy in which influencers create positive content related to your brand on social networks. This content can be either paid or organic, and it has proven to be very effective in gaining followers and customers.
However, the criteria for what constitutes an influencer is not always clear. Some brands only work with influencers who have over 10,000 followers, while others accept collaborations with smaller accounts. What we do know is that influencers are people who can motivate a specific audience to take action thanks to the authority and credibility they have built over time.
As a brand, there are 5 reasons why using Influencer Generated Content (IGC) is a good idea:
Creativity
An influencer is someone who has significant experience in content creation and the world of social media. They understand what works in their niche and what doesn't, which enables them to generate original ideas. Working with a professional like this can help make your content more engaging and grab the attention of your target audience, especially since social media platforms are bombarded with a plethora of stimuli nowadays.
High Interaction (Engagement)
In general, influencers have the ability to generate not only followers but also a devoted community around them. These communities tend to interact with the influencer's content in various ways, including likes, comments on posts, private messages, mentions, and sharing content on their own accounts. Partnering with the right influencer can significantly boost your brand and create buzz around it.
According to a report by Binfluencer, micro-influencers (accounts with between 3,000 and 10,000 followers) are capable of achieving a higher engagement rate (likes + comments / number of followers) than accounts with 50,000 or even 10,000 followers.
High Quality
Not all influencers prioritize the visual quality of their content, but many do. They view their social media accounts as a way to showcase their lives or hobbies and strive to professionalize their brand. As a result, they invest in high-quality production equipment, including cameras for both photography and videography, editing software, and meticulously planned settings. When you collaborate with them, you can be assured that the content they create will meet minimum quality standards, thanks to their use of superior materials.
Authenticity
In contrast to typical ads created by companies themselves, collaborating with influencers can lend authenticity and realism to your brand. The degree of engagement and transparency varies among influencers, so it's essential to choose one that aligns with your brand values. Many influencers offer genuine opinions, both when promoting products and when not, and have personally tested your product or service before collaborating with you. In fact, many people have grown weary of influencers who promote products without even understanding what they're endorsing.
Aesthetically Pleasing
Visually striking images and videos are attention-grabbing and typically a hallmark of influencer-generated content. Collaborating with these professionals is an effective way to obtain aesthetically pleasing material that aligns with your brand image, without investing a significant amount of money in the creative process. Keep in mind that while some influencers prioritize aesthetics, others may not place as much emphasis on this aspect. If visual appeal is a crucial consideration for you, take a look at the social media feeds of influencers whose styles resonate with you.
Influencer-Generated Content (IGC) vs. User-Generated Content (UGC)
User Generated Content (UGC) is distinct from Influencer Generated Content (IGC) in that it comprises content that users freely share on platforms organically. UGC encompasses not only image and video content that users upload to social media, but also written content such as blog posts, comments, and opinions on other websites, which brands can leverage in their marketing strategies. Compared to IGC, where concerns about an influencer's sincerity may arise, UGC is generally regarded as more authentic. However, it's worth noting that some brands may use bots or fake comments to manipulate UGC, which is not recommended.
What Makes Influencer-Generated Content Authentic?
As we've mentioned earlier in this article, selecting the right influencer is crucial to the success of your marketing strategy. Here are some steps you can take to ensure that your influencer-generated content is authentic:
Consider working with microinfluencers, who may be perceived as more genuine
Choose individuals whose brand values align with your own
Evaluate their level of

engagement

with their audience

Build

a long-term relationship with the influencer,

rather than a one-off collaboration
How Influencer-Generated Content Can Help Your Brand
Transferring

valuable information

to the audience through Q&A videos or direct discussions between influencers and industry professionals

Reducing production costs

Incorporating your brand into the influencer's daily life

Promoting brand hashtags

Enhancing your brand's

search engine visibility

, particularly with blog influencers