By Marina Sala, on 22 September 2021
Conversational commerce is a marketing strategy used to engage consumers, reach new markets, and build loyalty. Conversational tools include chatbots, voice assistants, and messaging apps. The aim is to provide customers with convenience and personalization, two factors which now have the biggest impact on conversion rates as studies have shown that customers are willing to pay extra for a better experience.
Let's take a look at what conversational commerce is and how it works. We will go over a few examples of different types of conversational commerce solutions and give you some tips to help you decide if conversational commerce could be a useful tool for your brand.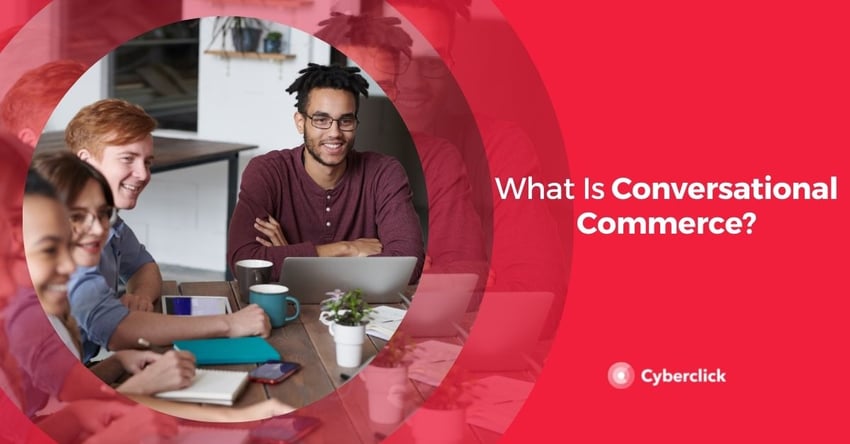 What Is Conversational Commerce?
Conversational commerce is a marketing tool used by brands to sell their products and services. It involves the use of AI such as chat apps, chatbots, voice assistants, and/or messaging platforms to provide potential consumers with a personalized, convenient conversational service that addresses their needs and coaxes them through the sales funnel.
The term conversational commerce was coined by Chris Messina, the inventor of the hashtag, in a blog post published in 2015. In the post, Messina highlighted the growing trend towards the use of messaging apps (such as WhatsApp or Messenger) and voice technology (such as Amazon's Echo) to sell products and services. He described it as "utilizing chat, messaging or other natural language interfaces to interact with people, brands or services."
Through the use of AI, consumers can talk to brand representatives, get customer support, ask questions, get personalized recommendations, read reviews, and make purchases directly from messaging apps on their phones. This customer engagement model enables consumers to interact with a brand and it serves as an interactive environment that replaces the human touch that they would usually get in a physical store.
Essentially, conversational commerce is a form of customer service that facilitates a two-way conversation during the buying process, instead of a one-way funnel. This enables the integration of shopping and messaging so that consumers can communicate directly with a brand with the ultimate goal of making a purchase decision.
How Does Conversational Commerce Work?
Conversational commerce can be used at every stage of the ecommerce customer journey. It encourages a form of open dialogue between brands and customers and can help you develop connections with potential customers and build long-lasting relationships.
The five stages of the customer journey, where conversational commerce can be used to connect with consumers, are as follows:
Awareness: a potential customer becomes aware of your brand but is likely to have questions and queries about your products or services. This is the most important stage of the sales funnel. You can use conversational commerce tools to show customers that you understand them and know how to solve their problems.

Consideration: a customer is aware of your brand, but they still need more information before they can make a purchase decision. Conversational commerce tools can be used to provide customers will additional information to help them get to know your product, such as sharing customer reviews.

Decision: a customer is ready to make a purchase. Conversational commerce can be used here to convince the buyer that they are making the right choice and to strengthen their purchase decision. AI tools can also be used to resolve any lingering issues.

Retention: when a consumer has made a purchase from your brand, conversational tools can be used to encourage them to return so that you can retain them. This might include the use of messaging to see if a customer is happy with their purchase, as well as the use of tools to resolve any post-purchase issues that may arise.

Loyalty: the final stage of the customer journey, and the hardest to achieve. Conversational commerce solutions can be used to continue the conversation with customers who have made a purchase and encourage brand loyalty. This might include requesting testimonials or product reviews through chatbots which all help strengthen the customer relationship.
What Are the Different Types of Conversational Commerce?
Here are a few examples of the different types of conversational commerce tools you could implement in your sales funnel.
Live Chat
Live chat is one of the most widely used conversational commerce solutions. It enables the swift resolution of customer questions and queries through a brand's website. Live chat can also be used to engage site visitors who may shy away from traditional communication channels like phone or email. Plus, customer service reps can manage multiple live chats at once, speeding up customer service wait times.
Chatbots
This software is used to interact with customers via text message. It has similar advantages to live chat and can be implemented on your website or through messaging platforms. Once implemented, chatbots are easy to use so they are often favored by less tech-savvy brands to encourage engagement.
Messaging Apps
You can instant messaging with customers via messaging apps like WhatsApp and Messenger and provide a more personal and natural form of customer communication. Customers can connect with your brand straight from their phones and you can use things like memes, GIFs, and emojis, which can help keep things light and boost customer engagement.
Voice Assistants
This software, which is activated by voice commands, can be used to respond to customer queries. Examples include Google Assistant, Alexa, Cortana, and Siri. Convenient and fun, voice assistants are becoming an increasingly popular AI tool for conversational commerce. They can also be used to create personalized voice ads to build connections with customers.
Is Conversational Commerce Right for Your Brand?
Conversational commerce doesn't work for every brand. Whether it works for you will depend on your industry and target market.
Here are a number of aspects you should consider before deciding if the use of conversational AI is right for your brand.
Analyze your business needs. What issues do your customers encounter? What about your team? What is your overall goal? (Increase sales, improve customer service levels, boost engagement and loyalty etc.)
Conduct research. Which conversational commerce tools do your competitors offer consumers? Which tools would your customers prefer to use? Customer reviews can be a great way of finding out more about the priorities of your target audience.
Identify solutions. Which tools are available on the market? Could they be easily integrated into your site? How would they be managed? What resources do you already have?
Performance and metrics. How would you measure the success of each conversational commerce tool? Which KPIs would you use? Conversions or customer satisfaction scores?
Once you've analyzed all the above, you should have a clearer idea of whether conversational commerce could be an effective solution to help you build customer retention, trust, and loyalty and boost the bottom line of your brand.