By Laia Cardona, on 4 January 2022
Brand marketing is the process of establishing and growing a relationship between a brand and consumers. But before you can design an effective marketing strategy that focuses on nurturing customer relationships through brand recognition, you need to define who you are as a company. What is your brand personality?
Brand personality is the essence of your core identity. It helps you form emotional connections with consumers through the association of human characteristics in order to establish your position in the market.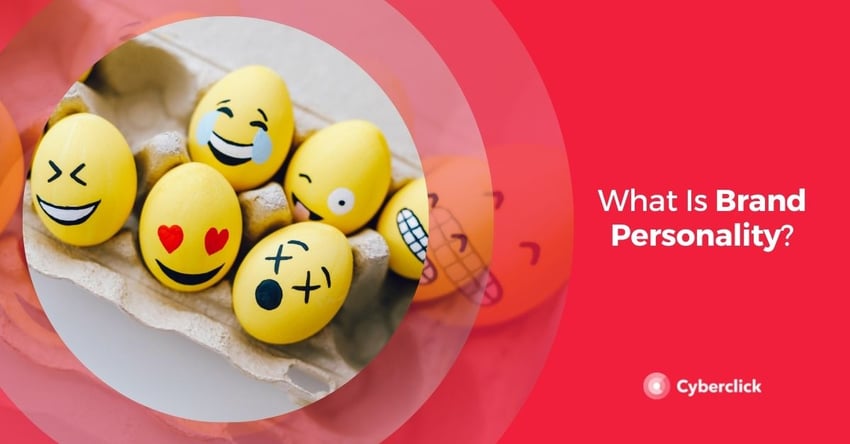 To better understand the power of brand personality, let's take a closer look at a few well-known brands and the personality traits they have incorporated into their identities in order to form a memorable emotional connection with consumers.
What Is Brand Personality?
Put simply, it's not that different from human personality. Just as we all have various characteristics and traits that make us unique and appealing to others (such as being likeable, sincere, trustworthy, fun-loving or sophisticated) for a brand to be successful and resonate with consumers, it also needs to be based on distinguishing features. A brand personality gives a brand a human face that makes it relatable, memorable and unique.
Your brand personality helps potential customers understand who you are and how they feel about your products or services. The right personality can elicit an emotional response from consumers that helps them trust your brand enough to commit to a purchase. This goes far beyond a mere slogan and logo. To build a solid and relatable brand personality, you need to humanize your brand. Consumers want to see the humanity within a business. What's more, studies have shown that customers are more likely to make a purchase from a brand if its personality is similar to their own.
Your brand's personality is its core identity. It should be based on a series of emotional, intellectual, and behavioral traits that are unique to who you are as a business, and these characteristics should be conveyed consistently at all consumer touchpoints. This includes all your brand messaging, images, and marketing campaigns.
Ultimately, your brand personality helps your target audience understand who you are, what your values are as a business, and what makes you stand out from your competitors. A relatable and memorable personality can help you drive customer acquisition, foster brand loyalty, and build brand equity.
Brand Personality Traits
So how do you design a brand personality that resonates with consumers?
The most popular and widely accepted marketing model for building a brand personality is Jennifer Aaker's Brand Equity model. This five-dimensional model defines the primary personality traits that successful brands are built on.
The five dimensions of brand personality are:
Excitement: brands that are carefree, youthful, imaginative, inspiring, edgy and spirited. Often used by organizations that think outside the box, especially those focused on sports competitions and large-scale music events. The aim of this brand personality is to inspire and excite consumers.
Sincerity: brands that are kind, thoughtful, honest, trustworthy, reliable and cheerful. Sincere brands are ethical, responsible and they take customer expectations seriously. Usually focused on family values and the promotion of ethical practices. The aim of this brand personality is to elicit a sense of trust.
Ruggedness: brands that are rough, tough, outdoorsy, and athletic. These brands are all about emphasizing the power and strength of their customers as brave risk-takers and reinforcing their position as a resistant and durable brand that can keep up with them.
Competence: brands that are successful, accomplished, reliable, responsible, intelligent, and efficient. These are brands that a customer chooses when they want a job done well and to a high standard.
Sophistication: Brands that are elegant, prestigious, romantic, charming, superior, and glamorous. The aim of this brand personality is to inspire the lifestyle their customer wishes to have.
Brand Personality Examples
As consumers, we love brands that we perceive as being similar to our own character and personality, or which represent personality traits that we aspire to have. The key is identifying which brand personality resonates the most with your key demographic. Which traits are most important to your target consumer?
Here are a few examples of popular brands that got it right.
Excitement: Red Bull
Red Bull is a perfect example of a brand personality built around the trait of excitement. The brand exudes an inspiring, exciting, outgoing, and energetic personality. Red Bull typically targets two main demographics: athletes and fun-loving people. The personality traits it has built its brand around resonate with these demographics.
Sincerity: Hallmark
Hallmark is a great example of a brand built around the concept of sincerity. Its identity is founded on honest, wholesome, sentimental and family-oriented personality traits, much like that of a warm, trusted and well-liked family member. This sense of sincerity has helped Hallmark appeal to generation after generation of card-buying consumers and positioned the brand as a sentimental, genuine, and trusted brand.
Ruggedness: Harley-Davidson
The Harley-Davidson brand personality is adventurous, macho, tough, rebellious, and rugged. This personality has helped the brand position itself as a powerful force that was built to last, much like the products it sells. It appeals to freedom-seeking personalities by promoting itself as being rugged and hardworking and not confining itself to societal norms.
Competence: Volvo
Volvo's brand personality is all about competence and reliability. Rather than promoting fancy features, Volvo has remained consistently focused on one key value: safety. This has helped the brand position itself as a responsible, dependable, and competent supplier of automobiles.
Sophistication: Chanel
The final brand personality example we will look at is Chanel - the quintessential sophisticated brand. The personality of the Chanel brand is reflected in the Chanel Woman. A Chanel Woman is elegant and classy. She is ambitious, daring and determined. She radiates femininity and confidence and she knows exactly what she wants.
The brand's mission statement highlights this personality trait clearly: "To be the ultimate house of luxury, defining style and creating desire, now and forever."