By Helena Alcoverro, on 31 August 2021
Brand activation is an increasingly popular marketing tool used to promote brands in creative and memorable ways. Essentially, it is the process of increasing awareness and engagement through some kind of brand experience.
Whether you're launching a new business or just looking to create a bit more hype around your business, brand activation can be a great way to make a splash and engage your target audience.
Let's take a look at what brand activation is and how it can be used to promote your brand and reputation. We will also examine a few famous examples of brand activation to show you just how effective a successful campaign can be when it's in the right hands.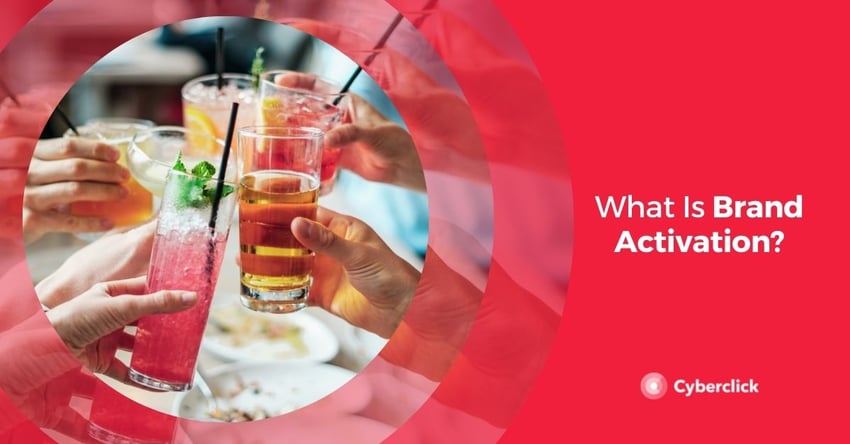 What Is Brand Activation?
Brand activation is an event, campaign, or interaction that has been designed to generate brand awareness. This might be awareness of a new product line, or overall brand awareness if a company is just starting out. The aim is to engage your target audience with creative and interactive experiences that leave a positive, lasting memory. This helps potential customers engage with your brand, builds lasting relationships, and develops customer loyalty and trust.
The most popular types of brand activations include:
Experiential marketing, where people can experience your brand on a personal and emotional level.
Digital marketing campaigns, focused on generating online experiences.
Sampling campaigns, where potential customers are invited to sample your product.
Events, such as interactive launch parties.
Social media campaigns, designed to reinforce a brand through interaction.
The key to brand activation is experiences. You want your audience to interact with your campaign and build lasting memories based on positive emotional experiences. To do this effectively, you need to both understand your target audience, and come up with a creative way of putting your brand on their radar
Why should people care about your brand, products, or services? What captures their attention and engages them? What type of experience would leave a positive, lasting impression of your brand?
What Are the Benefits of Brand Activation?
The obvious benefit of a successful brand activation campaign is raising positive awareness of your brand. It's not the only benefit though. Here are a few others.
A successful brand activation campaign can help you stand out from the crowd and promotes your Unique Selling Point (USP).
Once you've spent enough time getting to know your audience, it's time for them to get to know you! Brand activation is your chance to let your potential customers know exactly who you are and what you stand for.
Brand activation is a great opportunity to present a new product line and create emotional connections with potential buyers.
Experiential marketing is a great way to generate intrigue and interest in your brand, even if people have never heard of you before.
Brand activation can help you connect with your customers on a deeper level than traditional marketing campaigns.
You can use brand activation to tell a story from a variety of angles, helping you reach new audiences.
The data you gather during your brand activation campaign can help you understand the impact your brand has on your audience. You can then use this data to adapt your campaigns and create an even bigger impact next time.



Best Examples of Brand Activation
Now that you understand what brand activation is, let's take a look at a few well-known examples of successful brand activation campaigns. Perhaps they might inspire you to create your own uniquely captivating brand experience!
Nordstrom: Merchandise-Free Shops
Nordstrom is a high-end department store chain in the U.S., famous for its luxury merchandise. Despite its success, in 2017 the company decided to launch a series of specialized shops as part of its brand activation strategy. These shops only sold experiences, such as styling consultations, makeovers, and sampling services.
By offering experiences instead of pushing the "hard sell" of products, Nordstrom was able to offer its customers pleasant and memorable experiences that left a lasting impact. Customers also left with an interesting story to tell their friends, promoting positive word of mouth for Nordstrom.
Foster's No Worries Motel
The Australian beer brand, in partnership with Airbnb, set up a pop-up hotel at one of Finland's music festivals. The hotel was created inside a giant blue shipping container and was covered in the Foster's logo. Anyone attending the music festival could book a room in the quirky beer-themed hotel, which had its very own Aussie bar and views of the main stage.
Understandably, this caused quite a buzz around Foster's and got everyone talking about the once-forgotten brand-a great example of effective brand activation.
Marmite: Lovers vs. Haters Pop Up
You've probably heard the famous Marmite slogan-"you either love it or you hate it." It really is a divisive product that elicits strong opinions from most people.
Marmite identified this potential for emotionally charged debate and created a brand activation campaign around it. The brand encouraged people to share their opinions about the yeast-based sandwich spread, whether they liked it or hated it. After all, there's no such thing as bad publicity, so why quash the critics?
Marmite also opened a "sentiment-powered cafe" where customers were classified by a Love-O-Meter as being either lovers or haters according to their social media posts. Lovers were rewarded with free summer snacks.
Adidas: D Rose Jump Store
Another great example of brand activation was an Adidas campaign that encouraged consumers to "earn" a free pair of Adidas shoes. The shoes were placed on a shelf 10 feet in the air (the same height as a regulation basketball hoop) and participants were given a total of 24 seconds to jump for them. If you reached high enough and caught them, they were yours to keep.
The aim was to offer shoppers the experience of being a basketball player so that they could form an emotional connection with the product and associate Adidas shoes with a feeling of success. It was also a very clever marketing idea!