By Chantal India, on 14 September 2021
Live-streamed shopping events, such as those broadcast through Amazon Live, are becoming an increasingly popular marketing tool for ecommerce brands around the world. The events, which are a blend of digital shopping and entertainment, offer consumers the opportunity to discover and interact with brands from a variety of industries, including Walmart, Gucci, L'Oréal and Levi's.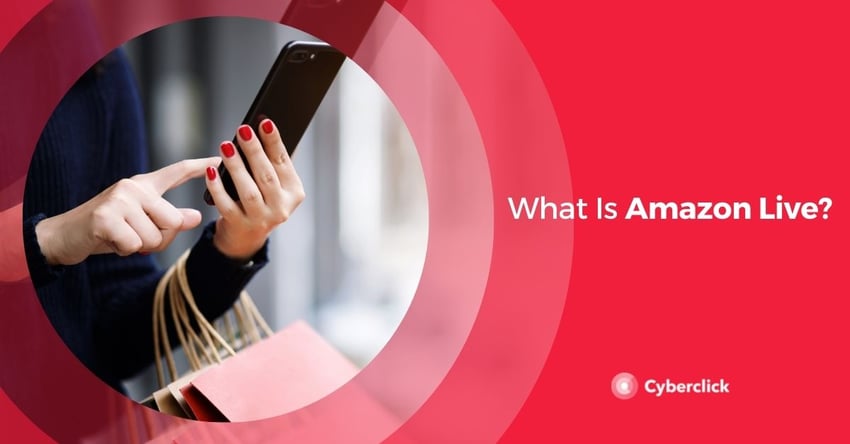 Sites like Amazon Live are already proving to be a big success in the marketing world. In fact, according to recent studies, the U.S. live streaming market alone generated an estimated $5.6 billion in sales from live streamed shopping events last year, and this figure is expected to reach $11 billion by the end of 2021.
In today's post we will take a look at what live streaming events are and how they can benefit your business. We will focus on how Amazon Live works, and we will share a few "best practices" for live streaming to help you get the most from your ecommerce streaming events.
What Is Amazon Live?
Amazon Live is one of many platforms currently available for hosting live-streaming shopping events. The feature, which is part of Amazon's marketplace, gives brands the opportunity to showcase and promote their products through live video feeds and attract a larger audience.
Think of Amazon Live as a modern, digital equivalent of the infomercials of the past, but with a serious upgrade. The tool can be used to give live demonstrations, showcase new product lines, promote offers, chat with customers, and drive sales. Viewers, can also ask questions, chat to video hosts and, once convinced, they can make a purchase directly from the platform. Users also have the option to "Follow" a brand, enabling them to stay up to date with the brands they care about.
Although this format of digital shopping has been available in China for some time now, it only started gaining recognition as a valuable marketing tool in Europe and the U.S. after the start of the COVID-19 pandemic when retailers were forced to reevaluate their business models in line with the "new normal" and shifting consumer trends.
How Does Amazon Live Work?
One of the best things about Amazon Live is that it's free and easy to use. The downside is that it's not yet available all users.
Before you start live-streaming on Amazon Live, you need to make sure of the following:
You are a professional Amazon Seller
You are registered in Amazon's Brand Registry
You have an iPhone or an iPad (the app is currently only available for iOS users)
You have access to a strong and stable Wi-Fi connection
If you meet the above requirements, then here's what you need to do to get started with Amazon Live.
Go to the App Store and download the Amazon Live Creator app.

Log in using your Amazon Seller Central account username and password

Decide what product you are going to showcase, what you are going to say, and how you will engage your audience.

Once you're ready to go live, pick the brand of the product you want to promote (the brand must be registered with Amazon's Brand Registry) and add it to your product carousel to display during your stream.

Name your stream and either go live now or schedule for later.
Here are a few best practices to keep in mind before you broadcast your first live-stream shopping event.
Aim for 30 Minutes
Once you've engaged a user's attention, you want to keep them hooked until you can reel them in. The best way to do this is to provide as much informative and entertaining content as possible. Ideally you want your stream to be at least 30 minutes long. The longer it lasts, the longer shoppers will be able to discover your stream from the Amazon Live landing page and engage with your brand.
And don't just talk about your products - demo them!
Engage With Your Audience
Engage with your viewers and encourage them to interact with your brand. The more your audience asks questions, hits reactions buttons, and follows your brand, the greater your reach on the platform. When they ask questions, answer them as soon as possible, and interact with any comments or opinions.
You might also consider sharing the link to your Amazon Live stream with your offline audience, such as your social media followers. Encourage them to follow your channel to stay up to date with all your new product lines, discounts and offers.
Include Multiple Calls to Action
Although your primary focus will be to showcase and promote, it's important to include a few specific calls to action in your live stream, after all, your ultimate goal is to sell. Use a strong command verb to start your CTA, like "buy," "shop," or "order".
It's also very important to repeat your CTA multiple times throughout your live stream, as viewers are likely to come and go throughout the broadcast.
The Advantages of Amazon Live for Brands
There are a number of benefits to using Amazon Live as a brand.
Let's take a look at how promoting a live-stream shopping event through the platform could boost your ecommerce business.
Live streaming is a great tool for sales and brand awareness
Although Amazon Live has yet to reach the heights of other streaming sites like TikTok, Instagram or YouTube, Amazon has an undeniable influence on the ecommerce world. In fact, the online market platform accounts for a quarter of all UK online spending according to recent studies.
Amazon Live offers you the ability to engage with shoppers in real-time through its Live Chat feature. This helps create connections
You can use Amazon Live to inform viewers of special offers, benefits and product features with live, interactive demos. This boosts the confidence of potential buyers.
The live streaming industry is growing faster than ever. According to Streaming Media, live video grew by 93% in 2019, with an average viewing time of 26.4 minutes per session.
Live videos hold users' attention 10-20 times longer than pre-recorded, on-demand content.
With Amazon starting its

influencer program

, it's a great opportunity for brands to work with influencers, especially live streamers with an established audience who can help increase brand awareness and boost leads and sales.