By Sol Gonzalez, on 9 December 2019
A new decade is finally here! And with it, it's bringing new advances in web design and UX (user experience) world. The current needs of the market dictate that the central axis of everything is the user. So what does that mean for 2020 UX trends?
At Experience Fighters 2019, an annual event in Spain about user experience and innovations, design experts commented on the latest trends and what we could expect to see in the future. Let's dive into them together!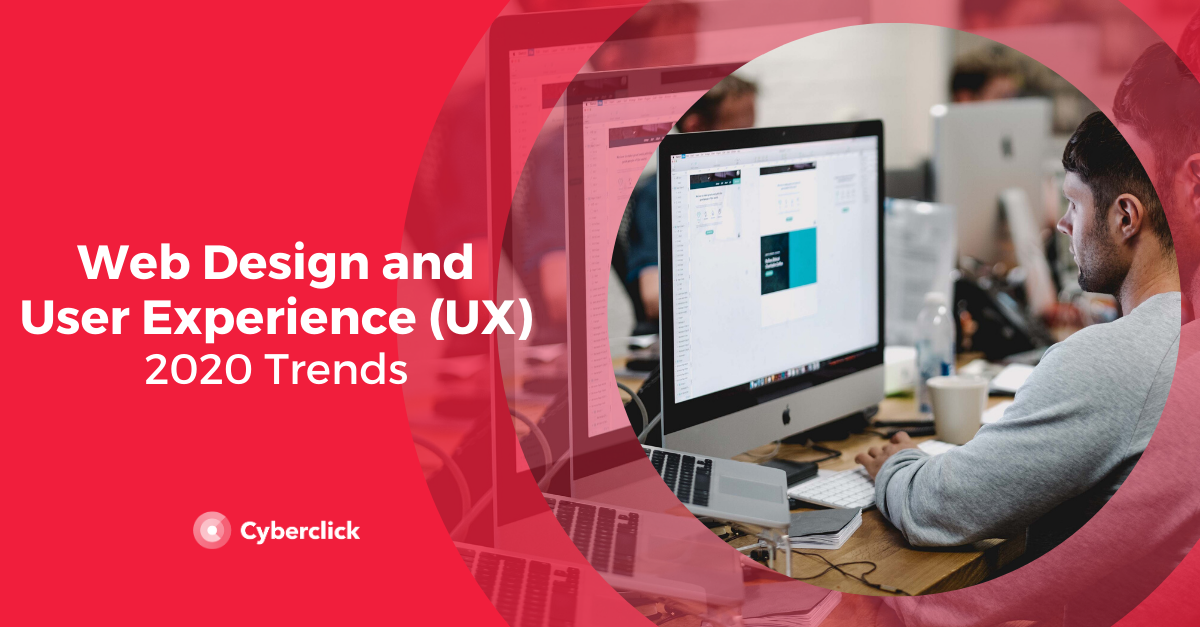 Web Design and User Experience (UX) Trends for 2020
1. Creating Magic in Product Design: Three-Dimensional, Real-Time, Context-Based Apps
Peter Smart, Global Head of Product Design for Fantasy, unveiled the brand's newest launch, the new Royal Caribbean app.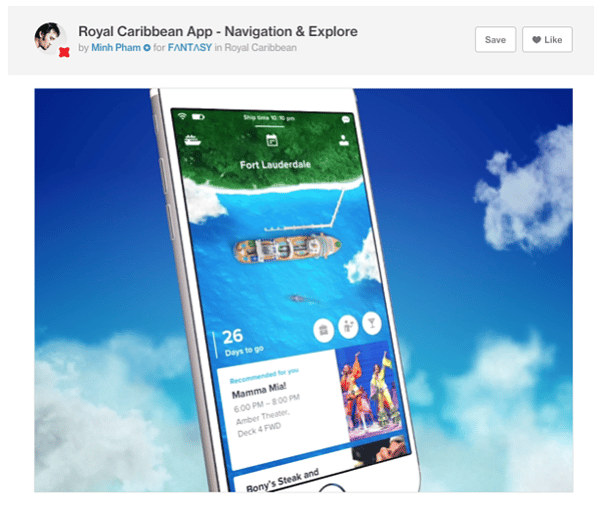 It has smooth navigation and doesn't operate in the typical form of screens 1, 2, 3. Instead, it works as a whole, where objects work in the same way they would in the real world.
The app features 3D drawings for each ships in the fleet, real-time location, weather data by zone, changing water colors depending on the ocean you're sailing in, changing tones depending on if its day or night, and there is even an "Uber" for mojitos that delivers a drink to you anywhere on the boat after just one tap on the button.
This UX app principle is based on three keys:
"Context is everything"
"If you show me a hamburger menu, you're fired"
"Support people during the decision-making moment."
The bottom line is that this 2020 UX trend means you have to create experiences that have a greater impact on the user.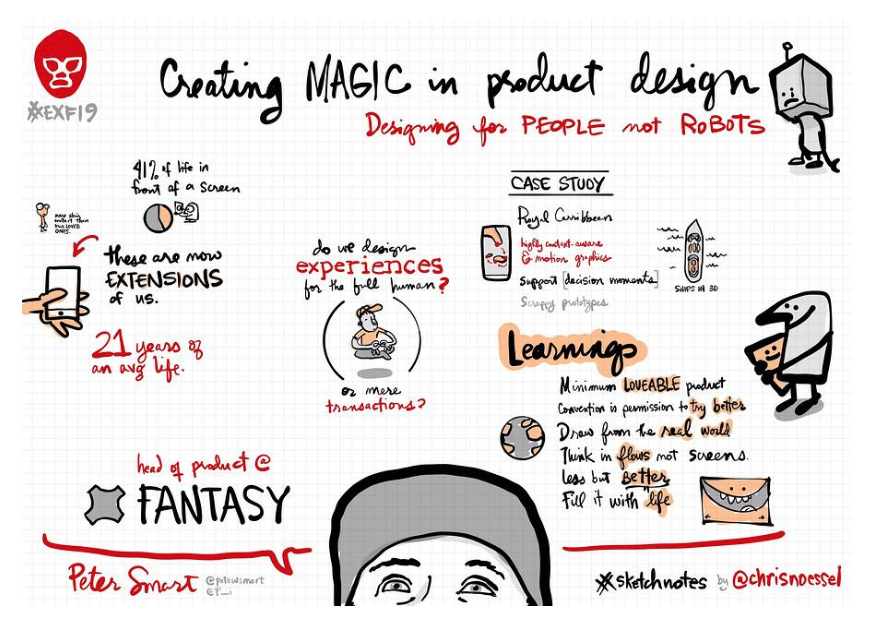 2. Inclusive Design and Design Based on Diversity
Marie Van Driessche, an interactive designer at VPRO, spoke about inclusive design, from her point of view as a deaf designer.
She pointed out that designing for everyone is a challenge and can put your imagination to test. It requires coming up with new inclusive ideas, learning about diversity, and considering the unique challenges faced by different people.
For example, an inclusive website design is one that includes multiple forms of contact. Instead of only being able to contact via phone, there should also be an email option. Error alerts should not only be auditory, but visual as well.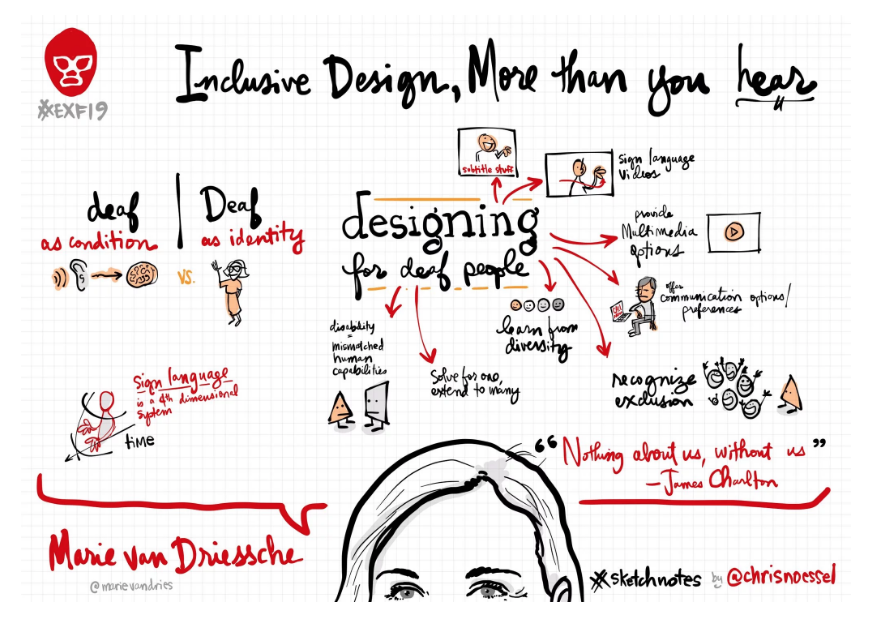 Some tips to make the digital experience more inclusive include:
Using titles and subtitles
One idea per paragraph
Short sentences, between 7 and 10 words
Use lists
Use images and graphics to visually translate the content
Shorten the content
Use blank space
Include a glossary for specialized terms
Researchers at MIT have developed a system to translate sign language into sounds and texts, using gloves that collect hand movements and transform it into sound. This technology could allow 7 million deaf people to better communicate with the hearing world, and vice versa. Even though the glove has its limitations (The translations are not reciprocal, as there is no way to change sounds into sign language yet. Also, sign language has 4 dimensions, as it uses the whole body to express concepts, which the gloves cannot translate), this advancement is a welcomed addition, and will improve with time.
3. From Artificial Intelligence to Human Intelligence
Carlos Pacheco and Ester Marina from Starcom discussed the relationship between artificial intelligence and human intelligence. In 2020 they expect to see the joint use of emotions and technology to bring people and brands together.
An experience should be memorable and stir emotions. People remember 20% of what they hear, 30% of what they see, 90% of what they do, but 100% of how they feel.
Essentially, machines should never outperform people, but complement the two parts to work with technology and emotions. The 10 basic feelings to work with when designing are:
Membership
Comfort
Challenge
Inspiration
Status
Discovery
Connection
Purpose
Success
Individuality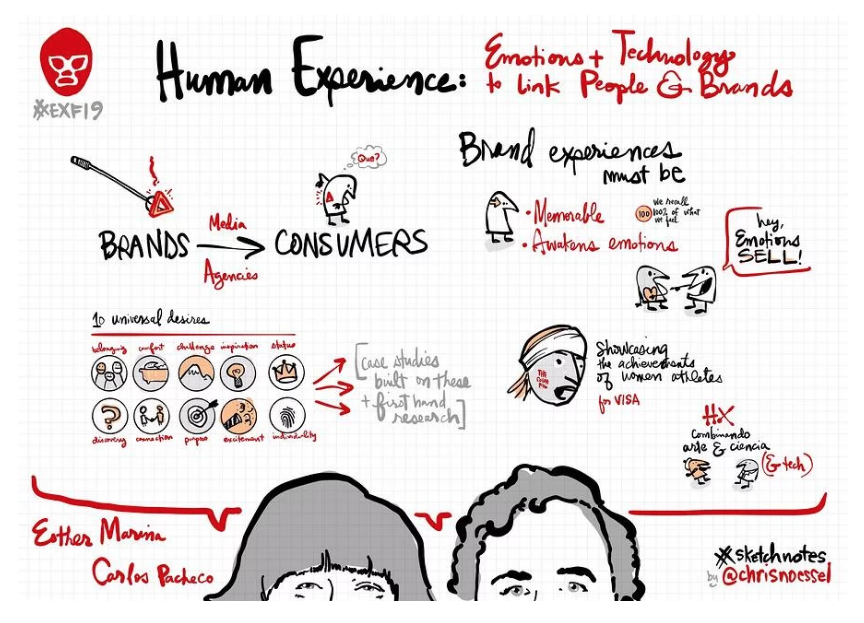 4. Design Adapted to Cultural Values
Humberto Matas from Designit raised an interesting topic about adapting corporate design to the cultural values of people and brands. This 2020 design trend should take into account:
Creativity: Challenge the conventional. Take divergent and unusual positions. Let the designer become a creative force.
Execution orientation: Understand by doing. Think with your hands and your body. Let the designer become a pragmatic force.
Diversity: Simplify the complicated. Alight visions and increase cooperation. Let the designer become an inclusive force.
Empathy: Try to understand other points of view. Represent absent voices. Let the designer become a social force.
This raises the question of how can multinational companies adapt their designs to multiple cultural values, without losing their essence? Designers should think about where and how they can add value. They must generate, defend and incorporate a sense of work into their design. You have to design with an intention.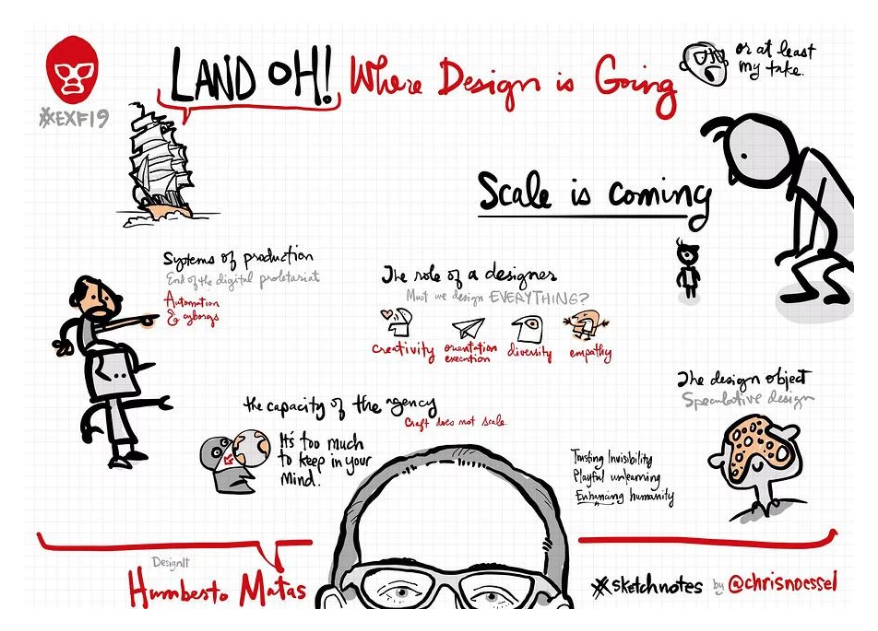 5. Simplifying Design and More User Control
Pablo Stanley from Invision Studio explored how users make decisions. Essentially, there are two ways: by intuition (the most common way) or by analysis.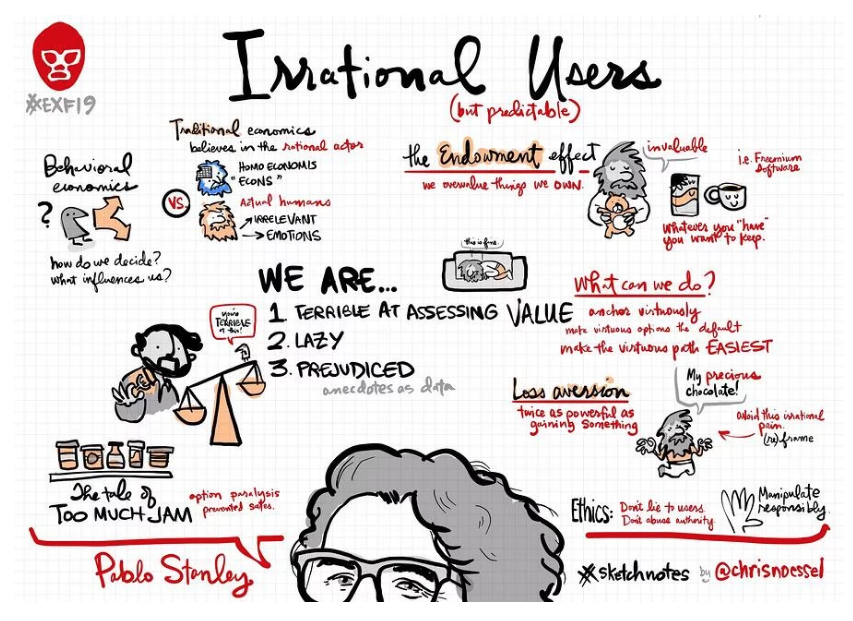 People do not make decisions rationally, and we are all easily influenced. Additionally, according to Stanley, humans are terrible assessing value, lazy, and prejudiced. So, how can we make design take all of these factors into account?
Make things easy for people and reduce options. The more options there are, the more difficult it is to make a decision.
Give the user a sense of control
Set an anchor (offer price)
Have predetermined options (filters)
6. The Design "Flow" for Games
Veronica Sammito, Director of UX Research at Electronic Arts (EA), focused her presentation on talking about the game-oriented user experience, and how the goal is to balance the tension between skill and difficulty. The goal of this trend is to get the players in what she called a "Flow": neither bored nor stressed. Usability should be easy, effective, and efficient.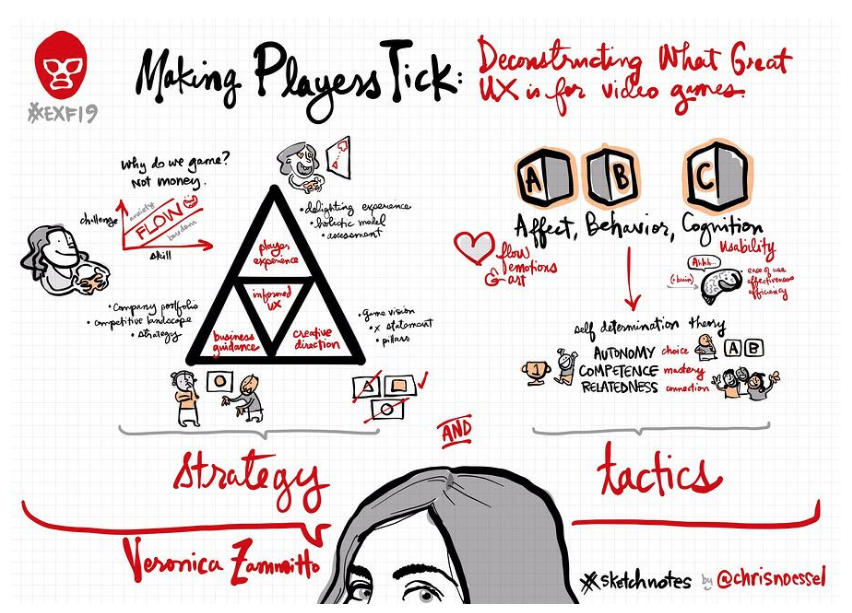 7. How to Design the Banks of the Future
David de Prado, Global Head of Service Design at BBCA, and Verónica Bello, Director of Design Strategy at Designit, spoke about the role of the banks of the future: how will they form and nurture relationships, how will they impact business, and what needs they will have.
The most notable reflections were about the challenges of designing the future bank and the role of designers as a nexus between the different teams.
The technology should be a facilitator for relationships and should aim for commitment and customer satisfaction.
Five conclusions from this presentation were:
Design is meaningful
Design is systemic
Design is business; good design has to have a clear impact on the business
Design is change
Design is action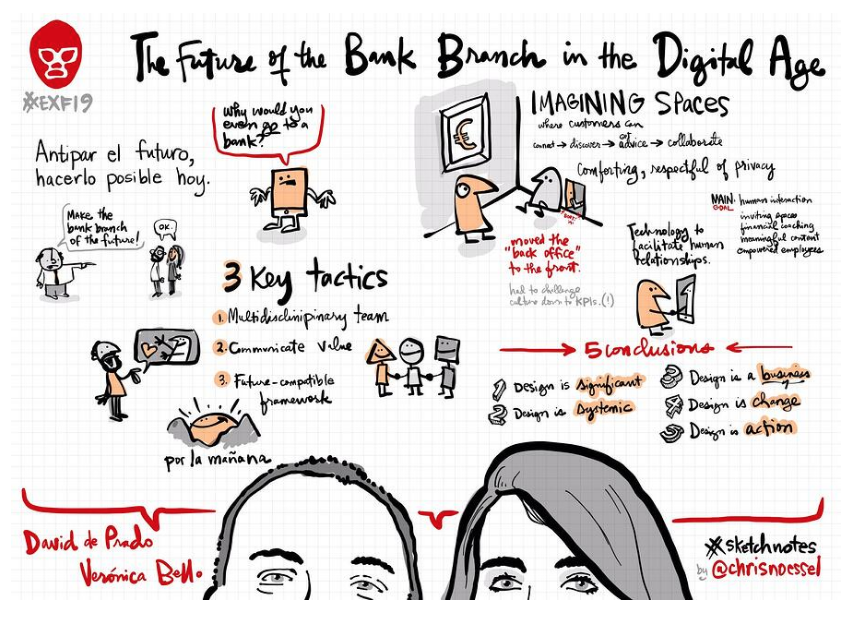 8. Design Thinking For The Future of Work
Marc Roca, Head of UX at Habitant, explained the new ways people collaborate at work, and how Design Thinking must adapt to the future of work. He explained, "Innovation is a participatory process where everyone brings something different that improves the process, and this is why we need Design Thinking."
So, how can you incorporate this design trend in 2020? Roca says there are 5 aspects:
DNA
Formation
Think laterally
"Boost, encourage, seek, practice"
Serious play
Team
Collaborative projects and team building activities
Remote profiles
Space
Resources that encourage a joint initiative
Process
Promote the ability to learn and unlearn
Technology
Improve your day to day with automation and systemization
Image Summaries by Chris Noessel