By Héctor Borrás, on 5 August 2021
The streaming platform, Twitch, has grown into an interesting place to launch marketing campaigns thanks to its more than 17.5 million active daily users. Marketing on Twitch can be a great opportunity for brands that want to be visible on a platform where there is little market saturation. If you are still in doubt, we'll explain the Twitch statistics and trends for 2021!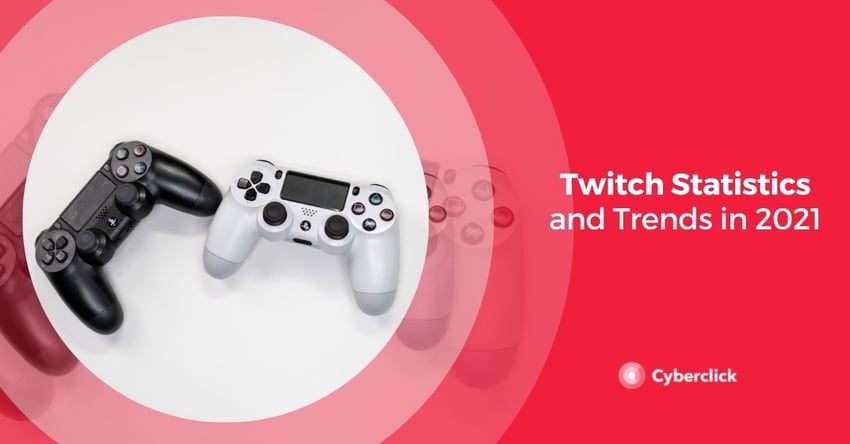 10 Twitch Insights
It is expected that throughout 2021, Twitch will achieve a significant increase in its weekly traffic, which means that more and more brands will be interested in appearing on this platform. This growth is probably due to the fact that COVID-19 has changed our habits and also our interests. Today, there are a variety of live broadcasts that are not focused on video games. Many other topics are making their way onto Twitch and this change has brought in a much more diverse audience.

Based on this growth, these are the Twitch statistics that you should take into account if you want to incorporate this platform into your digital marketing strategy:
As you can see, Twitch is a platform that is booming and consequently, there is still a lot to do on it in terms of digital marketing.
Twitch Trends You Need to Know
Knowing the Twitch data for 2021, it is not surprising that more and more companies are interested in advertising on this platform owned by Amazon. But before doing so, it is important that you know the Twitch trends of 2021.
Platform-Specific Celebrities
Although it is often believed that YouTube content creators are the same as those on Twitch, more and more of them are choosing Twitch.

Numerous renowned musicians and creatives have decided to be exclusively on Twitch, a platform where they can do live performances, other types of live events, and interact with their followers the way they want.

Although YouTube allows live videos, these creators have chosen Twitch because it allows greater audience engagement, since the platform facilitates interaction.
Influencer Marketing
More and more companies are using influencer marketing in their campaigns. This involves partnering with a streamer who has a large number of followers on the platform and having them talk about your product or brand.

For this strategy to be effective, the streamer you partner with must have an audience who is interested in your products or brand. In other words, there must be a relationship between the streamer's message, the audience's interests, and the products or brand.

It's also be important for the message not to seem forced and for the streamer to genuinely be interested in your brand. It is about advertising the product or brand in a natural way.
Self-Serve Ads
Brands can also advertise their products or services directly through Twitch. In this case it would be through live events, such as conferences, activities, and any other live event which the public can participate in.

Keep in mind that you will have to create content that is attractive to your target audience. Fortunately, this is not too difficult considering the tools that Twitch offers.
More Advertising and Sponsors
Usually the ads that appear on Twitch are directly related to the user's interests and/or to the type of content that the streamer creates.

The best thing about advertising through content creators on Twitch is that the relationship they have with their audience is much closer than that of most YouTubers. And it is proven that the closer the relationship between a creator and their audience, the greater the advertising impact.

Of course, the more the platform grows, the more partners and influencers there will be through which to advertise. In addition, Amazon and Twitch accounts can be linked, so that the streaming video platform will display advertising related to the products you have searched for on Amazon.
More Defined Schedules for Your Audience
The most successful Twitch creators are those who have a set broadcasting schedule. They know which days and times are ideal for posting content and take advantage of that.
If your brand wants to have a large reach, look for streamers who broadcast regularly. This is a way to differentiate professionals from casual users. It has also been proven that audiences are loyal to creators who follow a schedule and are consistently active.
Sweepstakes and Contests
You can also hold sweepstakes and contests on this platform. These types of events are done through the Socialman application, which encourages users to share content or subscribe to a certain Twitch channel to get the prize.

This is undoubtedly one of the best digital marketing strategies, since in order to increase their chances of winning, users themselves advertise the brand or product.
Why You Should Include Twitch in Your Marketing Strategy
There are several reasons why you should start a marketing campaign on Twitch. One of them is the low market saturation. Some of other social networks, such as Facebook and Instagram, have reached such a level of saturation that users hardly pay attention to ads anymore. Twitch, on the other hand, is not yet at that point, so the audience accepts and receives advertising positively.

Another advantage Twitch has is that it is in a growth phase, so companies that bet on this platform now will be making a long-term investment. Best of all is its global reach, as it unites gamers from everywhere in the world. This makes Twitch a very good tool to reach an international audience. Moreover, considering the speed at which other topics are becoming popular on Twitch, the type of profile that will be reached will be increasingly varied.

This platform also makes interaction between users and streamers possible, so the audience feels that they are part of an event and becomes much more receptive.

Twitch has become one of the best tools to reach Gen Z. So when a product or service is designed to meet the needs of this audience, it is clear that Twitch is one of the best channels to use to promote it.

Although there are still cautious companies that do not want to risk incorporating it into their campaigns, we believe it is a good opportunity to become visible on a channel that is not yet saturated. Moreover, seeing its potential and its rapid growth, it is clear that more and more brands will be interested in Twitch.