By Laia Cardona, on 31 January 2023
Staying up to date on the latest digital marketing trends is key if you work in social media. If you don't want to be left behind with your social media strategy, here are some social media trends that you can start implementing now to see results as soon as possible.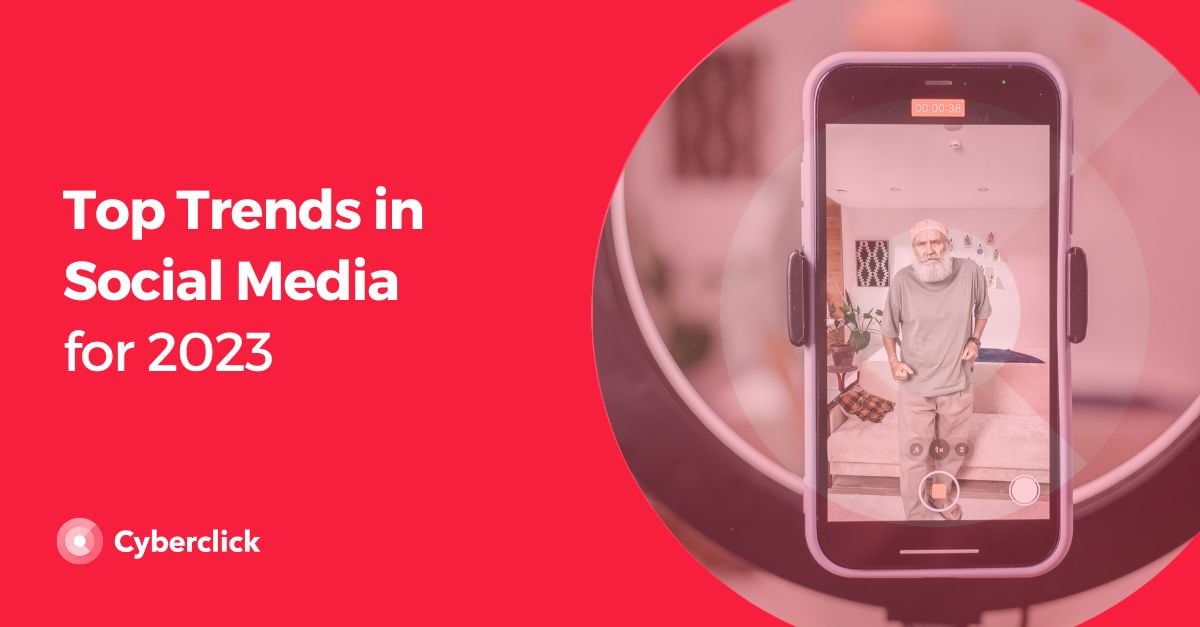 Upcoming Trends in Social Media for 2023
BeReal: Social Networks Are Getting More Authentic
The social network BeReal rose to popularity by bringing a touch of reality to the falsely perfect world of social media. Many people joined it in 2022, sharing their lives in a more natural and spontaneous way. In 2023, we expect more brands to pay attention to this platform.
It is still too early to know if BeReal will become a powerful social network, but what is clear is that it is a great opportunity for companies to transmit a more natural side that brings them closer to people's daily lives. Many accounts share the same content from BeReal on other platforms, like Instagram.


More Intimate Communities on Slack, Discord and Telegram
Having a presence on Instagram, TikTok, or Twitter is all well and good, but audiences are also looking to be able to establish a close relationship with brands and talk more one-on-one in a relaxed environment. On social media there is usually a lot of chaos, endless comments, and a multitude of questions that end up getting lost in the vastness.
All these factors limit you when it comes to sharing your true essence as a brand and treating your customers as you would like to. The solution to building a strong community lies in communication and messaging platforms such as Slack, Discord or Telegram. Through these platforms, you can add people who are truly interested in your brand and who will appreciate the content you share, which also doesn't have to follow any rules for it to get reach, as all members of the group will see it.
Digital Detox
More and more people are aware of the addiction that social media can cause and the damaging effect it can have on mental health. Brands that convey their real commitment to the moderate use of these platforms, informing about their negative aspects and advice on the best way to use them, can gain the acceptance and respect of a large audience, which increasingly values companies that not only sell their product or service, but are also committed to making this world a better place.
TikTok Shopping
More and more brands and personal accounts are betting on TikTok which is why we predict we will continue to see new features and functions in 2023. One of those is the ability to display and sell products directly from the platform.
For now this option is only available in Canada, the United Kingdom and the United States. If you are in these countries, selling your products or services through this platform could be a winning strategy.
TikTok SEO: The Search Engine of the Future
The new generation is no longer looking to Google to solve questions, but TikTok. This is even happening with Google Maps, as 40% of young people also turn to Instagram and TikTok when they want to look for a restaurant or new places to socialize and carry out their leisure.
You may be thinking that this is Google's problem and that it doesn't have much influence on you as a brand, since it's enough for you to carry on as before. But nothing could be further from the truth. Google is starting to position TikTok videos among its search results to attract this younger sector, so carrying out an SEO strategy on this platform can help you reach your audience through Google.
Ad Fatigue
You already know that on social media it is very important that you share quality content that is about your niche and useful to your audience, not just constant promotion.
Ad fatigue is real, and audiences are tired of being attacked daily with promotional content. Combat this by choosing specific dates to launch ads and then sharing useful and informative content the rest of the time. You should not always be in "promo mode."
For example, if you are a hair and skin care brand, share content about healthy habits, self-care tips or beauty information. This will also help you become a reference and gain authority.
User Generated Content to Build Trust
One of the most prominent trends in social media is the so-called User Generated Content (UGC). It consists of reusing any type of content created by users about your brand or niche. It is usually done from reviews, comments, or testimonials. It works well on social media because it transmits closeness and showcases your brand or product in a real way. Sharing the opinion of other users makes the audience trust your products or services more and predisposes them to purchase.
Virtual Reality Is Here to Stay
Virtual Reality is trending in many areas, and social networks are no exception. One of the ways in which brands can take advantage of this trend is by creating their own filters for users to use and interact with.
Filters not only modify people's facial expressions and features, but are also used to create engaging games. The personal care brand Dove came out with its own filter in which the person using it was randomly offered a hair makeover and could see in real time how it looked.
Today, there are endless possibilities when it comes to creating attractive filters that capture the attention of viewers, whatever your niche market.
Source: HT Tech
Short Videos
Due to the irruption of TikTok, other social networks are joining the trend of short videos and, therefore, so are brands. Instagram Reels, and now YouTube Shorts are some of the examples of how short videos are increasingly important when designing a social media strategy.
The positive side of generating this type of videos is that their production is very fast and can also be very economical. In addition, if your brand is focused on young people, this trend will be especially important to implement because they are the main demographic group that consumes this type of content.
Social Listening and Brand Identification
Social listening is the technique that allows brands to know comments about their products or services on social networks. It is a technique that is implemented using monitoring tools, which also analyze the impact, effectiveness, and frequency of what is said in networks.
But social listening not only allows us to know what is being said about our brand, but also about the competition and about our niche in general.
All this information can be incredibly useful to anticipate and avoid reputational crises, understand your audience in more depth, detect different types of errors or analyze the acceptance of a particular campaign. Because of all these benefits, it is not surprising that social listening is going to become one of the most used social media trends by brands.
Multichannel and Multiformat Social Networks to Generate Branded Content
There is no trend that will last or prevail forever above the rest. Thus, a multichannel and multiformat approach when designing a social media strategy will be what companies will have to embrace if they want to please more and more of their audience.
What is also clear is that, thanks to the Metaverse, new and increasingly immersive formats will emerge that will make the audience feel more and more part of the group and, therefore, more loyal to the brands.
The Decentralization of Social Networks
The so-called decentralized social networks are those that are not in the hands of large companies, but where the users themselves make the decisions. Minds or BitCloud are some examples. We do not yet know how successful they will be in the future, but they seem to be making their presence known and it is important to pay attention to them and analyze their evolution and public acceptance. To a larger extent, their success will depend on the direction taken by the most popular social networks. If they choose to give users a greater voice, it is possible that they will succeed in capturing the decentralized social networking niche.
Tweet Tiles, Twitter's New Post Format
We're wrapping up this list of social media trends with Twitter's new post format.
Source: afaqs!
It offers a more visual and attractive design to tweets, making them more colorful and increasing public interaction. For now not all users will be able to use it, but if it works, it will be available in the future, so stay tuned.