By Shanon Roberts, on 4 May 2023
More and more social networks are looking for ways to offer their content creators payment for their contribution to the platform. The latest is TikTok's Creativity Program. Although it is still in beta and only available in certain countries, if all goes well, it will surely soon be extended and many creators and brands will be able to see how their efforts in the world of social media are more rewarded.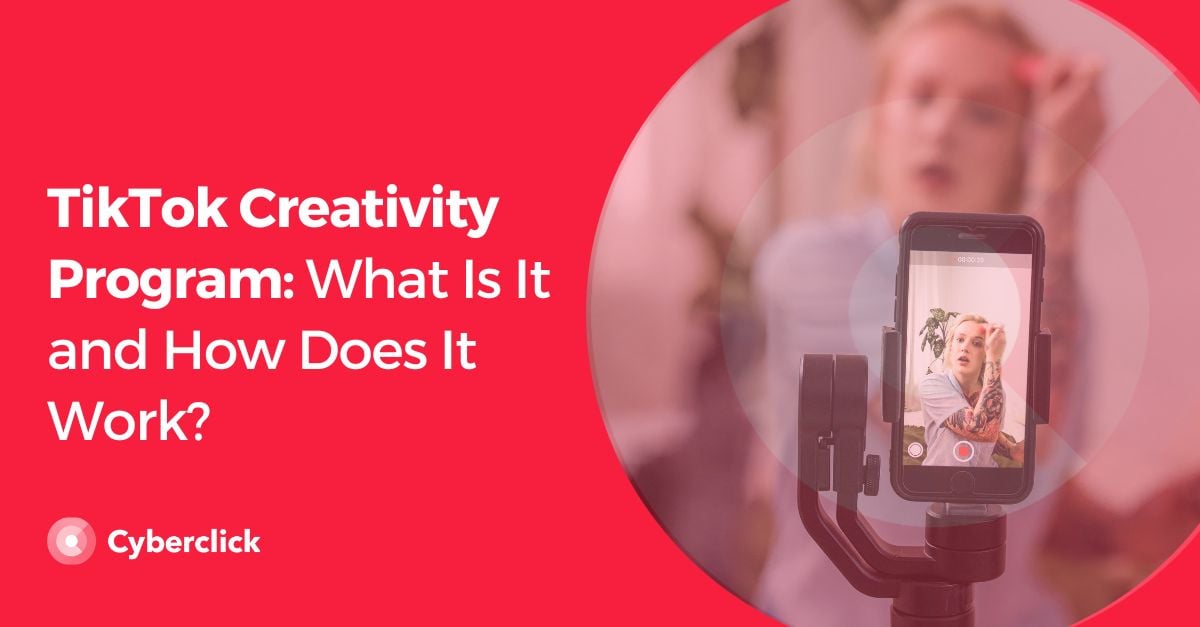 What Is TikTok Creative Program?
The TikTok Creativity Program is a new feature being developed by the platform to allow content creators to monetize their work directly on the platform and not only through collaboration with brands.
As stated by ByteDance, the developer of the social network, its goal with this update is to make content creators feel more valued so they can continue to inspire users.
Unlike other platforms, TikTok already has some monetization tools of its own for content creators, such as:
TikTok Pulse: allows brands to combine their ads with content uploaded by creators who have more than 100,000 followers. In return, they receive extra revenue. For now, this option is only available in the United States and a few other territories.

TikTok Creators Fund: available for creators with more than 100,000 followers, this feature provides funds to creators based on their performance on the platform. In short, creators receive revenue directly from TikTok, not from any other brand so this is not an advertising revenue program.

LIVE Subscription: users can subscribe to different accounts for a monthly fee to access exclusive content and benefits during TikTok LIVE. This function has the advantage of being a more stable and predictable source of revenue for creators.

Tips: the audience can send tips to creators to show their appreciation and TikTok does not keep any commissions.
The Creativity Program would be a new and complementary alternative for creators on the platform. It would be a more refined version of the Creators Fund, since it takes into account the feedback and experience creators have with the monetization programs mentioned above. In addition, in order to generate income, creators must publish quality and original content with a duration of more than one minute.
What Are the Benefits of the Program?
One of the main benefits of the Creativity Program is that those who take part will have access to a control panel where they will be able to visualize their estimated income, their video's level of eligibility for monetization, and its performance metrics and analysis. All this will allow them to plan their content for better results.
Who Can Join the Program and How?
At this early stage of development, the Creativity Program is only available by invitation, although the goal is that in the future more creators will be able to access if they meet the following requirements:
Be at least 18 years old

Have a minimum number of followers and views, which has not yet been defined

Their account must be in good condition
For now, only some invited profiles have access to the beta version in the United States, Brazil, and France.
The good news is that the profiles that are part of the Creators Fund will have the opportunity to switch directly to the Creativity Program once it becomes generally available. The rest will be able to apply for entry.
How Does TikTok's Creativity Program Work?
The social network has made it clear in a statement that for content to be monetized through the Creativity Program, it must comply with the platform's security regulations and the community guidelines.
It has not yet been made very clear what the payment system will be in this new tool, but according to statements made by one of the social network's spokespersons, creators who have videos with qualified views will receive a higher remuneration.
3 Real Experiences Monetizing TikTok
Monetization on TikTok depends on views, profile visits, and the number of followers, so the experience of each creator can be very different. Business Insider compiled the experience of some creators on the platform and we wanted to share some of them here.
Cristina (@akkris), Travel Content Creator
According to Cristina, time, patience, and investment are key to be able to receive a notable amount of money on the platform. According to her, it is possible to make a living from TikTok if you treat it as a job. However, she recognizes that one of the biggest handicaps is the instability, since there are months when you can earn a lot, and other months when you can earn nothing. Her advice is to know how to organize yourself very well and to prorate your earnings on a monthly basis.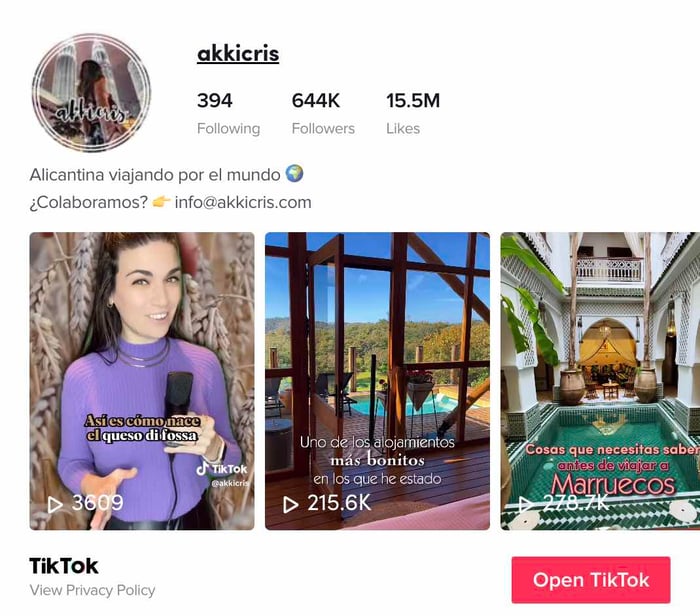 Gianfranco Bulgarelli (@gianfribul), Photography Content Creator
According to Gianfranco, the social network should improve the benefits it offers to those who subscribe. That is, go a step further and, apart from emoticons or exclusive stickers, also offer digital products, exclusive events, or private chats. This way, many more people would be encouraged to subscribe and there would be more possibilities for creators to make a living from their content.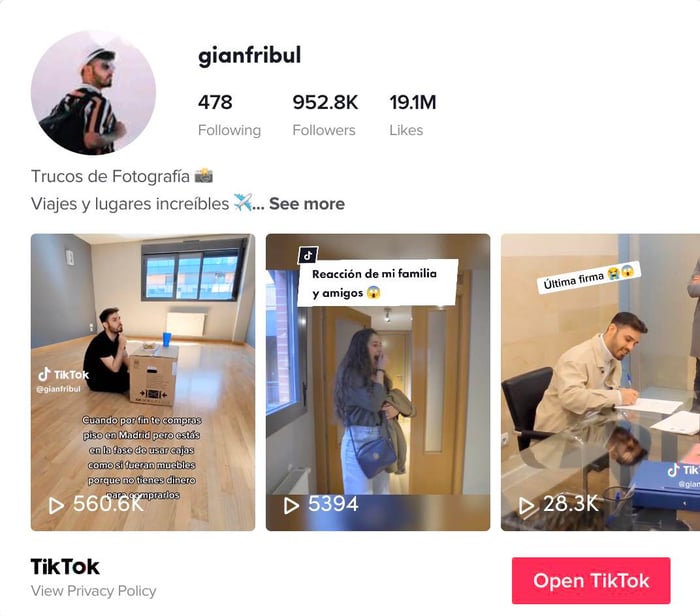 Andrea Cano (@annersite), Content Creator
Andrea is one of the few Spanish creators who recognizes that TikTok is her main source of income. She affirms that you have to dedicate a lot of time, but that it is also essential to know how to sell yourself well and be very skillful when brands contact you.