By Chantal India, on 16 May 2018
When was the last time you went more than a few hours without checking your phone for notifications? Whether it's a message from WhatsApp, our favorite brand's latest tweet or breaking news from our favorite digital newspaper, we always want to make sure we are not missing out on a single thing that's going out there in that big, wide world.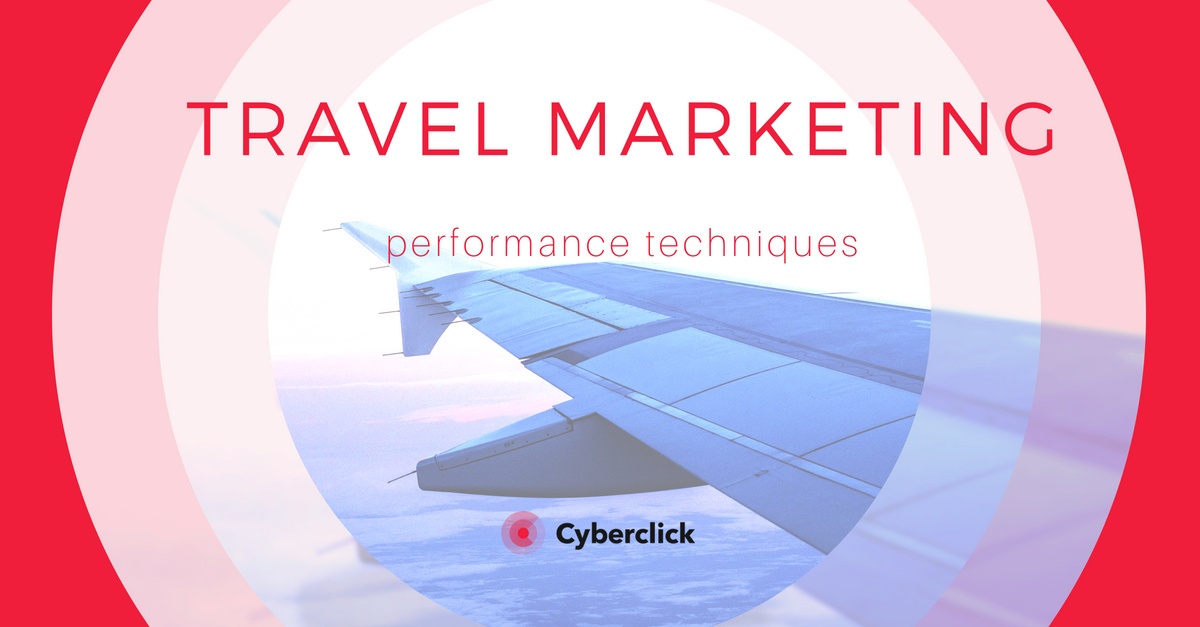 And while all of this offers us incredible opportunities that go beyond our wildest dreams, it also offers these opportunities to anyone else who seizes them - making it that much more difficult for us as marketers to truly create a connection with our target audience.
The Travel and tourism market is already the fourth in terms of the most followed on social media (after technology, communication media and beauty), and this trend shows no signs of dying out.
It really isn't surprising when we see that, according to the Social Time, 76% of social media users publish posts and photos related to vacations.
Social networks are, without a doubt, a place where your potential clients are open to listening and receiving anything to do with travel.
Which is why, I would like to share this practical guide to social ads for travel marketing.
A new consumer profile: the Multi-Traveler
The first thing we need to realize is that conventional segmentation strategies may not be so useful when advertising the travel market on social media. Travellers nowadays want as much variety as possible in their travel experiences.
Today, they may be looking for a wild, backpacking adventure through Norway in search of the Northern lights, and tomorrow for a full spa resort for a romantic getaway in Paris.
Which is why, in this market, we need to be especially careful when filtering all the information provided by big data for our campaigns.
We should know how long in advance different kinds of trips are planned. And how to cross this information with recent behavior patterns to know how to offer our users exactly what they need, exactly when they need it.
The new online traveling patterns
Although they may be looking for an entire range of experiences, new online travellers have some very important characteristics in common. These three behavior patterns will help direct your social ads campaigns.
1) "Lowxury": the affordable luxury
The lowcost phenomenon, which boomed due to years of economic crisis, left its mark on travellers' way of thinking, and on what they search for when planning their holidays. There is a very significant portion of them who are not content with the bare minimum, but who are also not willing to empty their pockets: they want luxury experiences, for prices that adjust to their means.
2) The revolution of technological devices
A consumer in the travel industry is barely recognizable compared to one 10 years ago. Today, travellers are permanently online and connected, sharing their travel experiences in real time with their networks. They also know that they have a whole world of options to chose from, and want to make the best choice they can, meaning they are constantly researching their options from different devices.
3) The reign of the reviews
And when it comes to investigating destinations and travel options, other travellers' opinions are extremely influential.
Over the past few years, we have seen all kinds of review websites and mobile apps, which can shoot a travel business down, or drive it straight to success.
Years ago, travellers based themselves on word of mouth, magazine recommendations or the judgement of travel agencies, but the power is now in the hands of the consumer... and they do not hesitate in using it.
The result is that different businesses in the travel industry (such as hotels, excursion agencies, restaurants, landmarks, etc.) are increasingly more concerned with travellers' opinions and reviews, paying more attention than ever before to customer service and a traveller's experience.
Many businesses have used this trend for their social ads campaigns, encouraging satisfied users to leave their reviews.
Winning techniques for travel marketing on social media
1) Multimedia content marketing
The travel sector is one of those that can benefit most from content marketing. Users adore sharing interesting lists about monuments, the must-see places in that city, or the best places to eat in another. To make the most of this trend, use social media to promote your content and attract users to your website to finalize their purchase.
And if you really want to make the most of it, use multimedia content to generate engagement. Just text is no longer enough, in fact, video ads are one of this years big trends.
2) Social Selling
We have gone from using social media as a platform to promote content or for customer service, to considering it a direct selling place. Both Facebook and Twitter have introduced a specific "Purchase" button that allows users to directly book their vacations.
This is, beyond any shadow of a doubt, a great opportunity for brands in the travel industry to improve their conversion rates.
3) Social Ads
For your social ads campaigns to be successful, you should use these ads wisely, to be able to stand out amidst an endless sea of advertising.
In just one day over 500 million tweets are shared, and over 300.000 photos a minute on Facebook, meaning your images, copies and segmentation choices all have to work together to make your ad stand out as much as possible.
4) Travel communities
Last but not least, if you want to triumph in this sector with advertising on social media, you mustn't forget all the communities and profiles designed especially for travellers. The possibilities are endless, from families interested in travelling with kids to gourmet backpackers, ranging through all destinations and budgets.
It is a great place to keep in touch with your potential users and build a trust-based relationship.
If you do decide to go down this road, you should know that Instagram and Facebook are the networks with most potential to share videos, content and images.
The best social media channels for travel marketing
Over the past few years social media has become an essential part of really almost any company's marketing strategy - but even more so for those companies in the travel industry. When advertising in the travel industry, inspiring, motivating and gaining your users' trust is of the utmost importance. It has very quickly become one of the most important tools in travel marketing.
Why should my travel brand be on social media?
You may be asking yourself, with so many brands out there with the same goal, is investing in this worth the effort? As marketers in the modern age, we need to be exactly where our audiences are, and if they are on social media - which is undeniable - then that is exactly where we must be. These social networks give us a priceless and unique opportunity of quite literally placing ourselves inside our user's pockets.
Studies have shown that 92% of consumers trust earned media above any other form of advertising. While other forms of advertising are created by a team trained to bring out the best and brightest in a brand, earned media is user-generated content, coming from real experiences and opinions, which users value above all. Another study by Hospitalitynet.org shows us that 71% of Millennials say that they trust User Generated Content 50% more than any other source of information, including TV, newspapers and magazines. Social networks are one of the very few ways that your audience can publicly engage and interact with you and your advertising.
With the incredible amount of scams and misleading advertising out there, combined with the unprecedented ease in communication from any point around the globe, people have become extremely skeptical towards many forms of traditional media - and will be sure to do some thorough research before deciding to trust a brand.
The truth is that travellers are not impulse buyers - they will investigate almost all aspects of their journey before deciding to make that final leap and book their holiday. There is an entire process of choosing a destination, a method of transport to get there, a travel company, accommodation, how long to stay and what to do while they are there, and it is important to stick with them every step along the way to be able to stand out at the end of the day when the time comes to make the final bookings.
So let's take a look at exactly how each of these social media channels can help with advertising in the travel industry.
Facebook: The Social Media Giant
No matter how many new and trendy social networks pop up over the years, and how popular they become, there is not yet one who has managed to rival Facebook's reign. When it comes to sheer numbers, there is no denying that Zuckerberg's network is a force to be reckoned with: according to the latest data collected in July 2016, Facebook currently has 1.7 billion unique, active users logging in every month - literally 23% of the entire world's population. This means that no matter what kind of audience you are reaching out to, you are bound to find at least some of them here.
And the good news for marketers in the travel industry is that it seems that travel and tourism plays a very large role in the Facebook world - according to the Social Times, 52% of users admitted to dreaming about vacations and travelling when on Facebook (without even having any trips planned), and 76% of social media users post vacation related status updates and photos. It is a great place to make people fall in love with your pictures and brand, and get them to share it with their friends - 52% of users also said their friends' photos inspired their travel plans.
But Facebook has another very significant advantage for travel companies which is not to be overlooked: the ability to leave official reviews based on your previous experiences. Once you have created a Facebook page for your brand, be sure to invest effort in organic reviews and content as well, and not just in paid advertising. Connect also with people who have already bought your product or services, and you will watch your community grow - and with it your sales. According to Smart Insights, 80% of people are more likely to book a trip from a company "liked" by a friend than through a conventional Facebook ad.
And don't worry about receiving some negative feedback - as counterintuitive as it may seem, it can actually help you to a certain extent. Negative feedback gives your entire page and reviews more credibility in terms of user generated content, showing that these are in fact real customers real opinions - and not been spun by the brand. In fact, according to Hospitalitynet.org, customers seeking negative reviews are significantly more engaged and likely to purchase, spending 5 times longer on a site searching for information. Just make sure to address the issue straight away, and respond to the person's comment or review apologizing and politely explaining the situation.
Twitter: Timing is everything
If the world moves fast, Twitter moves even faster. Known as one of the most instantaneous social media of all, it is the place where people go to stay up to date with everything that happens in the world - Twitter is about as Real Time as it gets. And although its dizzying speed can be quite scary - as advertisers, we can use this feature to our advantage. While Twitter may not be as visual and dreamy as other social media such as Instagram, it is a place where people go to learn and communicate, and considered a professional, trustworthy source.
It is where people will take the opportunity to tell all of their community of friends and followers about the amazing (or terrible!) time they are having in a hotel, on a train or while lounging on a paradisiac beach, both before, during and after their actual journey. This becomes extremely important when we see that according to Social Insight's study, 51% of people say that Twitter content influenced their consideration of a travel brand. What your users tweet about you matters, and it matters just as much that they tweet about you at all. Travellers are 44% more likely to learn about a new travel brand on Twitter than other social networks, so make sure your presence in the Twitterverse is known!
And if you want to take this whole idea to a whole other technological level, there are tools you can use to help you. By using the Twitter Tech Marketing tool (T2M), you can create real time ads, which essentially insert dynamic fields into your tweets, such as price, images, or destination. What this means is that your tweets will automatically retrieve information from your feeder to show the lowest available price of the moment - they are real time and dynamically changing along with your current rates. In the past, these dynamically priced ads have been able to double conversion rates.
Instagram: Dazzle users with your images
Instagram is the home of the visual, the creative, the stunning. There are currently 500 million active monthly users, and a remarkable amount of pristine and awe-inspiring images of every beautiful nook and cranny our big and amazing world has to show us. SocialMediaToday has proved that 48% of users rely on Instagram to find a new travel destination, and 35% use it to discover an entirely new place.
So if they are already there to figure out where they want to go, why not offer them ideas, or even how to get there, where to stay or what to do, while they're at it?
As for user-generated content, Instagram has a whole universe of untouched and genuine content that will make others fall in love, and that you can use to promote your brand and services. And not only can you use things that are already out there, but you can prompt and encourage user-generated content by initiating contests and giveaways by asking users to post their content using specific hashtags you have created.
If your budget allows it, you can also get in touch with the worshipped Influencers of Instagram, and get them on board with making your brand known among their flocks of devoted followers.
Just keep in mind, people are on Instagram to be swept off their feet with the incredulity of content and images - be sure to inspire your followers rather than advertise to them!
This is just the tip of the iceberg of the immense and different ways social media can help you with your travel marketing, and of its incredible potential to boost your brand! It can be quite overwhelming however, so just let us know if you need a hand!
The top 5 travel marketing trends to succeed
Time seems to be flying by at the speed of light, and every day there are new technologies, gadgets and tools being launched. The trouble is, most of them seem to go just as quickly as they came, leaving us with a bit of a dilemma: Which ones are here to stay, and which are just a hype that will have been forgotten about by the end of the week? With 2017 just around the corner, and those Marketing Plans to be set and defined, we need to know which of these digital marketing trends are worth investing in and how we can apply them to marketing in the travel industry.
1. The three most important ingredients: Mobile, mobile, and mobile
Mobile is no longer a "marketing trend" - there is no doubt left that mobile has become an intrinsical and unarguably vital part of our day to day lives, and is here to stay. In 2014, mobile internet accessed took over desktop access for the first time, and shows no signs of slowing down. According to SmartInsights, 80% of Internet users own a smartphone, and this shows absolutely no sign of slowing down in any way. And we can see the effects of this taking over in all areas, including the travel marketing industry: bookings through mobile devices represented 12% of all travel bookings in 2014, which by 2015 almost doubled to 23%, and continues to rise. Predictions show that by 2019, mobile will have taken over 46% of digital travel sales.
Whether it's to research a destination or itinerary, make a booking, connect with a brand and leave a review, or even during their travels (via Online Boarding Passes, Booking Confirmations, eTickets, etc.) there is no denying the paramount importance for travel brands to be mobile. It is not good enough to just have a website that can also be viewed on a mobile device, however. A user's digital experience with your brand has to be easy, intuitive, responsive and fluid - or they will simply not bother. What's more, it has been seen that users spend 89% of their of their media time using mobile apps as opposed to mobile websites - meaning that if your brand does not yet have an app, 2017 is the time to launch it! Here is a guide to creating your app marketing strategy, if you need a hand!
2. Content Marketing: Out with Outbound, and In with the Inbound
Marketing, especially for the travel and tourism industry, has become less and less about selling, and increasingly more about inspiring users. People want to be swept off their feet by the beauty, incredulity and adventure of a destination, and it is precisely that which will make them want to purchase what you have to offer. Enter Content Marketing - the marketing of the future. The truth is that travellers are not impulse buyers - they will do thorough research before choosing who or where to dedicate their precious vacation days to. Offer people information, what they want to know and see, and show them how your product or service relates to that need, or can help them achieve their goal.
Whether it's through awe-inspiring articles on a blog about destinations and what to do there, or breathtakingly stunning photographs - make your goal to draw users in rather than pushing yourself on them.
Take Renfe-SNCF en Coopération, for example. In an effort to promote their high speed train routes that link top destinations in Spain and France, they invested in a Content Marketing strategy by, each month, publishing articles on their blog that tell users all about the incredible things they can do in the amazing cities they travel to. Currently, the Content Advertising campaigns they run, based on these articles, in France and Spain contribute around 20% of their total website visits, and over 85% of the new users who discover the brand every month.
High quality photography also plays a very important role in the travel world - there are few things that will inspire users more than an amazing photograph of somewhere they are dreaming of travelling to. The best part is, you don't even have to do the photographing yourself! Try launching contests or giveaways on social media for the best images and photos of certain topics or destinations, use a hashtag, and let the magic unfold! Not only will you be promoting your brand and generating buzz, but at the end you can award the winner and feature their stunning pictures through your account and on your website.
Still not convinced this is a travel marketing trend? Read this Case Study that proves how to increase sales with Content vs. Outbound Marketing.
3. In Social Media We Trust
Where to even begin? The undeniable evidence of the staggering importance of Social Media in the lives of each and every one of us, whether as users or as marketers, leaves no room for argument - 2017 is the time to get your social media strategy on point!
Social Networks are a great place not only for you to reach out to your users, but for them to reach back out to you and engage with you. By having them add you as a friend, follower or fan, you are guaranteeing your brand a spot in their daily lives - how you then use it and take advantage of it, is up to you. Whatever your social marketing strategy may be, be sure to engage with your users, and let them know that you are there for them, and to help them with whatever they may need, as well as to have fun with them! Creating social media contests or giveaways, games or other interactive activities will not only strengthen your relationship with your current users, but will also create a buzz around your brand and help you reach out to so many more.
It is also a great place to make the most of User Generated Content, and generate a flow of content promoting your brand that was not created by your advertising team, which is very important. The Social Times proved that 92% of consumers trust earned media more than any other forms of advertising - and with all the scams out there, who can blame them?
Check out which are the best social media channels for travel marketing, and why!
4. Reviews = Bookings
The hard truth is that positive reviews from real people who have had real experiences are almost as important as lower or special prices. According to a poll carried out by Webcredible, when the time comes to make an online booking, 29% of users consider positive online reviews to be the most likely influencer, compared to 38% of consumers who consider it to be prices and special offers or promotions. What this means is that if you are looking for a way to boost your sales without reducing your prices, investing some time and effort into building a user review log can significantly improve your conversions. And that's not all: they also significantly increase the amount of time people spend on your website.
User reviews are something you should definitely be encouraging and making possible, and the great thing is that they won't make it hard for you: 76% of travelers share their experiences through social networks, and consider them an extremely reliable source of information. In fact, 49% say they consider travel reviews to be the "most useful" source of information when planning a trip.
And just to put your mind at ease: bad reviews are not bad - in fact, they are positive (to a certain extent)! Some bad reviews give your website a lot more credibility, and your reaction to these reviews show users how amazingly you will treat, help and take care of them when something goes wrong. Just be sure to answer them and do your best to rectify any situations!
5. Personalization: Each customer is unique, treat them as such!
Let's face it - the amount of information and content out there on the online world is utterly overwhelming, and it becomes so easy to miss out on so many things, or ignore information, because it is simply too much for us to take in. Which makes it absolutely imperative to tailor advertising and marketing to the individual consumer. The "one size fits all" approach, promoting it to the masses in hopes of stumbling upon a few success is a thing of the past. Sure, even a broken clock is right twice a day, but it is simply inefficient.
Whether it is through email marketing, retargeting, promoting related content or highly segmented campaigns, the dawn of the digital age has blast open our border and limitations, offering us endless possibilities not only to automate what manually is almost impossible, but to get to know our users, and to offer them exactly what they need, exactly when they need it. Use personalization to let your users know that you are there for them, that you know them, and have something made especially for them.
The digital marketing trends of today, be it through social media or by applying artificial intelligence to marketing tools, offer us unique and never before seen opportunities to get right alongside our users and see the world through their eyes - leaving it up to us, as marketers, to use them to make both ours and our users' lives easier.