By Diana Palau, on 1 July 2021
A company's brand is one of its most important assets. It communicates who you are, what you stand for, what you do, and how you do it. It can also help you establish trust and confidence with your existing and prospective customers, and it should form an integral part of your marketing plan. However, brands are not static. They needs to adapt and change with the times. This is where a rebrand comes in.
In this post we will look at what rebranding entails, what you need to keep in mind, and how implementing the right rebrand strategy for your business can help you get ahead and attract those all-important new customers.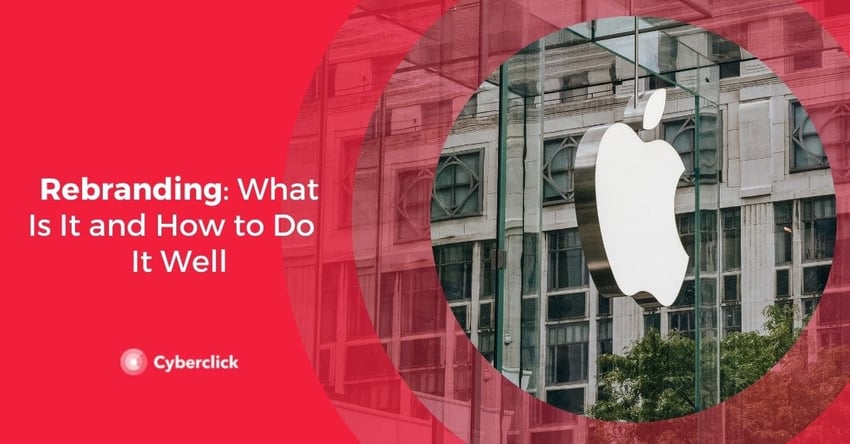 What Is Rebranding?
A rebrand can be a great option to keep your image fresh and current. It can help you stay ahead of your competitors and tap into previously untouched markets. It has to be done well though. Rebranding is much more than just changing your website or logo. You need to incorporate the change into your marketing strategy and make sure all touchpoints are taken into consideration.
So, what is rebranding and what does it involve?
Rebranding means changing your corporate image and what you communicate to your market. This might involve changing your logo and website, but it also includes adapting your marketing materials to a defined branding and marketing strategy. This helps you differentiate your identity in the eyes of consumers, investors, competitors, employees, and the general public.
You might choose to rebrand because:
Your brand does not fully align your company's vision, mission, values, or products.
You are expanding into a new market.
You have merged with another company and your brand no longer represents your new, shared identity.
What Are the Benefits of Rebranding?
A rebrand can help you:
Reach and connect with a new audience.
Grow as a company.
Stay current and relevant in changing times.
Stand out from your competitors and differentiate your brand identity.
Establish your company as an industry leader with an appealing identity.
Reflect your goals, products, and values. Customers like to see that companies adapt to their changing needs.
Showcase your expertise and boost the bottom line of your business.
What to Consider When Rebranding
Before you launch your new brand, there are a few things you need to consider. Firstly, you need to decide if you are going for a full or partial rebrand. You also need to conduct thorough research to define who your target market is, and what the demographics of your customer base are. Additionally you need to clearly establish what your company's vision, mission, and values are, and then incorporate these things into the foundations of your new branding strategy.
What is your purpose? Which values does your company identify with? What do your customers want and expect from you? What is your current reputation, and how can it be improved? What about the reputation of your competitors - what makes them stand out?
It's important to answer all these questions before you begin to roll out your new branding strategy. You should also consider the following rebranding tips and best practices.
Understand Your Current and Target Market
The first step in understanding how to rebrand your company is conducting thorough market research. This will help you re-establish your brand and identity in line with the expectations of your target market. You might even discover there are markets you haven't taken into account in your current brand strategy.
Redefine Your Vision, Mission, and Values
Who are you and what can you offer your customers? Which values represent your business? Which values would you like people to associate with your brand and logo?
You may have already defined these points, but have you adapted them as your company has grown and expanded into new markets? Do they represent who you are now, or who you would like to be? Spending time getting this right will save you time and money in the long run.
Redefine Your Slogan
What about your slogan? It may be catchy, but is it still relevant? Does it reflect your updated core values and purpose? Does it instill trust and loyalty in your customers? Does it resonate with customers, or is it an empty gimmick? Holding focus groups before you rebrand is a great way to establish what the general public really thinks about your brand and the messages you are putting out
.
Examples of Successful Rebranding Initiatives
A successful rebrand should be aligned to your core business values, and this should be transmitted to your customers in each and every communication.
There are many examples of successful rebranding initiatives all around the world. These examples can help you understand exactly what you need to do to boost your corporate image and attract loyal customers. They can also help you design an effective strategy that helps you cement your position as a trusted and loved brand.
Dunkin' Donuts
Founded in 1973, Dunkin' Donuts was originally an exclusive supplier of delicious sugary treats. However, over the years (and after the explosion of Starbucks) they began to focus more on coffee, too. Although they maintained their original logo and fonts, they decided that the best way to expand their reach and communicate the fact that they were no longer a "one-trick pony" was to drop the word "Donuts" from their name.
According to Tony Weisman, Chief Marketing Officer at Dunkin' U.S., "By simplifying and modernising our name, while still paying homage to our heritage, we have an opportunity to create an incredible new energy for Dunkin', both in and outside our stores."
Dropbox
Another great example of a successful rebrand is Dropbox. The file-sharing giant adapted its brand to reflect its new range of products. Originally known as an exclusive file storage service, the company changed its focus in 2017 and began offering customers new solutions including APIs, tools, and integrations. It changed its logo to take these changes into account and reflect its new image as "the connective tissue for teams and businesses of all sizes."
Apple
Apple is perhaps the most famous example of how to rebrand successfully. When Steve Jobs re-joined Apple in 1997, he decided a full rebrand was needed in order to distance the company from its dwindling appeal, PR issues, and slumping sales as a result of the growing popularity of Microsoft Windows.
Steve Jobs rebranded the company from Apple Computers to Apple. This change reflected the company's new identity as a supplier of a range of devices, not just traditional Macintosh computers. With this rebrand came the release of new products including the iPod and iPhone, as well as a new slogan: "Think Different." Apple is now one of the biggest brands around the world, with a net worth of $750 Billion. Not bad for a catchy slogan and rebrand!