By Estela Viñarás, on 17 September 2021
Network marketing is a marketing strategy that has been around for many years and is based on the distribution and sale of products through individuals.

For brands, network marketing can be a great way to leverage the power of word of mouth and save costs on sales reps. But what does this type of marketing really consist of and what are the keys to getting it right?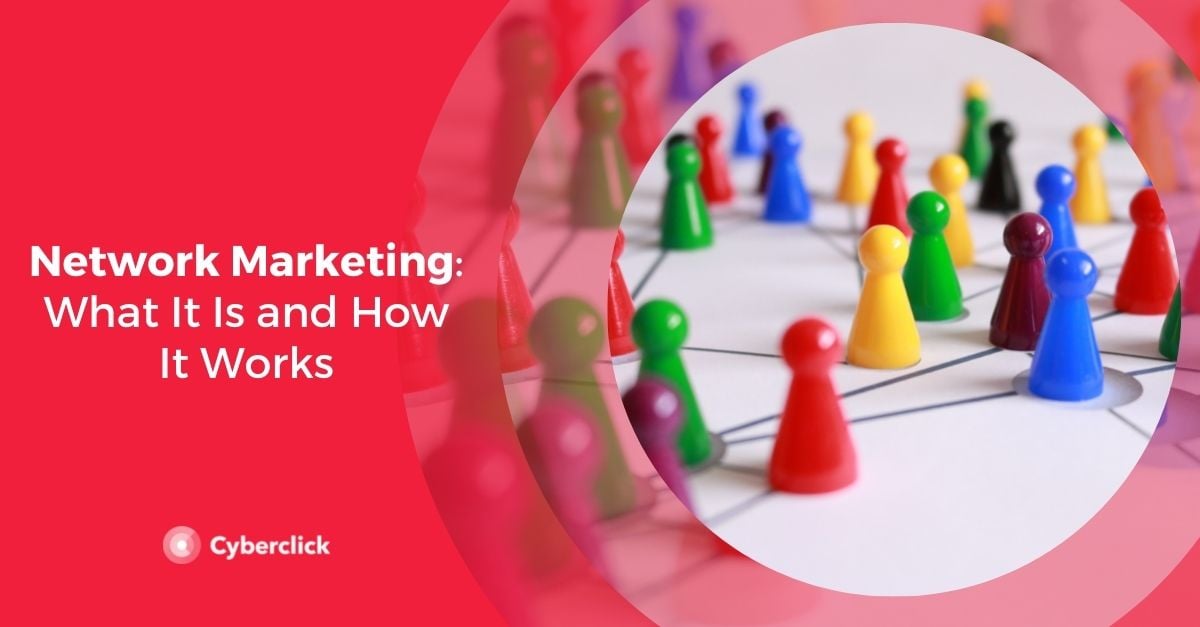 What Is Network Marketing?
Network marketing is a model where distributors sell goods or services on behalf of a company. They then get a commission on their sales and on the sales of any participants they recruit, forming a distribution network that grows and incorporates new members. They often require an initial investment from the distributors (though this should not be a large amount of money).
Network marketing emerged in the United States in the 1940s and is used by well-known brands such as Avon and Tupperware. Traditionally, it was a model based on word of mouth, in which salespeople sold products mainly to their family and friends. Today, this model has evolved due to the emergence of digital marketing and marketers incorporate social media and email marketing.

Network marketing eases many processes for the company, such as logistics or distribution, and saves on advertising and employee costs. These reduced costs can be reflected in the price of the final product.
However, network marketing has the potential to become shady if participants are compensated mostly for recruiting others rather than for making sales.
Network Marketing vs. Pyramid Marketing
Some people think that pyramid marketing and network marketing are the same thing, but in reality there is a difference. Network marketing is a legitimate practice and should not be confused with the infamous "pyramid schemes."

In network marketing systems, salespeople usually receive some kind of incentive for recruiting other salespeople and often take a commission on their sales. This need not be a problem, as long as the marketing is focused on the product.

When the majority of the revenue comes from recruitment and not from the sale of the product itself, that enters the territory of illegal pyramid schemes. The ultimate step into fraud is when people who join the network have to contribute money and it goes to the members who have joined earlier, effectively creating a "pyramid" that collapses sooner or later. In this case, the products are just an excuse to feed the pyramid.

The fundamental difference is that network marketing focuses on offering a real product and all parts of the network benefit, rather than taking advantage of new members.
Pros and Cons of Network Marketing
Pros of Network Marketing
For companies, network marketing is a relatively simple way to improve product placement in the marketplace by building a highly motivated sales network that designs localized strategies to sell more products.

Thanks to the emergence of digital marketing, network marketing has expanded its potential reach from relying on word of mouth to reaching thousands of people through a single salesperson.

For sellers, network marketing can be a very attractive way to increase their income, although it's necessary for the brand to be very honest and not generate unrealistic expectations. On average, the profit margin on products is around 35%.
Cons of Network Marketing
Network marketing has at times been associated with pyramid schemes or even cults, which gives it a bad reputation. Therefore, companies that opt for this type of marketing must be very transparent about their revenue model.

By leaving product promotion in the hands of individual salespeople, it is inevitable that the brand loses some control over its branding and sales strategies. To overcome this, it's necessary to invest time and resources in training salespeople on an ongoing basis.

There is a certain level of market saturation, which can make it difficult to achieve sales, especially when the network of sellers starts to grow.

Finally, network marketing is sometimes perceived as an obsolete model, but the truth is that many brands continue to use it with good results today. Digital media has allowed it to renew itself and reach new audiences.
Keys to Successful Network Marketing
In network marketing, salespeople are the representatives of the brand and the results depend on their efforts. Therefore, they must be well trained and guided in order to do a good job. These are the four keys to success in network marketing.
Planning
As with any other type of marketing, in network marketing you must have a plan and carefully lay out the actions to be taken.

The first step is always to make sure that the salesperson really identifies with the brand and has a good knowledge of it. Trainings will help him/her to elaborate a sales plan, explain the advantages of each type of product, open and manage social media channels, etc.
Customization
One of the great advantages of network marketing is the personal face-to-face relationship between the salesperson and the customers, which humanizes the brand and generates familiarity.

Try to maintain this customization when transitioning to digital strategies, so that customers get personalized recommendations, buy the most suitable products for them and have direct contact with the seller.

This is where email marketing strategies can come into play. Sales reps can divide their contact base into different profiles according to the type of products each group is most interested in and then send communications tailored to their interests. Setting up video conference calls with customers and teammates is also helpful.
Personal Branding
In network marketing, the sales rep is not a mere agent of the brand, but an individual. The identification between brand and salesperson is very important.

To be successful as a salesperson, it is important to develop a personal brand. Ideally, digital promotion should be carried out through a series of channels other than the user's personal profile(s). The communications should include the sales rep's image and the company's branding.
Digital Media
Finally, the network marketing salesperson should have some knowledge of digital marketing to be able to take advantage of its full promotional potential. These are the most useful channels to start with:
Email marketing: from the beginning, the seller can collect emails from customers and interested parties to generate a database to inform people about all the news of the brand.

A blog: a blog on a topic related to the brand can be an excellent resource to reinforce sales rep's personal brand by showing knowledge of the sector. The content generated will serve to attract customers and address their questions at different points in the conversion funnel.

Social networks: choosing the right social network according to the brand's target audience will help have a really effective presence online.
3 Examples of Successful Network Marketing
1. Avon
Avon is perhaps the best known network marketing company in the world and has always been at the forefront of direct sales. It sells products related to beauty and cosmetics and has a presence in more than 50 countries.

The most impressive thing about this case is that Avon was founded at the end of the 19th century, so it has 130 years of history. It has been able to adapt to the times and, throughout its history, has launched pioneering campaigns in areas such as women's sports.
2. Amway
Amway is another great network marketing reference. It was founded in 1959 as a family business, and is dedicated to the beauty, health, and home care sector.

Today, Amway is present in more than 100 countries and has some 20,000 distributors. Latin America is one of the regions with the largest presence of this brand.
3. Mary Kay
This American cosmetics company was founded in 1963 by a woman named Mary Kay Ash. Since then, Mary Kay Cosmetics Inc. has expanded into over 35 countries from China, to Mexico, to the UK.
The company recruits independent distributors who they call "beauty consultants" to sell Mary Kay in their communities. Although this company built its business on going door to door and selling products, they have managed to continue their growth in current times.