By Chantal India, on 2 September 2021
If you're marketing on Instagram, it's essential to track your stats. Luckily, this platform makes it very easy for you, since you can consult a lot of useful information through Instagram Insights. All you need is a business or content creator account.

Now let's take a look at the 5 types of Instagram statistics that you should analyze to improve your strategy!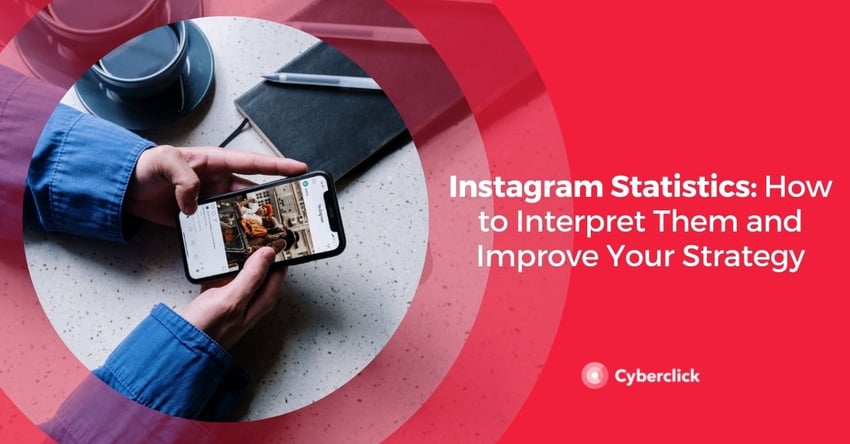 5 Types of Instagram Statistics
1. Profile Analysis
Here you can find the following statistics:
Impressions: the number of times a post has been viewed during a certain period.

Reach: the number of unique accounts that have seen one of your posts.

Interactions: the number of people who have visited your profile, clicked on the link in your bio, or asked for directions to your business.

Website clicks: the number of people who clicked from your Instagram profile to your website or landing page. If your goal is to generate traffic, this metric is fundamental. Remember that you can boost it with "link in bio" type posts.

Call or email clicks: same as above, but for the company's phone and email.

Mentions of other users to your profile.
2. Audience Analysis
These Instagram statistics are very when determining if you are really reaching your buyer persona. This let's you see the location, gender, and approximate age of your followers, so you can use it to see if it matches your target audience.

Another very interesting statistic is the hours and days your followers are active, as it can help you decide the best time to post.
3.
Post Analysis
Use the data in this section to see what content is most popular with your followers. Here is a summary of the main metrics:
Reach of each post (unique visits)

Impressions (total visits).

Interactions with the post (profile views, direct messages or clicks)

New followers gained thanks to a post.

Number of accounts reached through the Discovery section.

Number of comments and likes.
4. Instagram Stories Analysis
In this section you can see data on the performance of your Stories. This includes things like:
The number of total impressions.

Reach (number of unique accounts that have seen a story).

Exits, meaning the number of users who left the story without finishing watching it.

The total number of responses to a story.

Information about users who have viewed the story a certain number of times.
5. IGTV Analysis
Finally, Instagram statistics also include a specific section for videos published on Instagram TV, where you can see the following data.
Plays: number of times a video has been viewed (completely or partially).

Likes: number of times users have clicked "Like".

Comments: number of comments a video received.

Audience retention: this shows you how many people watched your video until the end. You can also view a drop-off graph that illustrates when exactly people stopped watching your video.