By Oier Gil, on 3 February 2021
We all know how much first impressions matter. Like it or not, we're programmed to decide whether we like something extremely quickly and for reasons not always obvious, even to ourselves. And the same applies to your Instagram account. With Instagram being such a visual social media platform, it's essential that your Instagram bio makes a good first impression and gets users to hit that follow button.
A study by the University of Missouri found that people take only two hundredths of a second to decide if they like your content or not. So, if you'd like to stand out among your competitors and gain more followers read on for our Instagram bio tips and examples of accounts getting it right.

Instagram Bio Types
Let's start with what kind of message you want to get across. What impression do you want to make with the words, image and colors you present? There are many ways to express your brand style with your bio. Here are a selection of the most common Instagram bio types:
Simple and succinct: A very common style for personal accounts which presents bare bones information or even just a quote or clever expression. Some even just include a link to content which tells the bigger story.
Descriptive and Informative: More detailed information on products or services that a brand offers. A great way to spread the word about new products or a new venture that has yet to build a presence on Instagram.
Branding for Business: A focus more on the brand itself including their mission or motto. A common business bio type for multinationals, as there's not much need for additional information as most people will be all too familiar with the company's products or services.
Fun and Humor: A bio choice made mostly by content creators who simply want to entertain. used mainly by profiles of content creators. For brands it is a somewhat risky bet, but it can work if you hit the right tone.
Inspirational and Motivational: An approach utilized by self improvement accounts to inspire and motivate. These types of bios are typical for business motivation, wellness brands or mental well being accounts.
Essentials for an Effective Instagram Bio
Profile Picture
Instagram is all about the visuals and your profile picture is no exception. The old adage 'A picture is worth a thousand words.' is as true a saying now as it ever has been and Instagram's outrageous popularity proves it.
The size of your profile picture is a vital detail you shouldn't overlook. The correct aspect ratio should be 180 X 180 pixels. Ensure that the image is clear, crisp and fits the provided space.
For individuals or personal brands, a well lit and poised headshot that transmits your message (confidence, friendliness, determination, etc.) is recommended. For companies, a logo is the norm and emphasizes your brand and image.
Instagram Handle & Name
Instagram has two different options for showing your name. One is your account name or handle, such as @cyberclick, and the other is the name you choose to display at the top of your profile. Individuals often have an abbreviated form of their name as a handle and their full name within their profile. Either of these names are searchable.
It might go without saying but make sure your username(s) clearly state who you are even what you do. This can even include an emoji or suitable keyword. Just remember there is a 29 character limit!
If you've got a considerable following consider adding 'official' to your name or seek out the coveted blue check mark verification.
Account Description
Bio descriptions are limited to 150 characters which means you'll need to think about what message you want to convey in this very important space. We suggest you communicate who you are, what you do and add in some marketing language to increase the likelihood of curious users following you. If you operate a physical location, make sure to include this information as well.
Contact Information
Instagram also provides the space for contact details, whether a phone number, or email address. If you want to give potential customers a way to contact you directly then you absolutely cannot leave out your contacts in this section.
Link
You're allowed only one link in your Instagram profile so you better make it count. You can link to your website, blog, landing page, Kickstarter campaign, etc. Basically wherever you'd like to send curious visitors. This could be your latest content or product, which you can also promote in Instagram stories, posts, live videos or on IGTV.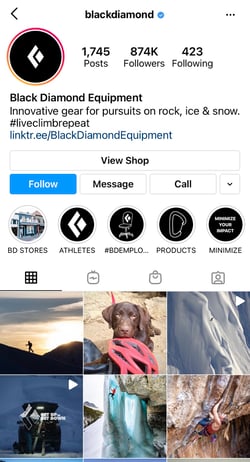 Outdoor gear company Black Diamond has a clear description of what they do, a custom hashtag and a link to featured content.
Hashtags and Username Cross Promotion
If you have multiple accounts you can cross promote them within your bio. You can also capitalize on this opportunity to promote featured hashtags that you've created and would like to expand on.
Try not to use hashtags that are too popular as you'll likely direct users away from your content, and they probably won't be coming back.
Change Up Your Font Style
A small yet eye-catching tactic for standing out, using a unique font in your bio can grab users' attention, even if only for a moment. Take care not to over do this, however, as readability tops style points.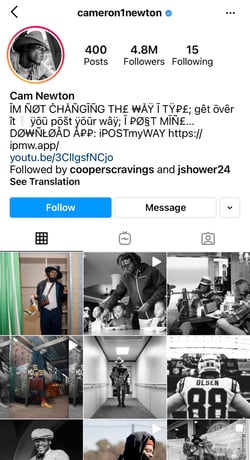 New England Patriots quarterback Cam Newton's unique typography usage for his Instagram profile.
Emojis
Yet another way to spice up your Instagram profile: emojis.
At this point emojis have been embraced by just about everyone who uses a smartphone. Emojis add a visual, playful element to otherwise dull text which attracts the eyes of users. Try using emojis at the beginning or end of your profile; there's a suitable emoji out there for just about anything you want to express!
Featured Stories
Last but not least, featured stories make your content more accessible and are a great intro for what users can expect from your content.
For getting the most out of your featured stories, find the types of content categories your potential followers might be interested in and create a story for each. Use custom story covers that mirror your branding to maximize impact.
10 Instagram Bio Examples to Inspire You
1. @MariaTash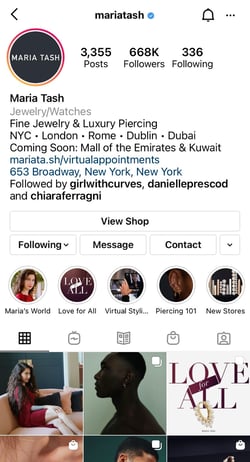 2. @BookoftheMonth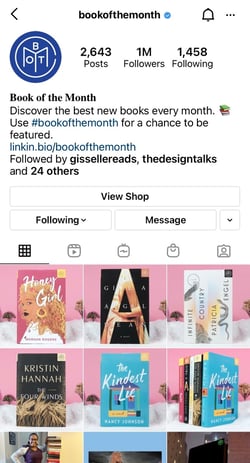 3. @BuzzfeedTasty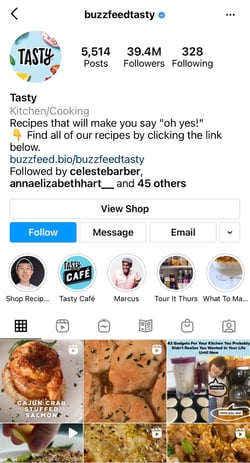 4. @Chipotle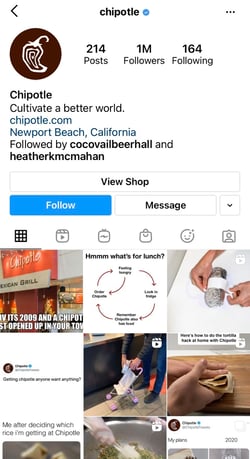 5. Lush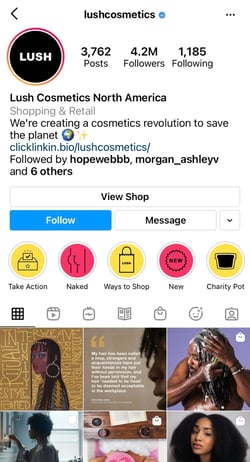 6. @WholeFoods
7. @Target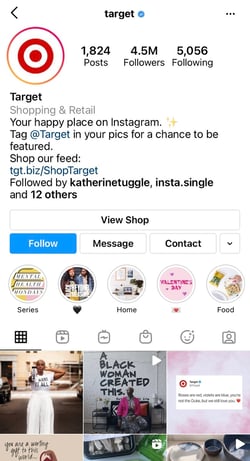 8. @CocoVailBeerHall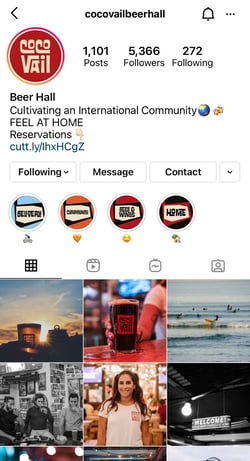 9. @Instagram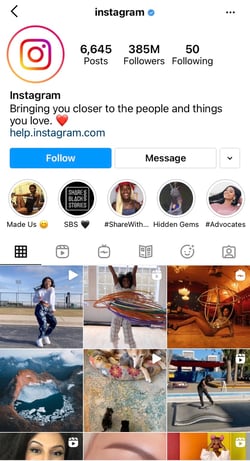 10. @Canva