By Helena Alcoverro, on 9 July 2021
Inbound marketing allows you to get closer to your customers and gain their trust in a natural way, without resorting to invasive techniques. In recent years its popularity has grown and now HubSpot has proposed a complementary methodology, called inbound sales, that turns traditional ways of selling upside down.

The inbound sales improves commercial results by transforming the way we sell and adapting to the new ways that digital consumers buy. It's a system that you should know if you are in digital marketing, so in this article we will explain what inbound sales it, how it works, and what it can help you.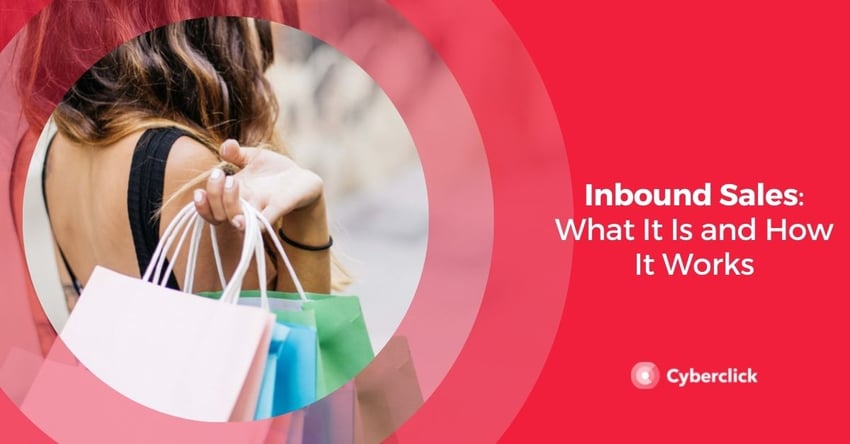 Inbound Marketing and Inbound Sales
Inbound marketing consists of attracting users who are not yet familiar with your brand and prompting them to visit your site, become leads, and subsequently become customers. It also includes a post-purchase step, which is to delight customers to build brand loyalty and perhaps even find brand ambassadors.

In contrast to other, pushier methods that are based on actively sending messages to users who have not requested them, inbound marketing seeks to attract users to the brand and let them discover it in a natural way. This could be done by creating content that responds to the queries and concerns of the brand's potential customers.
Similarly, inbound sales seeks to turn the traditional way of selling on its head. In the past, sales consisted of chasing potential customers and trying to get their attention. It relied on techniques such as cold calls and mass e-mails, brochures or catalogues. The aim was not to help the consumer, but rather to constantly communicate what the brand was offering

In contrast, inbound sales seeks to personalize the buying experience and provide value to the consumer at all times. Instead of chasing potential customers, the brand positions itself as an ally that helps them solve their problems.

While inbound marketing is based on attracting potential customers to your website, inbound sales seeks to get them to come to you and instead of you having to go to them and ask them for their time.


What Can Inbound Sales Bring to Your Company?
Higher quality. Traditional sales method are based on quantity: we send mass messages to users in the hope that a few will respond. However, this is a waste of time and resources. In contrast, inbound sales focuses on identifying users who really fit with the brand and then offering them just what they need. This greatly increases the likelihood of closing a sale and therefore makes much better use of the company's resources.

Open, horizontal communication. Inbound sales is based on dialogue. It is no longer about the company delivering an intrusive monologue, but about creating a relationship in which both parties are enriched. In today's digital environment, monolithic business communication no longer works, and inbound sales is an alternative that can provide better results.

A higher level of personalization. Instead of sending generic messages, communication is truly tailored to the needs and pain points of each consumer. The user feels understood and is therefore more likely to become a customer,

Trust and loyalty. Inbound sales is based on getting to know the customer and offering solutions to their problems. The customer feels listened to and, in the end, this translates into long-term repeat purchases and recommendations.
How Does Inbound Sales Work?
The Salesperson's Role
One of the biggest changes regards the role of the sales rep. Some of the most notable characteristics of traditional or "outbound" salespeople are the following:
They do not have a clear picture of the customer journey and do not know which users are active or could be interested in the product.

They contact potential customers through calls, mass emails and other "cold" messages.

The sales pitch is not personalized. It is the same for everyone.

When the consumer shows interest, they are passed on to the next sales phase without exploring their particular needs.

Their biggest selling points are discounts and promotions, and they don't do the work of finding out what the customer really needs.
On the other hand, with inbound sales, we go from having salespeople to inbound consultants. These consultants are focused on being useful to potential customers and not just on the numbers. These are the fundamental differences with respect to the outbound salesperson:
The inbound sales consultant knows the customer journey perfectly and knows how to distinguish buyer personas. In this way, they only contact users who are active and interested, multiplying the quality of interactions and the probability of success.

Users contact you proactively and that the interactions are a dialogue, not a monologue. Listen to the needs of the other party and offer personalized advice.

Sales pitches are always based on knowing the needs of the potential customer and offering solutions based on that, not based on selling the most expensive product.

The sales process is adjusted to the buyer's time and even to the communication channels that are most convenient for them. In short, the inbound sales consultant puts the customer at the center.
The 4 Phases of Inbound Sales
1. Identify
The first thing you have to do is to carefully identify and filter who you are targeting.

One of the pillars of inbound is the development of buyer personas, customer profiles that go far beyond simple demographic data and focus on identifying the needs, pain points, and behaviors.

This first screening will help you to ensure that you are attracting users who are likely to be interested in your products and services. The next step is to analyze visitor behavior and identify the most probable potential customers.

Logically, users who have interacted with your content the most are the likeliest to become customers. Depending on the types of interactions, you will also be able to identify which specific products or solutions they are interested in.

To be able to manage all this information correctly, the ideal is to have a CRM where all the data on each contact are stored.
2. Connect
Once you have identified the prospects most likely to convert, it is time to contact them.

In inbound sales, we do not use traditional sales strategies such as cold calling or cold mailing. Instead, it is often the prospective customer who contacts you to request information.

If you reach out to a potential customer, it should always be through a personalized message and in a context, such as a common interest or contact between the sales consultant and the potential customer.
3. Explore
If you have collected all the data from the interactions with the user, you will have a wealth of information to draw on for an exploratory call or meeting.

The inbound sales consultant can use this to make the customer feel heard. The goals are to find out your customers needs, identify how your brand can help solve them, and build a relationship based on trust.
4. Advise
At this point of getting to know the lead, the inbound sales consultant will be in a position to recommend the product or service that best suits their needs and, if all goes well, close the sale.

Of course, the relationship between customer and brand does not end here. Inbound sales includes that final important step of delighting the customer with excellent service so that he or she will recommend you and continue to feed the sales cycle.