By Laia Cardona, on 30 May 2023
A CRM is an essential tool for the marketing and sales teams of any company. However, the current market offers a wide range of brands providing this service, making it challenging to choose between them. Two highly popular options known for their efficiency and variety of functionalities are HubSpot and Zoho. Each platform has its own advantages and disadvantages. They offer distinct features and conditions, making it difficult to objectively compare them. Every company is unique, and some may find one tool more suitable for their dynamics than the other.
The purpose of this article is to compare both brands and provide you with valuable information to aid your decision-making process. By the end of the article, we hope to have addressed any doubts you may have had regarding which platform is more suitable for your company based on its characteristics.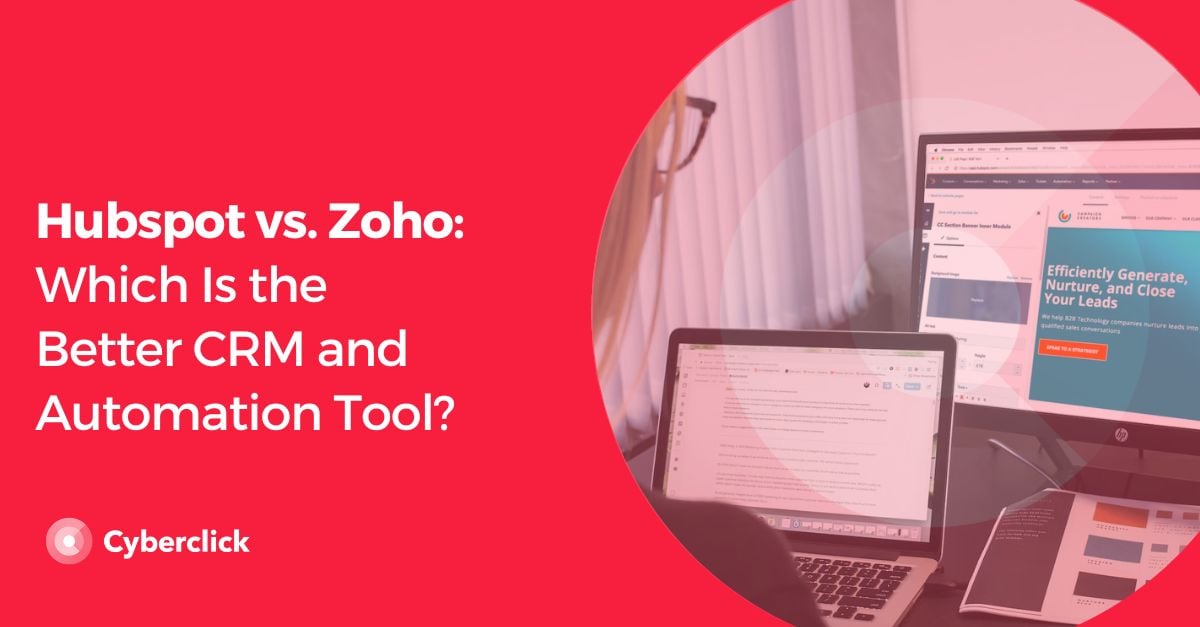 What Is HubSpot?
HubSpot is a customer relationship management (CRM) platform that provides a comprehensive range of marketing and sales functionalities suitable for small, medium-sized, and large companies. With an extensive selection of plans and packages, it offers options tailored to meet the specific needs of any business. Similar to its competitor, HubSpot also offers a free version with limited functionalities, which can be a great opportunity to try out their services and ecosystem before committing to any of their paid plans. This allows you to personally assess whether their offerings are convincing and align with your requirements.
What Is Zoho?
Similar to the previous CRM platform, Zoho is a cloud-based solution that is particularly well-suited for small and medium-sized companies. Its intuitive design is noteworthy as it enables teams to quickly adapt to the tool and maximize its potential.
How Do Zoho and HubSpot Differ?
Automation Processes
Zoho's automation features primarily focus on the brand's interactions with users. In contrast, HubSpot goes a step further by offering the ability to manage more complex marketing processes, such as recognizing customer lifecycles and sending leads to sales teams based on specific segmentation.
Customer Support
When considering user ratings for technical support across various platforms, HubSpot consistently stands out above Zoho. Specifically, HubSpot offers this service for free via email and phone to its Enterprise and Pro plan customers. However, customers opting for a lower package will not have access to the same level of support.
HubSpot also provides an academy where users can easily learn how to use the platform through a variety of free marketing and sales courses. While Zoho also offers similar resources, they are not as comprehensive as those provided by HubSpot, potentially leading to more challenges and a steeper learning curve for Zoho users.
Level of Personalization
When examining user comments and ratings on CRM platforms, HubSpot emerges as a stronger contender due to its exceptional adaptability to different company workflows. In practice, HubSpot's integrations with other platforms work seamlessly, resulting in minimal data synchronization errors. In contrast, Zoho tends to experience more frequent issues in this regard.
Artificial Intelligence
The approach to AI differs between the two software platforms. Zoho provides its users with its own virtual assistant called Zia in its Enterprise version. Zia learns from your customers, collaborators, and business activities while you use the platform. Similar to Siri, Zia is designed to cater to your business needs. It can assist in identifying errors in sales processes, predicting customer and potential customer behaviors, analyzing the sentiments expressed in emails, and monitoring processes for improvement.
On the other hand, HubSpot offers two distinct AI services: one focused on content creation assistance and the other aimed at streamlining various processes. Unlike Zoho, HubSpot intends to make its AI available for free to all customers after its global launch (currently in beta). However, certain features will be exclusive to the premium version.
Usability
HubSpot has always been recognized for its user-friendly interface, which is crucial for companies as it reduces the learning curve for their teams and enables them to maximize the tool's capabilities more quickly.
Free Versions
Both software platforms offer free versions, but HubSpot's free version imposes fewer limitations compared to its competitor. While HubSpot does not restrict the number of users or contacts that can utilize the platform, Zoho limits its free version to 3 users and 25 contacts.
Clarity in Service Contracting
HubSpot's website provides clearer information for customers interested in acquiring their services. In contrast, Zoho's website can be slightly confusing, particularly when it comes to understanding the pricing of each package and distinguishing the differences between various services.
Customer and Lead Storage Capability
Both software packages are designed to help companies effectively track leads and understand their customers' needs and preferences. However, HubSpot offers a greater capacity in this area. In its most comprehensive package, HubSpot allows users to store up to 1 million contacts, while Zoho only permits up to 100,000. It's important to note that if your company's contact database is significantly smaller, this aspect may not be relevant for your comparison.
Reporting Tools
HubSpot offers visually appealing and easily accessible reports that are integrated into the most relevant dashboards. On the other hand, Zoho provides preset reports in its extensive library and also offers the flexibility to create custom reports.
Which Is Best?
Both platforms offer users the ability to create reports, workflows, track customer interactions, organize tasks, implement automations, and nurture leads.
Zoho's individual feature functionality is more limited but comes at a lower cost, while HubSpot offers both basic and advanced functionality at a higher price point.
Zoho's user interface has a more antiquated and cluttered look, with a less elaborate design and some typographical and formatting problems. HubSpot's interface, on the other hand, is more intuitive, updated, and without operational issues, with a well-structured and carefully designed design.
For small companies that are not ready or unable to make a significant CRM investment, Zoho is a suitable option for beginners. However, as your company grows, we recommend considering HubSpot as it offers functionalities better adapted to the future needs of your business. Similarly, for large or growing medium-sized companies, Zoho may be too limited, and HubSpot's features will be more suitable for their work dynamics.
Zoho's CRM excels more in sales forecasting and planning, while HubSpot excels in process automation and user activity and task tracking tools.
Both platforms offer a free version, but their functionalities are limited, and most companies, regardless of size, eventually require a higher paid plan. Therefore, the free version is primarily meant as a way to test the platform and determine its suitability.
Pricing is a significant differentiating factor. HubSpot's Enterprise version starts at $1,200 per month, while Zoho's pricing begins at $35. If your company cannot afford a substantial investment, Zoho may be the more viable alternative, even though functionalities will be more limited.
HubSpot's additional tools are more comprehensive and robust.
In summary, HubSpot generally offers more advantages than Zoho in the aspects discussed in this text, making it a better choice if you are seeking a comprehensive CRM tool for your company. However, if your objectives are simple and your business is small, Zoho may be a more suitable option due to its more affordable price.