By Marina Sala, on 15 June 2023
A CRM (Customer Relationship Management) is software that helps companies manage and organize customer relationships. Though there are many such platforms on the market, HubSpot and Pipedrive are among the most popular. If you are trying to decide between these two and don't know which one is best for your marketing needs, then you came to the right place! We will explain their similarities, differences, and what makes each one stand out.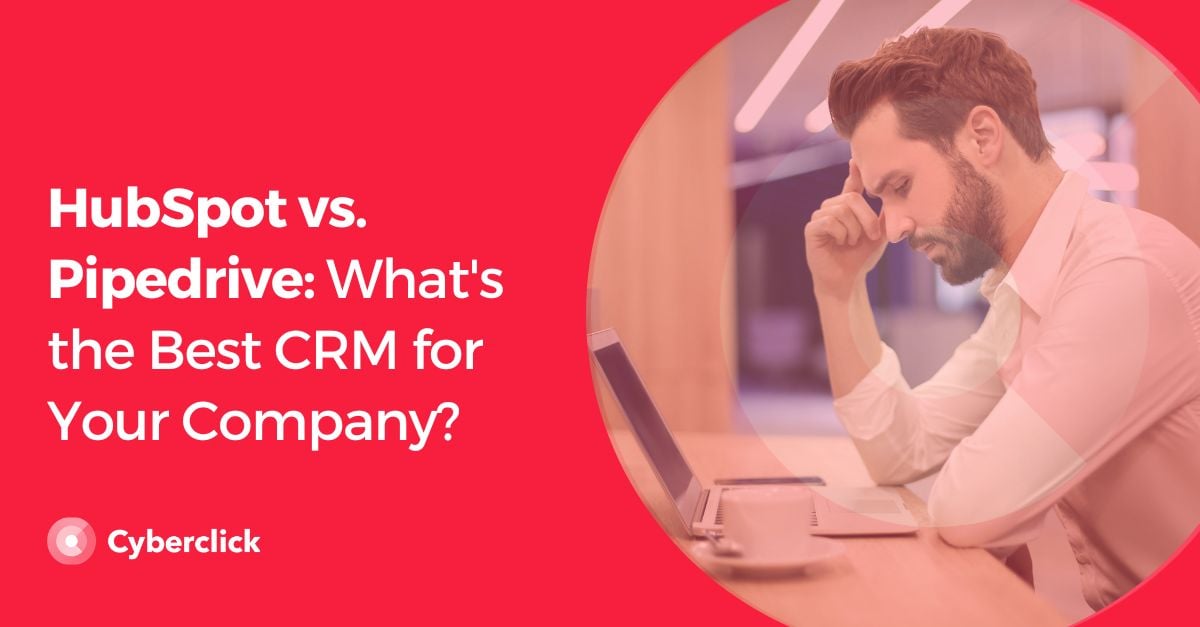 What Is HubSpot?
HubSpot is the most popular CRM and the most demanded by companies today. It is equipped with very complete marketing and sales related functionalities. In addition, it is used by small and medium-sized businesses to large corporations due to the wide variety of plans and pricing options that HubSpot offers. Any brand can find a plan adapted to their needs.
What Is Pipedrive?
Like its competitor, Pipedrive is a cloud-based CRM platform. This means that all the information is hosted on the service provider's servers and can be accessed by customers via the Internet. This type of software is also known as SaaS and, unlike on-premise software, it's more affordable.
Pipedrive is a younger tool and focuses on solving the needs of sales professionals. Down below we will look at the advantages and disadvantages of this.
What Do HubSpot and Pipedrive Have in Common?
Both interfaces are easy to use and are highly adaptable to all types of businesses.
Both offer fast and efficient customer support, both by email and by phone.
They have very complete documentation on how their platform works, as well as extremely useful introductory guides.
They are equipped with a sales pipeline where you can manage leads, and a wealth of features that will help your sales team grow your brand.
Both HubSpot and Pipedrive offer very useful third-party vendor apps in their online stores.
How Do the Two CRMs Differ?
Free Version
The free versions of both platforms work differently. HubSpot offers a free package that you can use indefinitely. However, it has limitations, both in functionality and in contacts and users. If you are a very small business, it may be useful at first, but you will quickly realize that you need more. We consider the free version of HubSpot to be very useful when it comes to testing the tool and seeing if its dynamics can adapt well to the pace of your business. In addition, since you can use it indefinitely, there is no rush to draw conclusions and you can take the time you need to analyze it.
For its part, Pipedrive offers a free trial of its tool for 14 days. The upside is that you can have access to all its functions, the downside is that you just have two weeks to see how everything works. In addition, since it is a limited trial, you will not be able to use it in your day-to-day business, even if you are a small company (something that HubSpot allows you to do).
Pricing
In the case of Pipedrive, all prices are per user. In HubSpot, some rates include 2, 5 or 10 users. Thus, if we compare the most basic Sales Hub rate with Pipedrive's basic plan, the HubSpot option would be cheaper. On the other hand, if we compare the other fees, Pipedrive would be cheaper. However, HubSpot offers a variety of plans and the option to get a discount if you pay for a year up front, so the pricing really depends on the package you choose and the way you prefer to pay.
Variety of Functionalities
Pipedrive's software is designed to provide a solution to the needs of salespeople. On their website, they mention that they are the first CRM designed by salespeople, for salespeople. Therefore, despite being a fairly complete tool, it focuses on sales and offers few possibilities for other teams such as marketing or customer service.
In contrast, HubSpot is much more global, offering equally complete and developed solutions for all teams. There are different products and packages such as Marketing Hub, Sales Hub, and Service Hub, among others.
Usability
Undoubtedly, HubSpot wins in terms of user experience. It is a very intuitive platform and you can tell that its developers have made an effort to make it so. This is something very important to pay attention to, as it makes your work much easier, optimizing time and making companies more productive. Moreover, the process of learning and adapting to the tool will be neither long nor complicated, and teams will be able to incorporate it into their day-to-day work very quickly.
Pipedrive, on the other hand, despite being easy to use and install, is a CRM that does not have native integrations and lacks some basic functions (such as the team calendar) and this can cause the learning process to take a little longer.
Conclusions
If you are interested in incorporating CRM into different teams within your company and not just the sales team, HubSpot is recommended. Pipedrive is a tool that is more focused on sales and has not developed functionalities for the rest of the teams to the same level as HubSpot.
The learning process is much shorter with HubSpot, so teams will be able to incorporate it into their day-to-day work sooner and start taking advantage of it with much more agility.
HubSpot offers a free version that users can use indefinitely, but with limited functionalities. This option can be useful for small companies and for getting to know the tool. Pipedrive offers a 14-day free trial.
If you are interested in the most basic plans, HubSpot is cheaper per user. In the more complete plans, HubSpot has a higher price. Therefore, for small businesses HubSpot may be more profitable, but for large companies it may be preferable to use Pipedrive if we look only at the price.
We hope that this comparison has been useful in helping you choose the best CRM for your business. As you can see, each tool has its advantages and disadvantages and it cannot be said that one is better than the other. It all depends on where your brand is at the moment, how far you want to take it, and what you want to achieve. What is clear is that both are excellent options with great quality and highly developed functionalities that will help you in your growth process.