By Berta Ventura, on 16 December 2019
An innovation that came out this year from Facebook Ads has been the implementation of Dynamic Creative. Dynamic Creative is a new feature that allows you to automate the preparation of the creative part of ads based on the audience that you're targeting. In this article, we'll explain what exactly Dynamic Creative is and how to use it.
What Is Facebook Dynamic Creative?
Facebook Dynamic Creative is a new function from Facebook Ads that allows you to create one ad with up to 30 different variations. The algorithm will automatically look for the best possible combination of images, copy, headlines, meta description, website links, and CTAs, based on the audience it is targeting.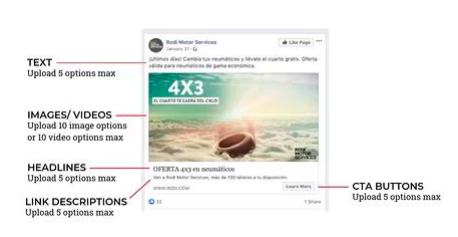 This tool allows advertisers to fine-tune their ads to be as relevant as possible because it is based on the audience's data. The system will adapt the elements that it has, and offer the pieces that will deliver the best possible results.
Essentially, Dynamic Creative has two major functions:
Adapt creatives as much as possible to the audience. The more relevant, the greater the possibility of conversion.
Automate creative optimization processes.
Currently, the tool isn't available for all campaign types, only in those that respond to direct response objectives. Thus, Dynamic Creative ads are best used for campaigns to increase traffic, lead gen, conversion, and app installation.
After testing Dynamic Creative in three different projects, with different campaign objectives from different companies, we have concluded that Dynamic Creative helped us speed up the creative learning process, as well as improve results in all three cases.
How to Set Up Dynamic Creative
To use Dynamic Creative in your next traffic, lead gen, conversion, or app installation campaign, the first thing you need to do is create a new campaign and a new group of ads or Ad Set. There you can select the Dynamic Creative option.
Once you select this option, you'll be able to set up the ads. By using Dynamic Creative you can only create a single ad per Ad Set, but it can contain up to 10 images or videos, 5 variants of headlines, text, link descriptions, and CTAs.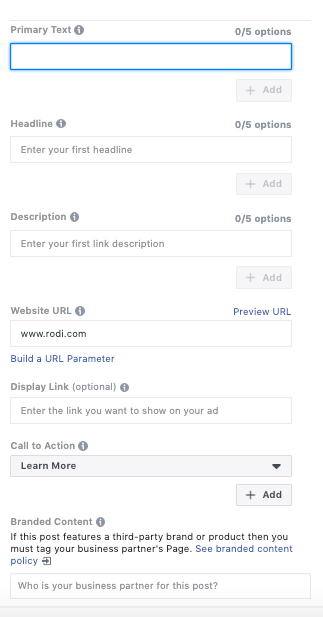 Once all the options are set, the various possible ad combinations will be generated.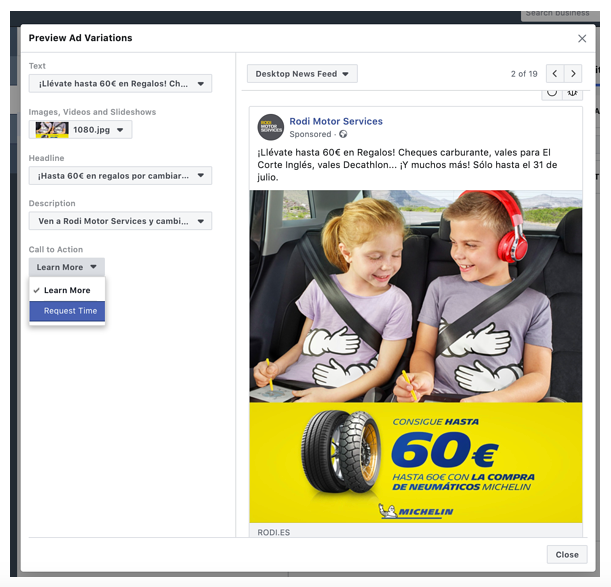 When to Use Dynamic Creative


We highly recommend using Dynamic Creative, especially if:
You're in the early stages of a project when you're not totally clear about the approach and tone of communication that you want to use. In this case, Dynamic Creative helps you test multiple options to validate the different approaches.
You're testing a new audience. Sometimes when we try targeting a new audience, we assume a campaign failed because of the audience and not the messaging. Dynamic Creative provides an easy way to test a new audience using multiple messages.
Dynamic Creative Recommendations
Here are a few of our best tips to make Dynamic Creative ads work for you:
Let your test last at least three weeks: The more variables you add to a campaign, the more time you'll need to make the data representative and therefore help you draw conclusions. While this will depend a lot on campaign investment and type, I recommend that your Dynamic Creatives campaigns last at least three weeks.
Remember that the different assets of each ad must contain real differences, especially in the initial phases of the test. Compare lifestyle images vs. product images, price vs. priceless, etc. This will help you not only improve your ads, but learn more about your audience.
Don't limit the test to a single audience. For one audience, test A could be super successful, and for another, it may be test B. It's important that each of your primary targets has its own learning cycle.
Use Dynamic Creative-specific breakdown reports to see all metrics for each of your ad variables.
Remember that Dynamic Creatives doesn't allow you to upload images and videos in the same ad. You'll have to decide what kind of pieces you're going to work within each ad set.
You should also note that when using Dynamic Creatives, you won't be able to use the assets customization functionality, so you won't be able to customize the images or videos for each of the locations you use in the campaign; nor the option to create ads in multiple languages from the same ad.
Finally, we recommend keeping a history of the variations made in the different variables in order to get a more complete analysis of the options and have a history of the options that work and don't work.