By Michelle Bernachi, on 1 August 2022
Competition on TikTok is high. Getting your content to reach a large audience and stand out among competitors is not easy. This is where hashtags can help. Hashtags are keywords identified by the "#" symbol that define the content you are sharing. If you use the right ones, your posts will appear to users searching for content related to your topic.
In this article, we'll explain the best hashtags for TikTok and how you can use them in your advertising and content strategies.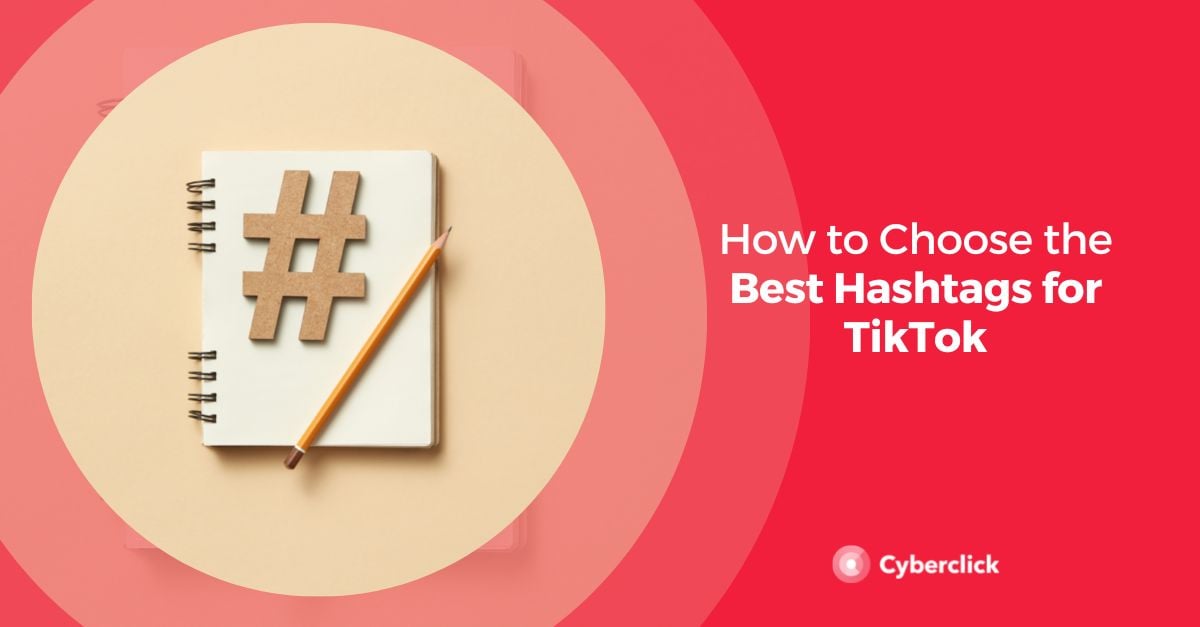 Most Popular Hashtags on TikTok
General Hashtags
We advise using general hashtags regardless of the subject of your post, as they are highly sought after by users and can help boost your content. They are the following:
#tiktok

#love

#like

#follow

#explore

#meme

#video

#followforfollowback

#foryoupage

#duet

#tiktok4fun

#loveyoutiktok

#trending

#viral

#fyp

#tiktokchallenge

#tiktoktrend

#tiktokfamous

#viralpost
Hashtags for Travel and Tourism
TikTok's platform is very international, so using hashtags in multiple languages can help you reach audiences around the world. If you create travel and adventure content, here are some examples of hashtags in English that can help you:
#travel
#explore
#lifestyle
#travelers
Hashtags for the Health and Beauty Sector
#healthtips
#stayhealthy
#healthiswealth
#beautyblogger
#beautychallenge
#showyourbeauty
#homebeautyhacks
Hashtags for Educational and Inspirational Content
#learning
#knowledge
#education
#talk
#myvoice
#inspirational
#madewithme
#decision
#life
#wrong
How to Search for Popular Hashtags on TikTok
Searching for popular hashtags on TikTok is very easy. All you have to do is follow these steps:
Log in and click on the magnifying glass icon that appears at the top right of the screen.

A search box will appear. Here, you should enter a word that defines your content, and then click on the hashtags tab located right next to the LIVE window.

Finally, you will be able to look at all the related results that contain that word and the number of times they have been viewed. This will indicate how popular they are.
We recommend that you perform keyword research to define the topic of your videos so you can see which ones are performing the best. This way, you will be able to choose the ones that best suit you.
How to Use Hashtags Effectively in TikTok
Once you have clarity on the hashtags you want to use in your post, you should take into account these best practices to get the most out of them:
Don't overuse hashtags by including too many in your videos. TikTok allows a maximum of 100 characters of text, including hashtags and spaces.

Don't use only popular hashtags, make use of less popular ones as well. This will help you get the best of both worlds. On one hand, the most popular ones have a high search volume, but the downside is that there is a lot of competition and it can be difficult to gain a foothold with them. On the other hand, the less popular hashtags have less traffic, so it will be easier for you to get noticed.

On special dates, it is useful to use specific hashtags such as #blackfriday or #thanksgiving to gain visibility during the season, since the public tends to search for them during these times.

On TikTok, hashtags related to challenges work very well. Whether you are a brand or a content creator, it can be very helpful to use them to boost your brand awareness. It is very common to create hashtags that accompany a challenge you have invented. You can also collaborate with influencers to help you make the hashtag challenge viral.
How to Include Hashtags in Your TikTok Posts
The first step is to log in to your TikTok account and proceed as if you wanted to create a new video from scratch.

Once you have created your video completely, you will be able to add your video description and links, as well as other features.

In this section, you will simply have to click on the #hashtags button to add the ones most suited to your video.

Finally, click on the "Publish" button at the bottom, and that's it! Your video and its hashtags will be shared on TikTok.
If you have already published your video and realized that you have left out hashtags or the text, don't worry, there is a solution. Although TikTok does not allow you to edit an already uploaded video, there is a way to avoid having to recreate it form scratch.
Go to your profile and select the video you want to edit.

Once you are in it, click on the three dots on the right side of the screen, located below the comments section.

A menu with different options will be displayed. Select the "Save video" option.

Once it has been completely saved on your phone, upload it again with the edits you want to include.