By Anna Ribas, on 30 September 2021
In June, Google Ads launched Google Ads Creative Studio, a new tool designed to make advertising easier for clients and agencies.

This tool is designed to facilitate the creative process of rich media ads and facilitate collaboration between agencies and clients. If you want to know all the details, read on!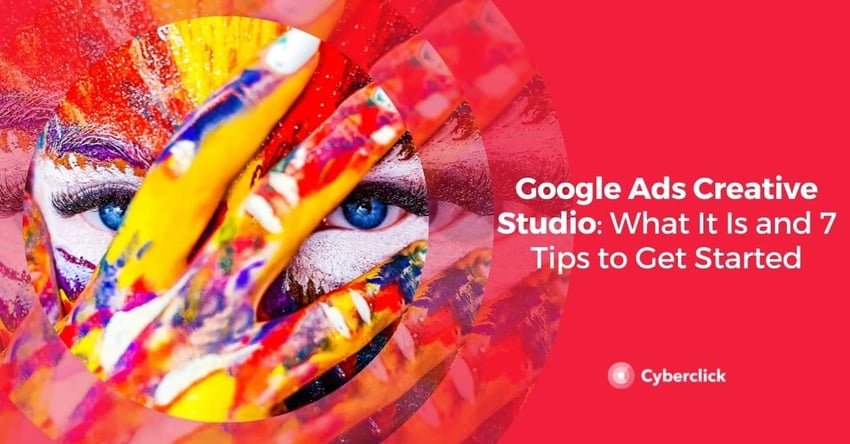 What Is Google Ads Creative Studio?
Google Ads Creative Studio (also known as just "Studio") is a tool for agencies that can be used to create rich media creatives.The next question is what does Google Ads mean by "rich media"?

Google Ads have evolved from their earlier text only versions and have been enriched with more and more elements that enhance the user experience. Rich media ads have a number of rich features.
They contain images or videos.

They encourage users to interact in sophisticated ways: expanding the advertisement, playing HD videos, posting a tweet, shopping, playing games, etc.

They include various reporting features to help advertisers understand how users interact with their ad.
The process of creating rich media ads is more complex than that of standard formats. That's why Studio makes the job easier with a comprehensive system that allows you to create rich media ads, preview, test, publish, and get reports.

Google Ads Creative Studio consists of two parts: a software development kit (SDK) and a web-based workflow tool.
Studio SDK
Studio SDK allows you to compile rich media creatives quickly and easily. This tool is fully integrated with Google Web Designer, making it possible to use its components in your creatives without adding additional code. For example, if you want to add a video with controls that plays within your ad, you can directly drag and drop the video component from Google Web Designer.

Another advantage of this tool is that the tracking of video interactions is automatic. Thus, you can know data such as the number of views or the number of times users have muted, paused or replayed the video.
Workflow Tool
In Studio's web user interface you can upload the creatives you have compiled, preview them, check that they work, publish them, and send them to the ad server.
The step-by-step workflow would be as follows:
Upload creatives to the asset library. Here designers can upload approved creative elements that are then combined together to create display, video or audio ads.

Collaborate in the project library. Here agency members can combine and customize assets to create ads for their clients and managers can review them.

Submit finished ads to Google QA for approval.

Send the ads to the client. Once approved by Google, the ads are sent directly to the client via Display & Video 360, Campaign Manager 360, or Google Ad Manager.
How to Create a Google Ads Creative Studio Account
For now, Google Ads Creative Studio is only available to agencies and upon request. In order to apply for a Studio account, you need to have a Google account.
To apply for your Studio account, follow these steps:
Go to the Google contact form https://support.google.com/richmedia/gethelp

Go to the top of the page, click on "Contact Us" and then select Sign in to Studio -> Request or manage a Studio account with Campaign Manager 360 or Request or manage a Studio account with Google Ad Manager -> Mail Support.

Enter your details in the contact form, filling in all required fields. Remember that you can only create one Studio user per email address, but one user can be added to multiple advertiser accounts. When you are finished, click Submit to send your Studio login request.

The Google Marketing Platform Support team will contact you to send an invitation to the email address you entered in the form. According to Business2Consumer, the waiting time is similar to other Google contact processes, i.e. between one and two weeks.
After completing the above steps, you will receive a welcome email. Follow these steps to accept the invitation:
Copy the link included in this email.

If you are signed in to a Google Account, you need to sign out of it before you can sign in to Studio.

Paste the invitation link you copied earlier into the browser bar.

In order to accept the invitation, you will need to sign in to the Google account you want to use to access Studio.

Accept the terms of service and you're done! You are now ready to log in to Studio.
7 Tips to Get Started With Google Ads Creative Studio
1. Think of Studio as a Combination of Tools
To quickly understand what you can do in Google Ads Creative Studio, keep in mind that it is actually a combination of different Google tools that already existed before, such as:
The tools for creating dynamic display ads and HTML5.

The Audio Mixer and Dynamic Audio tools.

YouTube Director Mix, a tool for creating multiple customized versions of the same ad.
And this is just the beginning! Google plans to add more tools to Studio in the short term, so you will be able to enjoy more and more options.
2. You Can Use the Studio Tools Separately
As mentioned above, Google Ads Creative Studio combines several tools that already existed before, and these tools are still available independently. If you have any problems with the platform, or if you are still training your team, you can continue to use each tool separately.
3. Take Advantage of the Multi-User Function
Google Ads Creative Studio is a tool designed especially for agencies, which makes marketing much easier.

You can create multiple users and login credentials, so that all members of your team have access at the same time and can share visual, interactive, and audio assets with multiple teams and projects at the same time.
4. Multiply Your Ads
The elements you upload to your Google Ads Creative Studio asset library can be mixed and matched together to create multiple versions of the same ad or multiple ad types, such as Smart Ads, YouTube Ads, Display Ads and Dynamic Ads.

This way, you can squeeze the most out of each creative and never run out of options.
5. Use Google's Training Resources
Google Ads Creative Studio is a fairly intuitive and easy-to-use tool, but like any new resource, there is a learning curve, so it's a good idea to familiarize yourself with its various features before you start using it to work with clients.

Luckily, you can access free resources on Studio from Google itself, including training videos and a creative compilation guide.
6. Take Into Account the Customer's Timeline
For the workflow to function, it is important to keep in mind that creative development is one of many steps in the launch of a rich media campaign, all of which must be coordinated. Therefore, it is important to be clear about the client's timeline so that assets can be created well in advance.

Before the final launch, assets must go through phases of review, quality control, and testing.

In addition to the time required to develop the creatives, Google recommends adding an additional 5 days for QA. Each round of QA takes 24 hours. If a block fails QA, you will need a day or two to review it and resubmit it; after that, you will need to add another 24 hours. Depending on the complexity of the creatives, you may need to go through several rounds of QA.
7. Think in Terms of Objectives
Rich media ads allow for a lot of creative possibilities, so they're a great place to experiment. Plus, Studio's tools make it very easy to combine assets and generate different versions.

Just don't lose sight of the fact that the important thing about Google Ads is not how powerful the creative is, but that it achieves its goal. So before you start using Studio, think about what you want to achieve with each creative and how you are going to use rich media assets to get closer to that goal.