By Pep Canals, on 23 May 2023
The amount of web pages on the Internet is immense. In this context, Google must establish criteria to sort all this content in order to offer users the best experience. In 2015, Google decided to create EAT, an acronym that refers to the guidelines that the search engine analyzes or takes into account to determine the quality of a website. However, in 2022, the company added one more guideline, resulting in the acronym EEAT and introducing a new factor that can affect the SEO positioning of any page in Google.
If you want to learn how to place your pages in the top positions of Google, it is important to know about EEAT. We'll explain it in detail below.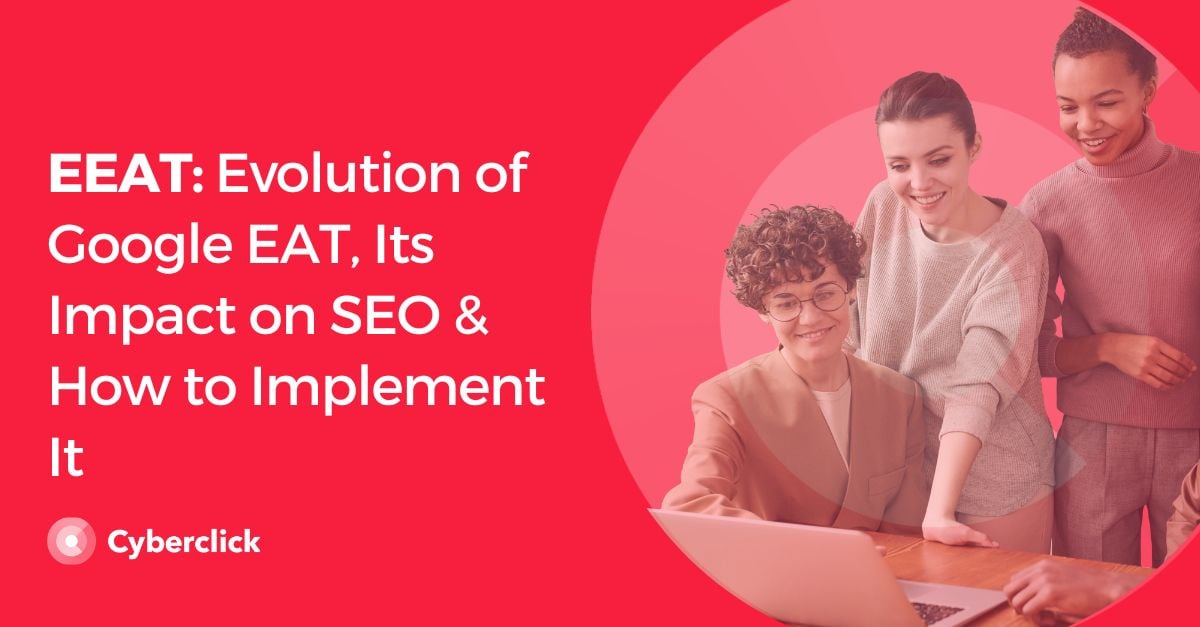 What Is EAT?
Both the term EAT and its successor, EEAT (which we will go into later), refer to a set of factors that determine the high quality or low quality of web content and, therefore, how Google positions it. However, it is important to understand that EAT (now EEAT) is not a positioning factor in itself (as keywords or links can be), but a set of elements that can affect the ranking of your content.
The human professionals who analyze your website and algorithms try to ensure compliance with these criteria, which are:
Expertise
Authoritativeness
Trustworthiness
What Is EEAT and How Is It Evolving?
In 2022, Google incorporated a new criterion, experience, to EAT. Thus the acronym became EEAT. But what exactly does this new parameter mean? Let's take a closer look at the meaning of each of the criteria that make up the EEAT.
Experience
This new addition takes into account whether content has been created/written by a person who has first-hand experience in the subject matter that he or she is talking about. The best example of this are reviews or recommendations of a product or service.
Since 2022, Google places value on content that has been written by someone who has tried, used, or worked with what they are talking about, as this shows that the review is real.
Expertise
Expertise refers to the skills or knowledge of the person who claims to be the author of the content. Google will analyze if the person claiming to be the author has the necessary experience to write about the topic in question. A good example would be an article on a topic related to health. Google would give much more value to an article written by a health expert, such as a doctor, psychologist or nutritionist rather than one written by a random person with shallow knowledge on the subject.
Authoritativeness
At first glance this may be similar to expertise, it has its nuances and differences. Here, we are talking about a factor that takes into account the reputation or authority of the web page or its author. In this case, Google doesn't analyze whether the writer has the necessary knowledge or skills, rather the following elements will be taken into account:
Number of internet searches of the person, the brand, or the web page.
Quality and quantity of backlinks pointing to the site.
Volume of mentions of the brand, person, or website on social networks.
Trustworthiness
Is the content or the entire website safe and honest? That's what this last criterion analyzes. Here, Google takes into account whether the site offers navigation security to the user, whether it hosts honest reviews and a secure payment method (in the case of an ecommerce or a marketplace). An honest and secure site also refers to the truthfulness of the content it hosts. In this sense, truthful information is especially required for sites that offer content called YMYL (Your Money Your Life), i.e., content about health, finance, and wellness, which will therefore influence the physical, mental, and economic health of users; in short, serious topics.
How Does Google Evaluate EEAT?
Currently, Google has Quality Raters, a team of thousands of people who analyze the quality of search results. They can make both a website with a good SEO move down to the lowest search results for not meeting these criteria, and a website that ranks low improve positions. According to the assessment of this team, an article or web page can be in one of these four levels.
Very High EEAT
At this level, only websites or articles of the highest quality are found, i.e. those that are considered official or authoritative sources on a given subject. Only the most reliable sites on the Internet can be classified as such.
High EEAT
For a website or article to reach this position, it must be very reliable. In other words, it must be mentioned many times on social networks or forums by people who have had direct experience with it.
Poor EEAT
Here we find the pages written by people who do not have enough experience to deal with the topic they have chosen. The quality analysis team believes the website does not have sufficient reliability or credibility. If it's an ecommerce or marketplaces this could mean that the site does not have customer service.
Low EEAT
In this last section we would find the pages that have a very bad reputation online and which could be sent to the worst positions of a search engine.
Learn How to Improve Your EEAT
Although we have already said that the EEAT is not a direct positioning criterion as others can be, there are many things that you can do to get a very good valuation. Here are some of them.
Update Your Content
Regardless of the subject matter of your site or sector you are in, it is very important that the data and information you publish is up to date. What works best in this regard is to regularly review your web pages to verify that the information is still accurate and meets the latest SEO criteria. If this is not the case, it's time to make some adjustments. One thing you can do is content recycling, an exercise that consists of optimizing existing content so that it is once again useful to the user, provides value, and fulfills objectives.
Keep in mind that over the years the public may change their interests, data becomes outdated, and new practices emerge. All this makes content updating essential to maintain positioning.
Work on Link Building
Link building involves having other authoritative and relevant web pages mention yours and link to it, thus increasing your relevance. It is important that you make sure that these backlinks are of quality and prioritize that over quality. Avoid any that can damage your site.
Include an "About Us" Section
This will increase Google's trust in your page. It is also useful to include information about the author who wrote an article and a brief professional description of the person at the end of each post.
Show Your Data
If your page is an ecommerce or trademark website, we recommend that you show the public your name, address, and telephone number, which are signs that your website is safe and reliable.
Demonstrate Your Expertise
There are many ways to convey that the person writing an article has experienced what he or she is talking about or is an expert in the topic. The most common ways to do this are to include tips in the story, anecdotes, examples, use technical language, cite truthful sources, etc. Although you may think that Google does not take this into account, it does and for that reason it has formed that big team that we mentioned above.
Add Legal Pages
Surely if we say "legal notice", "cookies and privacy policy" or "terms and conditions" you know what we are talking about. All these pages, believe it or not, can help you to improve your search engine ranking, as they are interpreted as a sign that a website is safe and reliable. They are not only important to comply with legal regulations.
Most commonly, all these pages can be accessed through the footer.
Ask Experts for Help
Well-known content creators or experts on a specific topic can be of great help to you when it comes to improving the EEAT of your website. Collaborating with them and having them publish on your website is one of the most recommended strategies.