By Berta Campos, on 02 April 2020
I come bearing excellent news: employee happiness in the workplace has become a trend. The most important job position in some companies is no longer CEO or CTO, but rather the CHO: Chief Happiness Officer.
Although its presence in many companies is not very widespread yet (a search on Google yields around 700 results), its popularity is on the rise. At long last, brands from all over the world are beginning to finally realize that a happy company is the way to go.
What is a Chief Happiness Officer?
Long story short, the Chief Happiness Officer is, as the name would imply, the person responsible for happiness levels within the team and company. More traditionally put, their position would be included in the Human Resources department, as it is focused on guaranteeing the wellbeing of the company's employees.
Nevertheless, companies who have someone in charge of happiness go a step further than traditional Human Resources. The goal is no longer to just offer good conditions in an effort to retain employees, but rather to consider work and employment as a source of personal satisfaction.
And although this responsibility falls on the CHO's shoulders, they never work alone. It is up to each and every member of both the directive board and employees to make an effort and actively participate in making this a reality and creating a happy company.

The Chief Happiness Officer's 10 Main Tasks
So what exactly does a Chief Happiness Officer do in their day to day life? These are the 10 main tasks that their position implies:
Making sure employees feel valued.

Not just as professionals, but as people. Our emotions do not stay at the door when we get to work, they come in and stick with us all day. Realizing this is a fundamental step on the way to a happy company.
Guarantee basic principles.

For employees to be motivated and feel fulfilled in their work, the first thing they need are good salaries and working conditions.
Listening to employees.

To understand what makes employees happy, you need to listen to them. It is the only way we can figure out when something is not going well, and what to do to make it better. In Cyberclick for example, we use a

Happiness Traffic Light

at the end of the day.
Value day to day work.

Nothing burns us out more quickly than feeling like your effort is not appreciated. It is the CHO's duty to make sure employees know that their work matters.
Grant freedom.

The tyrannical boss idea is a thing of the past. If you want your team members to surprise you with their skill and abilities, give them the freedom to organize their own work and schedules. This allows them to adapt their work to their personal life, rather than the other way around, making them much more productive and motivated.
Support growth.

Work can and should be a source of personal fulfillment on every level. In order to feel this fulfillment, people need to have room to grow, educate themselves and learn continuously every day. The CHO should help make sure they have the resources and means to do this within their workspace.
Help manage time.

As opposed to strict and rigid office hours, a happy company needs to be able to recognize the importance of a work-life balance. Details such as flexible working hours and holidays make employees feel taken care of and satisfied.

Create a positive work environment.

It's not all about productivity and salaries: employees should be having fun at work! This is the Chief Happiness Officer's key goal.
Encourage teamwork.

Positively functioning teams is a "symptom" of a functioning company, not only in terms of productivity but also in terms of happiness in the company. In order to promote and encourage it, the CHO should organize events like team building activities, retreats and others that build team spirit.
Empower employees.

The more power employees have regarding the company and how it works, the more emotional energy they will invest in it and the more satisfied they will feel in their day to day. At Cyberclick, for example, we make sure each and every employee gets involved in the recruitment process of a new colleague. They have the final word and decision.
How to Measure Happiness in Your Company
After the prize Best Work Places Pymes 2014, many have asked about the secret of happiness in the company. Actually, it's no secret: we all have some idea about what things make us more or less happy, what things we can do to improve the work environment for employees.
In Cyberclick we do many things to try to improve the happiness of every one of the people who form the company. From celebrations in the snow to internal trainings, also going through things as simple as empowering people and valuing their achievements.
However, there is one basic thing without which none of this would make sense, and this is the measurement of happiness. What good is making efforts to create happiness if you do not ask people which things they enjoy more or less? How can we eliminate negativity and things that upset us if we cannot quickly detect what caused us unhappiness and act accordingly?
For all this, we try to measure the level of happiness of all employees continuously. Every day, when we approach the end of our day, we receive an e-mail titled "Before you go ..." which contains three questions:
In what mood did you enter work today?

What mood are you leaving work today?

From 1 to 4, how much did you enjoy what you did today?
Three simple questions, which are answered in two minutes but they bring us a lot of information to promote and improve aspects of our daily lives. And at the end of the form we have an open space where we can make any contribution, explanation, idea, etc. The questionnaire, adapted to each season, is always accompanied by some famous quote or song, helping to end the evening in the best way possible.
Every Monday, before starting to address the priorities and objectives in our weekly meeting, we spend time analyzing the results of our daily test of happiness. Colloquially, we say that we analyze "the traffic light" because we see the amount of red, yellow, green and super green feelings recorded during the previous week. Among all we try to clarify the reasons that have led us to be more or less happy and always we see if its possible to do something so that the coming week is much happier than the last.
In addition, once a month we respond to the "Test of monthly happiness", in which we try deeper issues such as pay, labor conciliation or relationships with peers.
This allows us to be much more aware of our colleagues moods (and even our own, sometimes we do not pay all the attention that it deserves) and react quickly and decisively to problems.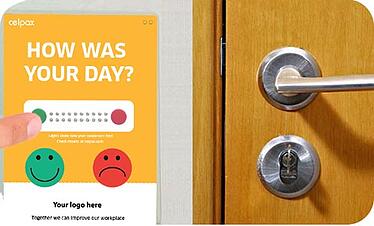 This is our way of measuring happiness, but there are many others. For the campus Rocket Space in San Francisco, just press the button that best expresses your mood before leaving. Another idea is to use the Luxafor indicator (invention by the Draugiem Group), a small LED light you put on your computer screen and indicates to colleagues when they can talk and when not to, depending on your level of work and concentration. In fact, there are already companies that are dedicated to creating, successful, applications and devices for measuring happiness, as is the case of Celpax.
Vacation Planning for a Competitive Brand
Countries with more holidays are the most competitive, efficient and happy. Moreover, flexibility and conciliation are aspects that increase the welfare of workers even more in the summer. That is why people are happier and more efficient, as demonstrated by the study Productivity and Employment at the University of Zaragoza. Also, according to Regus, a global provider of workspaces, labor flexibility is one of the factors most conducive to increased effectiveness in summer.
According to numerous studies and specialists in countries where there are vacations by law, there tends to be a correlation between happiness and efficiency, in addition to being the most competitive nations in the working level. Perhaps it is for this very reason that the Swiss, with four weeks of vacation, head the ranking as the happiest country according to the World Happiness Report 2015, conducted at the request of the United Nations.
The desired balance between work and family life during the holidays is another factor that contributes to well being and, therefore, the success of workers in the summer time. The ability to take care of house chores during the working day is the concern of many Spanish parents, who sometimes need to have greater flexibility in summer to combining these two facets.
There is also a correlation between the happiness of a country and its competitiveness. Switzerland, again, leads the World Economic Forum on the competitiveness of countries, which close behind is Finland and Germany, with five weeks to a month off respectively. In terms of efficiency of labor, of the 20 most efficient OECD countries, only one country, the United States, has not regulated vacations and the rest are more than 20 days per year worked.
Spain is one of the countries where workers have more entitlement. Also, interestingly, it is ranked 35th in the Global Competitiveness Report and is at 36 in the World Happiness Report. As if that were not enough, last year Spain scored ahead of Canada and the United Kingdom in efficiency.
How to celebrate Happiness?
At Cyberclick we make the most of reasons to celebrate, so let's take the example of world book day.

Each year on the 23

rd

of April, is

World Book Day

and the streets were full of bookstores setting up their stand to show off their latest additions (online stores highlighted them on their homepage) and several literary events filled the streets and buildings. Moreover, in Spanish-speaking countries, the 400

th

anniversary of the death of one of their most famous writers was celebrated, Miguel de Cervantes.

What did we do at Cyberclick?

Reading is one of our great passions, and every trimester we recommend one another books related to personal growth and team building. We would not pass up on celebrating this day!
David, cofounder of Cyberclick, gives us a book related to happiness, every year as a present. It's a surprise, and until it appears, no one knows what book will show up on their desk on World Book Day. His book of choice for 2016 was "Las gafas de la felicidad" ("The Happiness Glasses") by Rafael Santandreu. The author is one of Spain's most esteemed psychologists and specializes in helping people develop their emotional strength. Through his methods, thousands of people have learnt to leave their fears behind them. As he says himself, "Nothing is that bad! It's up to you to discover what lenses will put your heart and mind into focus. Put on your happiness glasses!"
Our company's headquarters are located in Barcelona, Spain, where World Book Day fall also on St. Jordi's (or St. George's) Day, which is pretty much the Catalan equivalent of Valentine's Day. Which is why, every book is accompanied by a rose.
It has basically become somewhat of a tradition here in our company, and the whole team excitedely awaits their book and rose. Last year, for example, we received the book "Amor en Minúscula" (or "Lower-cased love") by Francesc Miralles, which came with an autograph and personalized message by the author to each one of us. It's a fun story that will make you smile, in which the main characters are a stray cat, a curious neighbor, a young love story and a butterfly kiss. These are the ingredients that make up the story. If you'd like to know more, we encourage you to read the book, and this year's also! Even better, we invite your whole company to read them, to make your company just that little bit happier, just as we do with ours.
As you see there are many options to find out how employees feel and share improvements in collective happiness. Do you dare to implement it?